If you are looking for inspiration, inspired to travel, or actually planning a New Zealand road trip, you're in the right place. This blog post gives an extremely detailed account of our New Zealand itinerary including drive times, stunning landscapes, beautiful places to stay, must-try restaurants and foods, activities, and suggestions on what you can do.
The New Zealand Road Trip Begins
New Zealand is comprised of two islands – North Island and South Island (We were amazed at the lack of creativity at first, but why not! It is intuitive and therefore, easy to remember). We did a road trip spanning 18 days across both islands. Trust me, this small country has so much to offer that even 18 days were insufficient. You should plan for trip for three to four weeks at least starting in North Island and ending in South Island.
North Island is a land of cosmopolitan cities, rolling green meadows, a plethora of stunning beaches, active volcanoes, and geothermal wonders! Home to 76% of New Zealand's population, it comprises New Zealand's largest city, Auckland, and harbour-side capital, Wellington.
Click on the interactive map below to explore the New Zealand North Island road trip route.
We landed in Auckland in the morning after completing a 24-hour journey. You will also probably get there after a long and tiring journey (unless you are travelling from Australia), as New Zealand is quite remote. So, get some sleep and prepare for the road trip.
Mentioned below are things to get sorted out on day one, along with some helpful tips.
First, purchase a sim card. We bought a Spark Sim at the airport before customs. We had read extensively about the not-so-fast and expensive Wi-Fi in the country so decided to get a plan with 25 GB. In retrospect, I think a plan with 10 GB is good enough. You have options of Skinny, Vodafone and 2 Degrees as well. The price difference between operators isn't that much for travel sims. You can check their websites beforehand.
New Zealand is very protective of its beautiful natural environment and rightly so. Bringing in certain products like seeds, fruits, vegetables, bugs, dairy, anything carrying soil, etc. pose a biosecurity risk and attract a fine of $400. We did not carry any food whatsoever to be on the safe side and cleaned our soiled shoes beforehand. Be careful of what you carry, read the guidelines 
here
.
We had pre-booked our car through Omega Car Rentals. On exiting the airport, the Omega Shuttle took us to their office where we finally laid eyes on our spacious ride for North Island. We made sure to book a car with enough boot space to fit two medium-size suitcases so that we could leave our luggage there and not fret over possible theft.We picked up our car first thing on day one for convenience. However, some people choose to pick theirs up on day two, just before they start their trip from the city, thereby saving on the rental cost. The choice is yours!
Note: We opted to travel by car and stay in hotels/B&Bs as we were on our honeymoon. You have an option to rent a camper car/campervan and take advantage of holiday parks and camping sites at picture-perfect locations.
You cannot camp/park wherever you wish in New Zealand. Freedom camping is prohibited unless your van is certified self-contained (has a toilet and can hold freshwater and wastewater for 3 days).
Stay in the heart of Auckland so that everything is accessible on foot. Finding free parking will only cause you distress. We stayed at 
Four Points by Sheraton
 at Queen Street and were walking distance from the hustle-bustle. You could also find a place near Victoria street in case you want to be really close to a Countdown grocery store and avoid the walk.
You are going to be on the move constantly. Therefore, we recommend that you have enough food by your side to keep hunger at bay. Carry ready-to-eat meals because eating every meal at a restaurant will only create a crater-sized hole in your pocket. Also, you will have plenty of picturesque locations to stop along the way, so you can enjoy meals on pre-installed picnic tables and benches. 
We bought juice, fruits, cheese, wine, chips, cookies, muesli bars, croissants, bread, bread spread, and some ready to eat meals.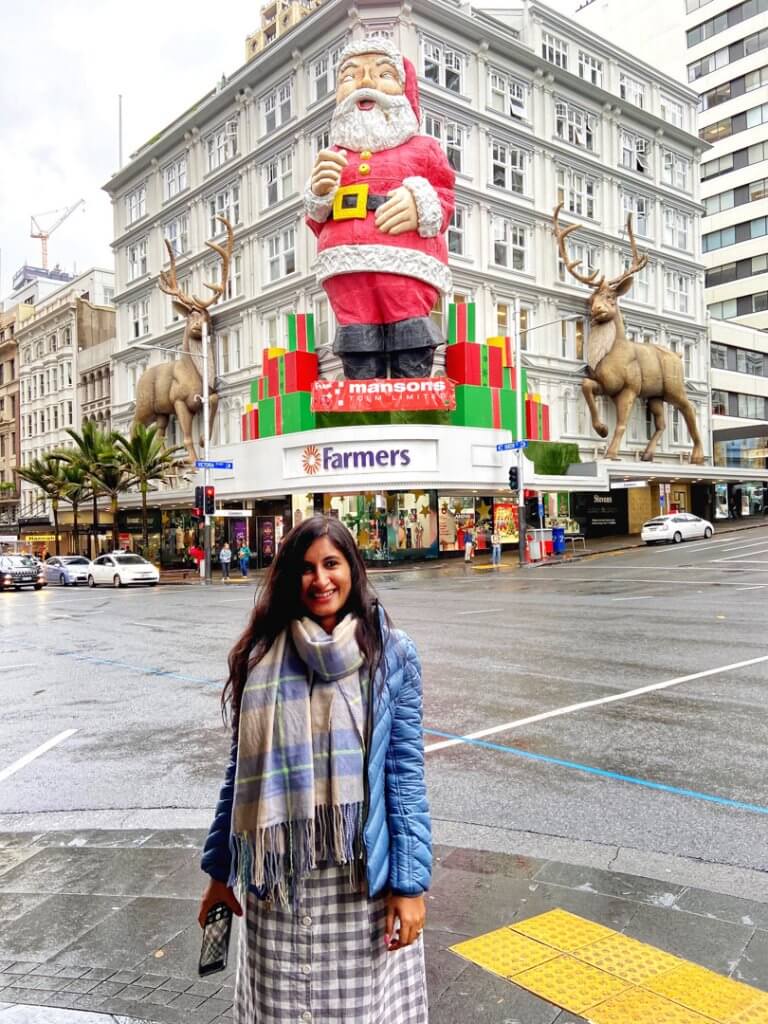 Things that took us by suprise:
1. New Zealand has long days in summer. The sun sets around 8:30 pm - 9:30 pm.

I know this seems evident to most but for us Indians it is bizarre.


2. Most restaurants close between 8 pm - 9 pm. We went to a restaurant in Auckland that was open after 9 pm where we had to choose from a night menu with very limited options. So either have early dinners or call the restaurant beforehand to confirm timings and menu options.
Day 2: Muriwai Beach and Coromandel Peninsula
Auckland to Muriwai- 42 km (40 minutes)
It had been raining in Auckland which made us quite sad. However, as we drove out of Auckland, the rain faded to gloomy weather (Yay! at least no rains!) with small picturesque villages and farms dotting the way. Not even a few minutes into the road trip, all we wanted to do was stop and take it all in – the peace and quiet coupled with beauty in every direction but we kept going.
We got out of our car at the Muriwai parking and bam! the wind hit hard, pushing us back in our car. Seems like not all summers are still and sunny. We had to put on our windbreaker jackets, our saviour on this trip. Do not go without one!
Muriwai had extremely strong winds and loud crashing waves on this cloudy day. The beach had people running toward the ocean in their surf suits carrying large crescent-shaped colourful kites. Some were already blowing in the wind while kite-surfing.
We didn't stay for long due to the weather and couldn't see the Gannet bird colony, but if you do decide to visit, don't miss them on the cliff tops.
Muriwai to Hahei- 213 km (3 hours 10 minutes)
Roads to the pretty village of Hahei are super twisty. The road signs just couldn't make up their mind on how many kilometres would be curvy- next 5 km, next 5 km, next 5 km- it just went on. We chose Hahei for our stay at the Coromandel Peninsula as it gives easy access to Cathedral Cove and Hot Water Beach.
We ate at Pour House, one of Hahei's few places to eat. It was the place I tried fish and chips, a Kiwi staple, and I was blown away. Do try their crunchy but light-weight fish that just melts in the mouth!
In the evening, we decided to go to Hot Water Beach where you can dig your own spa pool.
Plan to go here two hours either side of low tide. Check out low tide timings beforehand.
Shovel in hand, we set out to dig our hot pool (we got the shovel from our Airbnb, however, you can even rent them from cafes near the beach). The beach already had about 50 people, some struggling with the shovel and some who had succeeded with the shovel. Finding the perfect combination of hot and cold is a long yet worthwhile process. If you are lucky enough like us then you might find an abandoned pool that is just perfect.
Alternative: Auckland to Hahei- 175 km (2 hours 20 minutes)
Muriwai Beach can be skipped as it is not an out of the world experience and is in the opposite direction of the Coromandel Peninsula. Instead, spend a little extra time in Auckland strolling around Brito Street and also try Giapo's innovative ice-creams. If you're an ardent wine-lover you can extend your time in Auckland by a day and take a day trip to the Waiheke Island Wineries.
You can also head straight to the Coromandel area- chill at Hahei Beach, walk or do a boat tour to Cathedral Cove, go snorkelling, hire a bicycle. There is just so much to do here.
Accommodation: Hahei Getaway is walking distance from Hahei Beach, has all possible amenities, and the most beautiful reading spot – a hammock between two perfectly round-shaped trees.
Day 3: Hobbiton and Rotorua
Woke up early for a tour with Cathedral Cove Kayak Tours. We kayaked to Cathedral Cove from Hahei Beach in a small group of 5 kayaks while juggling between lending an ear to our guide about the fascinating history of the area and being in awe of the coastline. Spent half an hour at the cove clicking pictures and enjoying hot chocolate and cookies provided by the kayak company, before kayaking back to our starting point.
We chose to kayak but you can also choose the free option- walk to Cathedral Cove from Hahei Beach. It takes about 30 mins to an hour depending on how many stops you make to enjoy the view. Also, note that Cathedral Cove does not have any eateries so carry your own water and food.
If you want to do a kayak tour but not the Cathedral Cove one, they also have other options like the Remote Coast Tour and Full Day Tour.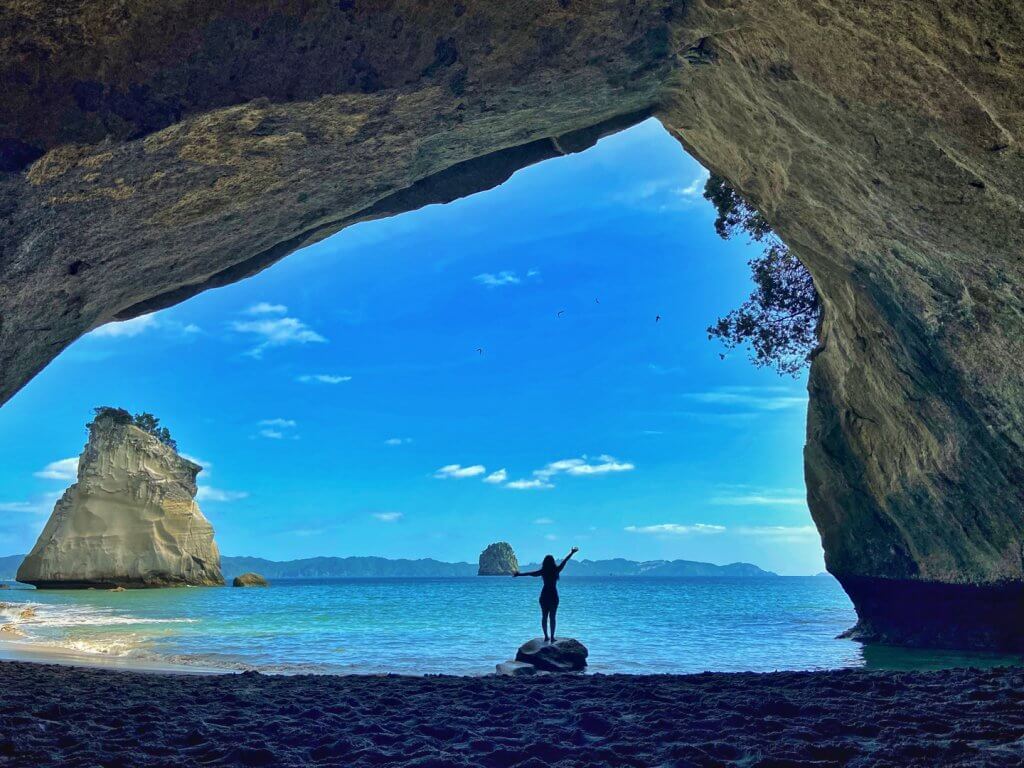 Hahei to Hobbiton- 163 km (2 hours 15 minutes)
Kiwi film director Peter Jackson found the perfect farm to build 'The Shire' for 'The Lord of the Rings' movies more than 20 years back. After the filming of the LOTR movies, the set was brought down and the farm was returned to its original state. Later, the set was built to last for 'The Hobbit' movies and guided tours hence began in 2012 in the place popularly known as 'Hobbiton'.
The tour takes you through the 12-acre property with a guide telling you interesting facts and stories about the set and movies all along. There are plenty of pretty picture opportunities in this immensely green hobbit land. The 2-hour tour ends at the Green Dragon with a free drink.
Note: Tours leave every 10-15 minutes though booking timings online are limited. Do pre-book this experience here as it sells out.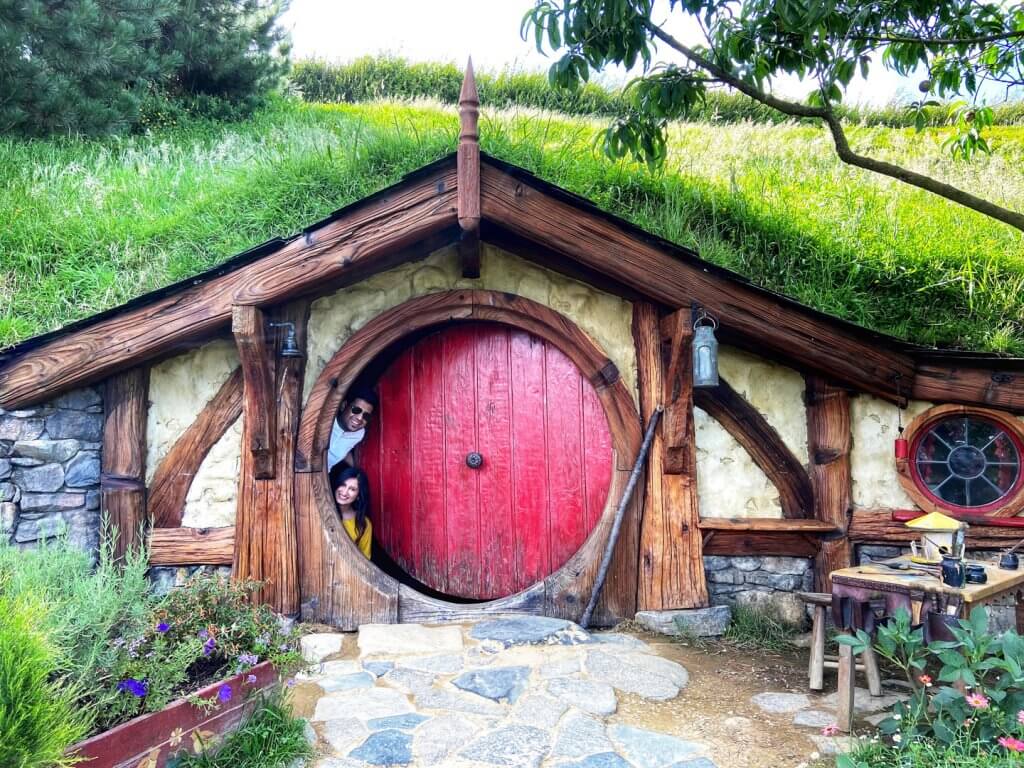 Matamata to Rotorua- 71 km (1 hour)
Rotorua is mainly known for its geothermal activity and Maori culture. Everyone says you'll be able to smell Sulphur in the air throughout the city but we were happy that our nostrils failed us.
It was a long and tiring day, and we got to Rotorua around dinner time. We ended up at Eat Street for dinner as suggested by our Airbnb Host. It is a short street lined with restaurants serving different cuisines. We ate at Atticus Finch (Yes! Like the character from you know which book) and the food was brilliant.
The vibe of the street is so lively, we went here the next day as well. Do dine here at least once!
Alternative: Hahei to Rotorua- 217 km (3 hours)
You should visit the Hobbiton if you want to step into another world or if you're a LOTR fan. However, if guided tours are not your thing, skip this and head directly to Rotorua where abundant activities await.
You can visit one of the many geothermal parks, head to Polynesian Spa for a relaxing soak in natural spring water, or visit a Maori village and try Hangi (traditional Maori food). After sunset, do the Redwoods Nightlights Treewalk. Go through the various activities available in Rotorua and book them here.
 Accommodation: We stayed in a private room at the Airbnb Lake Views Paradise and Tranquility. We absolutely loved our stay as our hosts were super kind and friendly. This was definitely our most memorable stay during our road trip in New Zealand.
Day 4: Geothermal Exploration in Rotorua
There is so much to do in Rotorua it is hard to decide and fit it all in one day. Unfortunately, we were there on a rainy day so we didn't end up doing as much as we would have liked. 
We started with Wai-o-Tapu Thermal Wonderland which is a 30-minute (31 km) drive from Rotorua. The occasional touch of the wind, the heat of the steam rising from the hot pools, the various colours of the pools and the smell of sulphur tantalise all your senses while you walk through the 18 sq. km. active geothermal park. The park also has mud pools and a geyser, Lady Knox, with an eruption height of 10-20 meters. With a little manual intervention, the geyser erupts at 10:15 am every day. Visit the park accordingly! You also have the option of coming back the next day to watch the geyser erupt.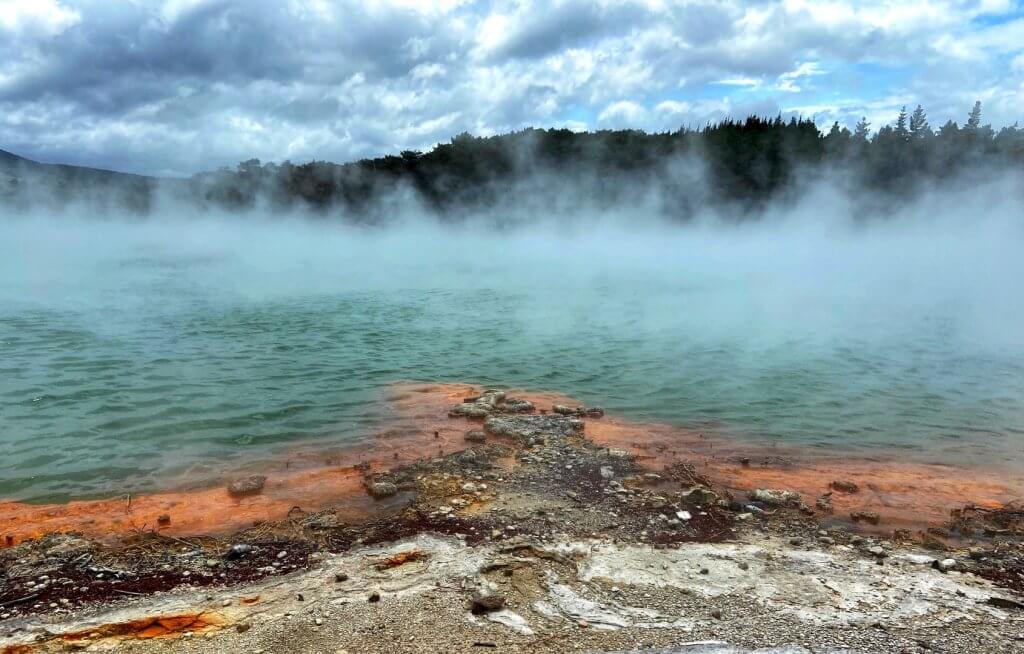 After lunch, we went to Polynesian Spa which has several natural geothermal spring water pools with different temperatures. It has public, private pools and packages that provide a combination of both. We took a package which gave us 30 minutes in a sky-view private pool and unlimited time at the public pools. The pools can get very crowded in the evening so plan for a morning visit. We were lucky to find it relatively empty as it was drizzling, but as soon as the drizzle stopped, the place filled up.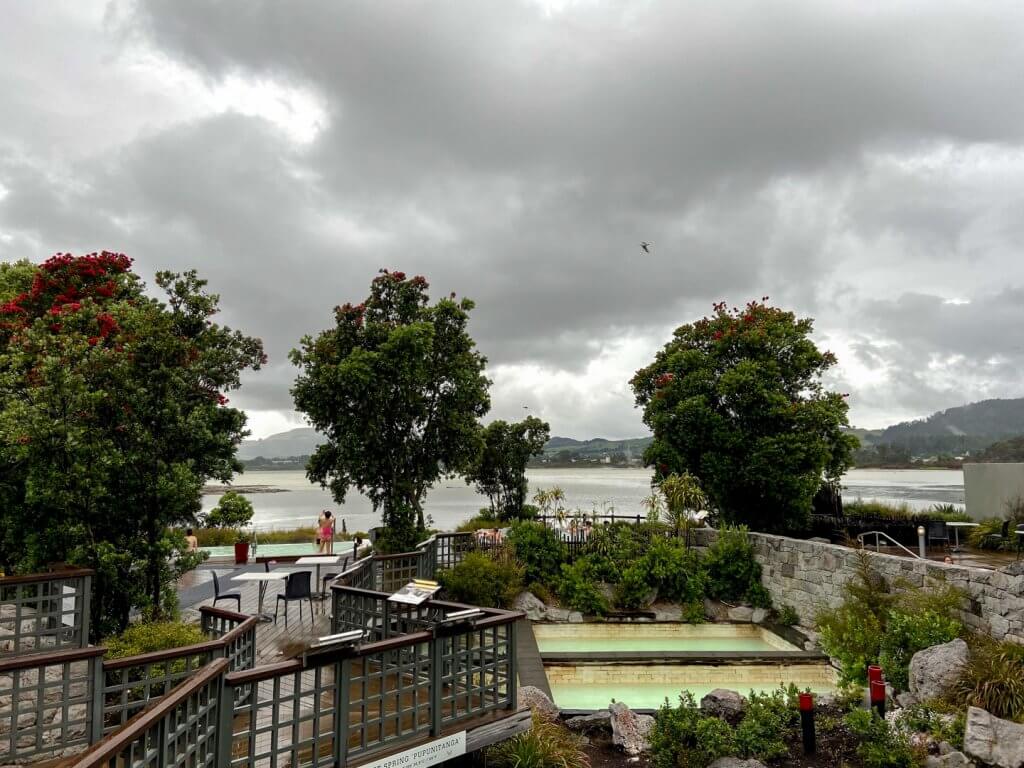 We spent only one day in Rotorua, but I think one should set aside two days to be able to enjoy the city fully.
Since we were unable to do the Redwoods Treewalk by night, we decided to do it by day, before we set off towards Waitomo. We headed towards Redwoods at about 10 a.m. and took a nice 40-minute stroll on bridges suspended high above the forest floor on humongous 118-year old redwood trees.
Rotorua to Waitomo- 140 km (2 hours)
The Waitomo Glowworm Caves are famous for worms that emit light, illuminating the dark caves like the night sky. They are unique to this part of the world, hence this activity is a must-do if nature fascinates you.
We thoroughly enjoyed this 30-45 minute tour, although it was a guided one. There was such an authentic feel to it because the guide showing us the cave was a descendent of the Maori Chief who originally explored the cave. We were fascinated by the way the guide navigated the boat in darkness using ropes that were pre-installed in the cave, thereby making no noise whatsoever.
Note: This is a commercialised experience with tours running every 30 minutes. You are not allowed to use your cameras when inside the cave as this may damage the ecology of the cave. In case you don't want to make the detour to Waitomo, or you're more of the 'I don't want to do touristy things kind' but still want to see the worms, there are caves you could visit in other parts of the country. However, they may be less accessible.
Waitomo to Taupo- 150 km (2 hours)
We drove to Taupo and took a walk around Huka Falls which is famous for the incredible volume of water gushing through a 15-metre wide gorge. It is just a 10-minute walk from the car park to the lookout point on turning left from the bridge.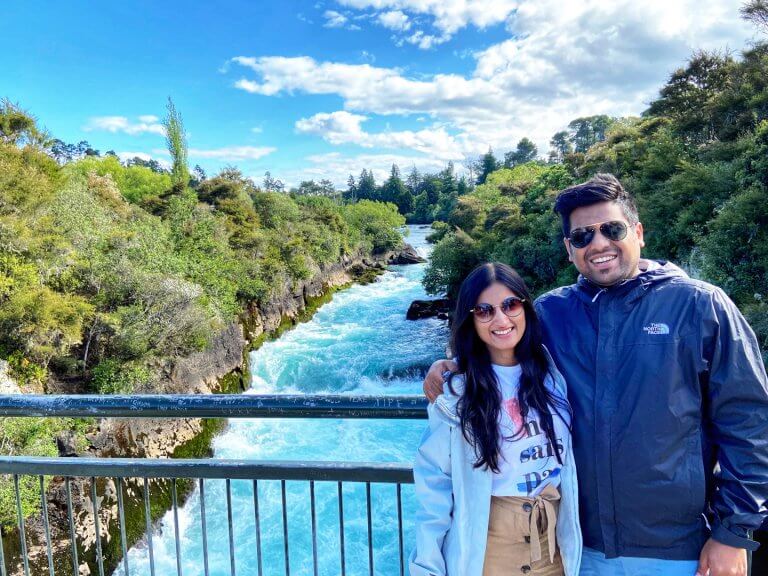 Alternative: Rotorua to Taupo- 82 km (1 hour)
A good way to avoid taking the detour to Waitomo would be to see the glowworm cave in Te Anau (South Island) instead if you're planning to spend a night there. There isn't much to do in Te Anau, therefore, it will be a worthwhile use of your time. Other schedules for this day could be:
Spend more time in Rotorua to do the plethora of activities available there- Maori shows, zorbing, more geothermal parks and pools, gondola and luge ride, etc. Head to Taupo in the evening.
Drive toward Taupo in the morning and make a midway stop at Waimangu Volcanic Valley.
Head straight to Taupo and spend some time by Lake Taupo. Check out the Mine Bay Maori Carvings and visit Orakei Korako Geothermal Park.
Divide your time between both cities- Spend 1st half of your day in Rotorua and 2nd half in Taupo.
Accommodation: We stayed outside of Taupo in Kinloch since we had a car and we were really taken to the Kinloch Farmstay Retreat Airbnb (read chance to meet cute sheep). Kinloch has a restaurant or two, so if you want more options then you can drive to Taupo which will take 20 minutes.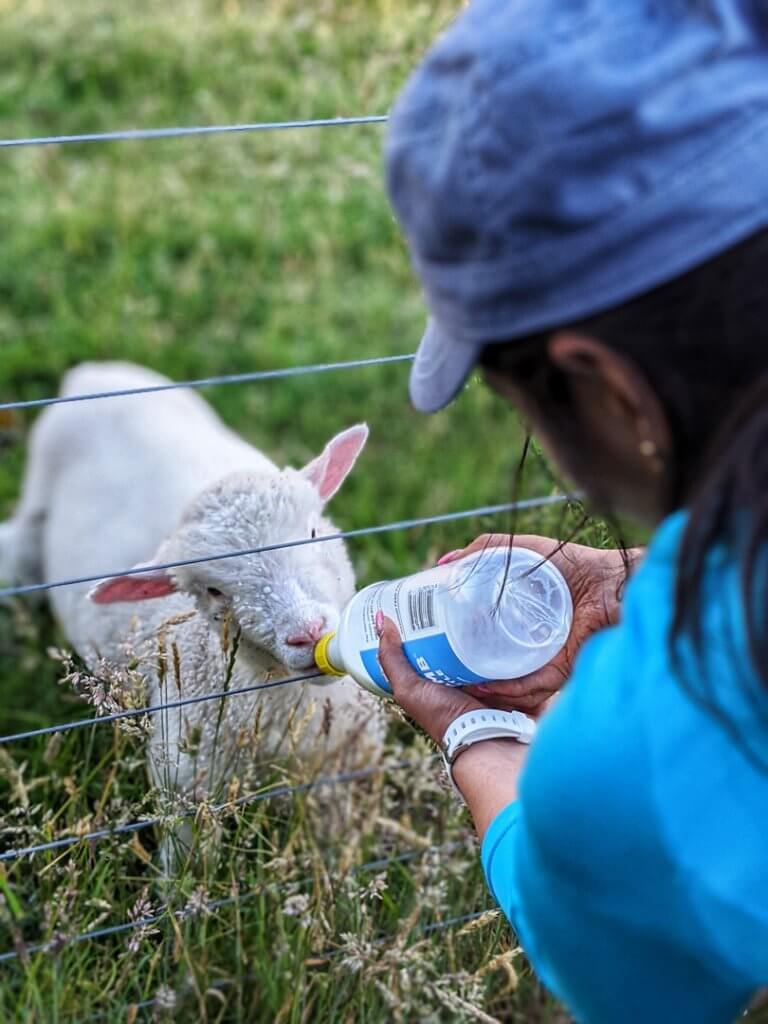 Day 6: Tongariro Alpine Crossing Hike
Kinloch to Ketetahi Car Park- 88 km (1 hour 10 minutes)
The most awaited part of the trip had finally arrived- the Tongariro Alpine Crossing Day Hike, known to be one of the best day hikes in the world. It also has dual status as a World Heritage Site for its natural and cultural significance.
This 19.4 km hike takes you through volcanic terrain with solidified lava flats, red craters, emerald lakes, steam vents, and not to mention, the famous Mount Doom (aka Mount Ngauruhoe) featured in 'The Lord of the Rings' movies.
We woke up at 4 am to board our pre-booked Tongariro Shuttle at the Ketetahi car park at 6:30 am which took us to the start of the Tongariro hike. A shuttle is required as it is a point to point hike starting at the Mangatepopo car park and ending at Ketetahi Car Park.
It takes about 6-8 hours to complete the hike. However, it took us 10 hours as we took a ton of breaks for pictures and rest. Also, we decided to hike in regular sports shoes as we had underestimated the difficulty level. Do not do this hike without a sturdy pair of hiking shoes as it is a strenuous trek with high chances of getting injured without proper gear.
Despite the early start, hike difficulty level, fear for our lives and subsequent body aches, it was the highlight of our New Zealand road trip. Walking inside and on the edges of craters and around an active volcano which last erupted in 2012 was an experience we will recall time and again. The views were stunning, unlike anything we had ever seen before.
Taupo to Wellington- 371 km (5 hours)
We woke up late with just enough time to pack and leave by checkout time, which is 10 am everywhere in New Zealand. So grateful for this as we were compelled to start our days early! We reached Wellington after a long drive only to find road closures around our hotel. Due to this, we ended up spending lots of time trying to find the hotel designated parking and our way to the hotel. As a result of this delay, we could not visit 
Weta Cave
, a creative design and physical effects facility that made movies like 'The Lord of the Rings' and 'The Hobbit' come to life. The Weta Cave houses props, creatures, costumes, vehicles etc. created for the movies.
Friends had told us Wellington's vibe is amazing. Unfortunately, we were here during the week before Christmas so most shops and restaurants were closed till Boxing Day.
If you aren't visiting during said time, take a stroll through Cuba street. It is a walking street known for its world-class cafés, bars and restaurants, quirky stores and a somewhat bohemian feel. Also, visit the Te Papa Museum, an interactive national museum that immerses you in New Zealand's unique history. If you're considering staying for longer, read this list of 15 Things to Do in Wellington, so you don't miss anything this city has to offer.
 Accommodation: Astelia Apartment Hotel, has a great location and really spacious rooms. Would love to stay here again.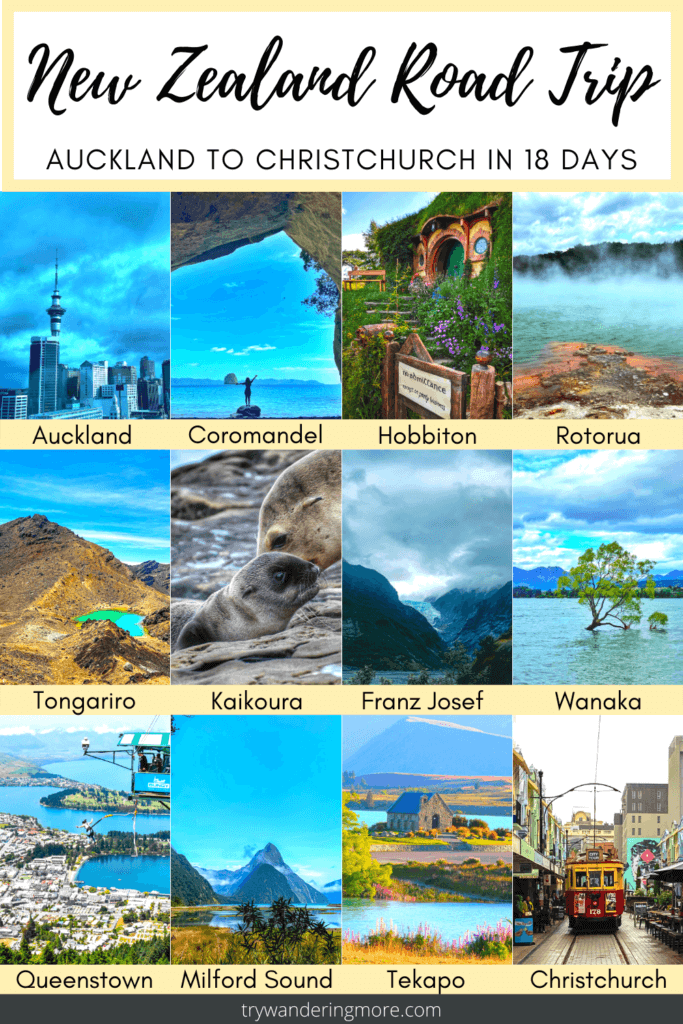 All distances and drive times mentioned are as per Google Maps. They may differ depending on road conditions, traffic etc.
All images are clicked on the iPhone 11 or Pixel 3A. We our in the process of getting our first full-frame camera, the Sony Alpha 7MIII
All accommodations mentioned have parking available either on or off street.
This blog post has affiliate links that enable us to earn a small commission when you make a purchase, with no extra cost to you. We only recommend products and activities we like and those that might interest you.