When you imagine outdoor New Year's Eve celebrations, do you imagine watching fireworks or partying in the dreary cold? If you do, then why don't you switch it up? Spend a beautiful warm New Year's Eve in Queenstown, New Zealand.
While Queenstown is famous for its thriving nightlife popularly called the party capital of New Zealand. You will love it even if you are not big on parties. We did not party, yet we had quite a memorable new year.  
Kiwis would probably tell you to stay away from Queenstown on New Year's Eve because they experience tourist invasion like no other time of the year along with accompanying noise and policing. In fact, they dread it. However, as tourists, we had a positive experience. Yes, not all was hunky-dory but you'll experience quite the same situation on NYE in most places.
So, in this article, we will discuss why Queenstown is an amazing place to celebrate New Year's Eve in New Zealand and ways to make the best of your time there.
Reason to celebrate New Year's Eve in Queenstown
December-January is summertime in New Zealand since it is situated in the Southern Hemisphere. However, it isn't intolerably hot if that's what you're imagining. It is warm with cool wind blowing from time to time. So, it's neither too hot nor too cold – perfect weather!
2. Be First to Bring in the New Year
Due to its geographical location close to the International Date Line, New Zealand is one of the first countries in the world to ring in the New Year only after Pacific island nations like Tonga, Samoa and Kiribati. So, you can be amongst the first few people in the world to celebrate New Year's Eve and see the new year sunrise.
Tip: If you want to watch the first sunrise on mainland head to Gisborne in North Island. You can party the night away at the Rhythm and Wine's award-winning music festival and stay up to ring in a new day.
3. Perfectly Picturesque Surroundings
Queenstown is incredibly picturesque being surrounded by the Remarkable Mountain Range and bordered by the beautiful Lake Wakatipu. Seeing the new year's sunrise and sunset colours there is an incredible experience truly like no other.
This party capital of New Zealand is always buzzing with lively restaurants, noisy bars and fun dance clubs. It is a town that never sleeps and that is saying a lot in a country that diligently follows- early to bed and early to rise.
5. Must-Visit Destination
Queenstown features in everyone's New Zealand itinerary for multiple reasons – it's beautiful, has plenty of things to do and makes for a near-perfect base to visit other popular locations like Milford Sound, Doubtful Sound, Mt.Cook (New Zealand's highest mountain), Glenorchy/Paradise and Wanaka. So, if you're there in late December, you can easily plan your route in a way that you spend New Years in Queenstown.
6. Crowded but Not Overly Crowded
Okay, it does get crowded. But in all honesty, it is not a bad kind of crowded. It is the kind of crowd that is to be expected on a holiday in a big town. Locals mostly stay indoors but the town comes alive with tourists from all over the world. We would term it is a nice kind of lively!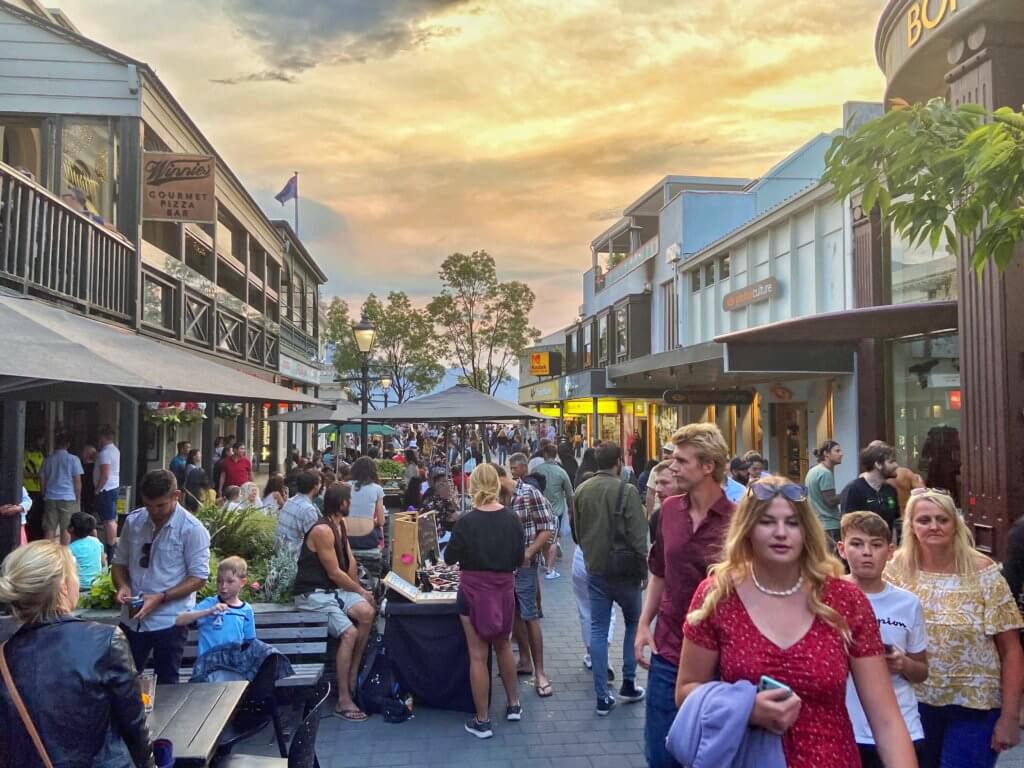 7. Policing is Only What is Needed
We have spent New Year's in a city where it is insanely cold, there is barricaded from morning to night and you have to stand in a never-ending queue as early as 6-7 pm to watch the celebrations. Over and above that, you don't have access to food, drinks or the toilet till you get out of the celebration area. After that experience, I think the policing in Queenstown is only what is necessary.
Yes, you will see quite a few cops compared to what you'll see throughout your New Zealand trip. They're there to keep down the nuisance that may be caused by drunkards and miscreants. It is only fair for an event where people of all ages come to enjoy their evening.
The town comes alive with a carnival-like atmosphere. You'll see people just strolling, buying food from pop-up stalls, chilling in bars and restaurants, and sitting by the lake.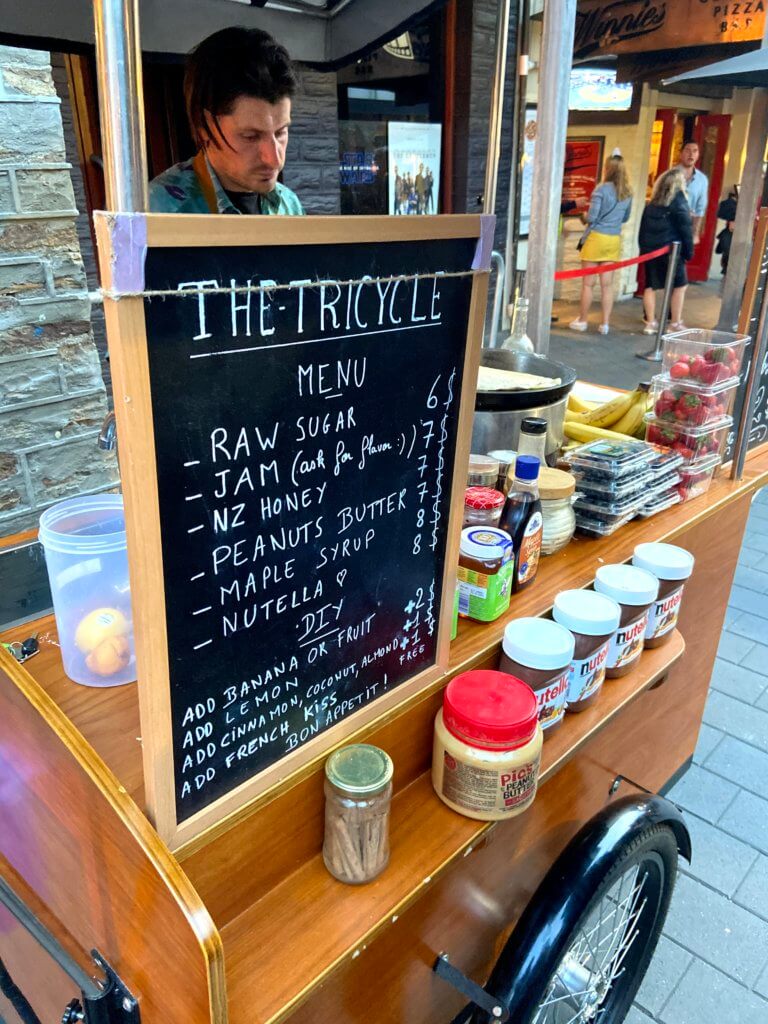 9. Something for Everyone to Enjoy
There is so much to do during New Year's Eve in Queenstown. In fact, there is something for most kinds of travellers!
i) Celebrate by the Lake Front in the Town Centre
New Year's Eve celebrations at the beautiful lakefront is THE place for all to have a good time. There are pop-up food stalls in the lanes leading up to the lakefront, live music at Earnslaw Park and you can sit on the lake ledge or park grass enjoying the music. So, finish up your dinner early and walk these lanes to enjoy the merry atmosphere or grab yourself a good sitting spot to wait out the dazzling midnight fireworks. The entertainment starts at 7:30 pm and goes up to 1:00 am.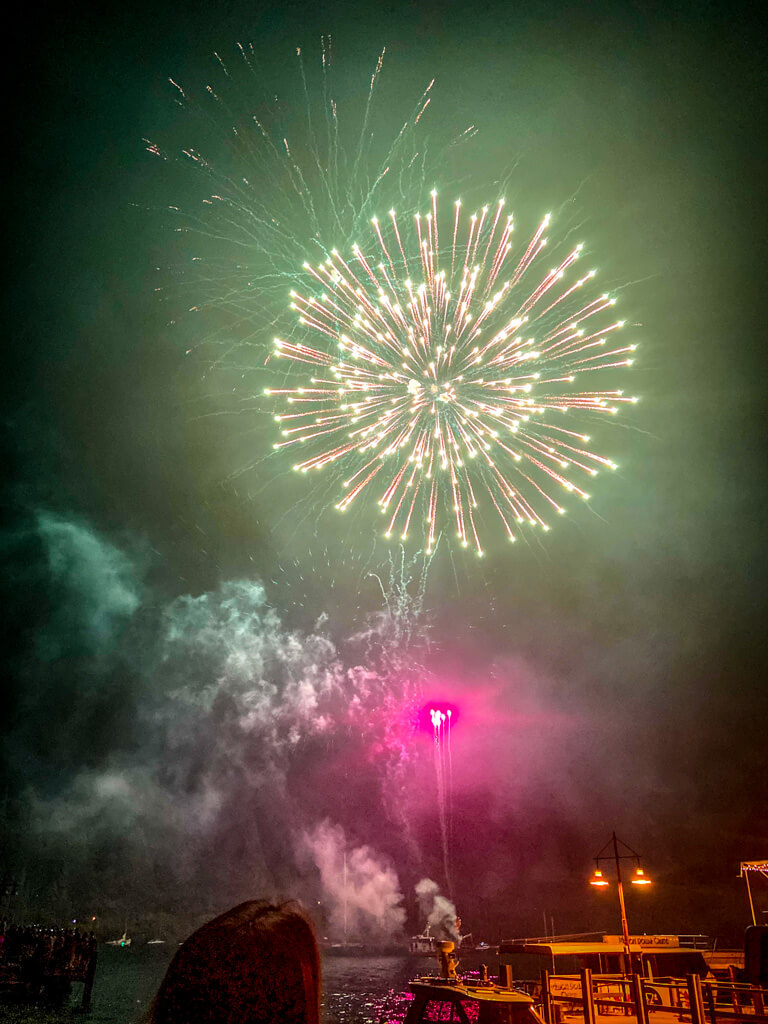 ii) Rhythm and Alps NYE Music Festival
This 2-day camping music festival is held annually on New Year's Eve at the scenic Cardrona Valley located just 45 minutes from Queenstown. It packs an amazing line-up of bands and DJs attracting about 10,000 people every year.
iii) Pub Hops and Organised Crawls
You can while away the evening in the many Queenstown bars at your own pace. Or else you could join one of the organized pubs crawls with Big Night Out or Kiwi Crawl to get free entry into bars, buy discounted drinks, eat some food, play hilarious party games and have a ton of fun. Organized crawls allow to not only see the town's spirited nightlife but also meet other travellers.
We chose to hop a few pubs at our own pace but we did observe tipsy pub crawlers have the time of their lives.
Hit the dance floor at Queenstown's night clubs. At some of these, the party continues till way after midnight so they're best visited if you want to stay up for the New Year sunrise. Read about the Queenstown's nightlife here.
If crowds don't appeal to you, opt to ring in the year by indulging in a lavish NYE meal at restaurants like Botswana Butchery, Blue Kanu, Ivy+Lola's Kitchen and Bar, The Bunker, and more. However, the lakefront location of Prime and hilltop location (Bob's Peak) of Stratosfare make for amazing midnight fireworks spectating locations. You might also want to check out Eichardt's Bar (I hear the view from there is amazing too). Make sure you book your table early enough to get reservations.
vi) TSS Earnslaw NYE Cruise
The TSS Earnslaw is an age-old steamship (the only coal-fired steamship in the Southern Hemisphere) that cruises along the Lake Wakatipu. On NYE this cruise departs at 10:30 pm and return by midnight so you can catch the fireworks while avoiding the crowds. Onboard you'll enjoy a live band, on-arrival drink and canapes, and an amazing view of the Remarkables.
10. Take a Leap into the New Year
Queenstown is also called the adventure capital of New Zealand. It is the birthplace of commercial bungee jumping which was started by A.J.Hackett. There is no better way to ring in the new year than to jump and literally take a leap of faith. You can choose from the three AJ Hackett Bungees that have a safety rate of 100%. A man older than 70 years has jumped without any issues. If he could, you can too!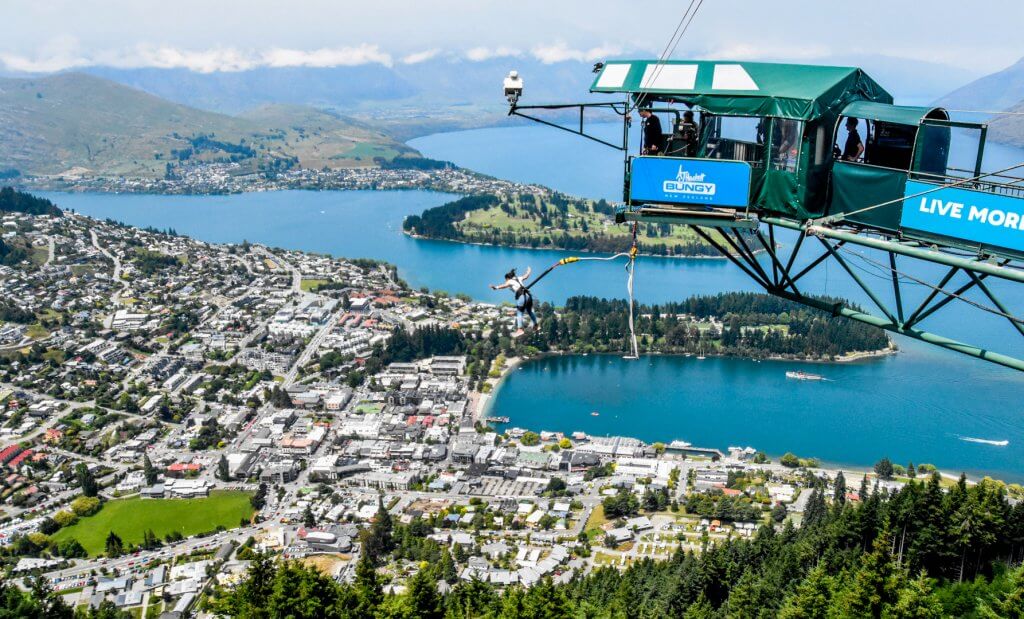 Tips to Enjoy a Queenstown New Year's Eve to the fullest
1. Book Accommodation Early
Hotels, hostels and B&Bs not only sell out super-fast but are also expensive. December is peak travel season in New Zealand, so it would be best to book accommodation super early – at least 4-5 months in advance. We started booking 3 months in advance and we starved for good places to stay at a decent price. You can circumvent this situation and pay less by staying in a campervan or camping that night.
In all honesty, you should book everything NYE related early- hotels, restaurants, parties etc.
2. Get accommodation close to town or park your campervan/car in town
As I said, it gets crowded. So, finding a parking space can be an issue. Try to get a spot as early into the day as possible so you don't have to hunt for one later. Best would be to book your accommodation close to the town centre so you don't have to even think about parking.
This tip comes from experience. Our accommodation was situated in Sunshine Bay which is 3 km from the town centre where the New Year's celebration takes place. We thought we wouldn't be able to find parking in town (we should have looked before presuming) so we took an Uber to town. Now, after the celebrations at about 1:00 am we started searching for an Uber to go back and could not find one. We tried all possible cab services but to no avail. Neither was anyone willing to give us a lift. So, after much trying, we walked the 3 km back to our B&B sometimes in absolute darkness on the main road with no footpath. It was a scary adventure – one that we could have avoided had we thought it through.
3. Beware of the Liquor Ban
There is a liquor ban in all public spaces such as the parks, streets, and beaches so don't stock up on alcohol to take to the Queenstown New Year's Eve festivities. If you wish to drink head to the bars, restaurants and nightclubs where you will be served by glass, not bottle.
In case you want to drink, you should carry your passport (especially if you look young). Since security is high on New Years in Queenstown, no establishments want to get into an issue with the police. You may not be served alcohol if you can't produce your original passport. No other ID proofs are accepted for tourists and they are very strict.
Since there will be a ton of tourists that might have too much to drink, things could get out of hand. Watch out for your belongings, drink spiking and avoid walking in the dark alone especially if you're a girl.
When deciding on things to do on the 1st of January, take into consideration that some places may not be open. Talk to the tour company beforehand to avoid a letdown. Also, you might want to book the must-do activities beforehand for the dates around new years to be guaranteed spots for your preferred time.
Now you know why New Year's Eve in New Zealand is best spent in Queenstown and how you can have the best time possible here. If someone asked us if we would like to celebrate New Year's in Queenstown again, we would agree without a moment's hesitation. What do you think? Does Queenstown sound like a place you would enjoy on New Year's?
This blog post on the 'Why New Year's Eve in Queenstown is Awesome' has affiliate links that enable us to earn a small commission when you make a purchase, with no extra cost to you. We only recommend products and activities we like and those that might interest you. If you like any suggested product, do buy from the given links.