Bhutan is a splendid country much to see and do. There are plenty of monasteries, temples, hikes, lush valleys, mountains, and more. However, it would take ages to see everything. So the typical tourist visits for 7 days keeping in mind the daily charge to stay in the country. This duration is ideal to see the places and key attractions that give you the essence of this wonderful country.
So, here is the list of the best places to visit in Bhutan along with the top things to do at these places.
Paro is a beautiful small town that has Bhutan's only international airport. Therefore, it will probably be the way you enter Bhutan (unless travelling by road from India). The town is mainly lined with cute cafes, restaurants and souvenir shops. I loved wandering on the main street and by lanes, you could try it too!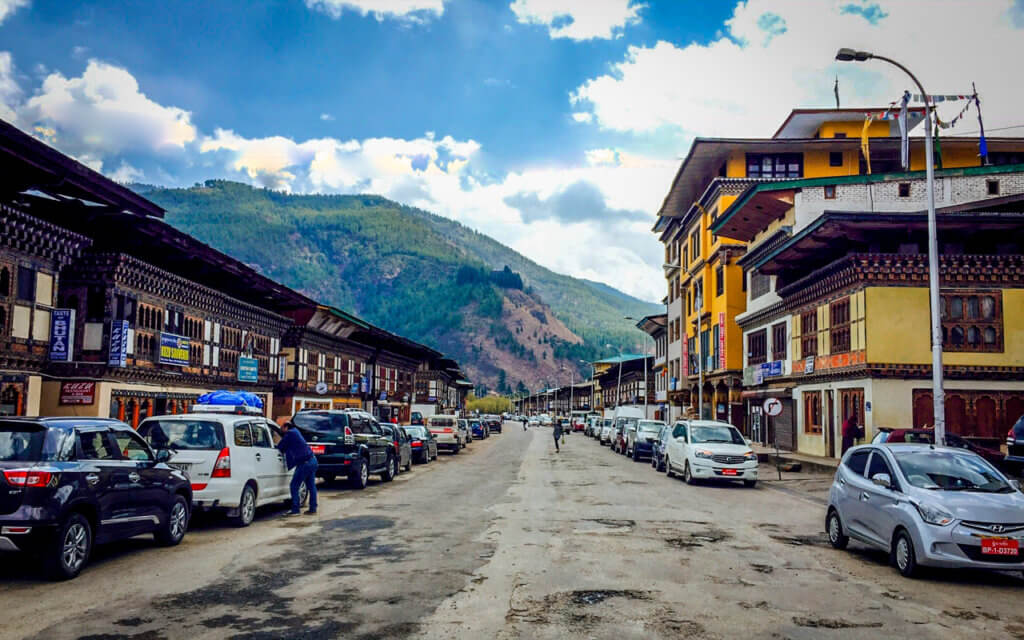 Top Things to Do in Paro Bhutan
Tiger's Nest Monastery
: The Tiger's Nest Monastery or Paro Taktsang is Bhutan's postcard icon and undoubtedly a bucket list affair. It is a monastery perched precariously on a cliffside, 900 metres above the ground, that can only be reached via a 2-3 hour easy-moderate difficulty hike. Don't let that deter you! The hike is a beautiful one that you'll remember for the rest of your life for all the right reasons.
Location
: 20 minute drive from Paro Town
Best months to visit
: March-April and September-November
Time for visit
: 6-7 hours
Timings
: 8 AM – 4 PM.
Read our
Tiger's Nest Hike Guide
for all the details, tips and must-knows for this hike.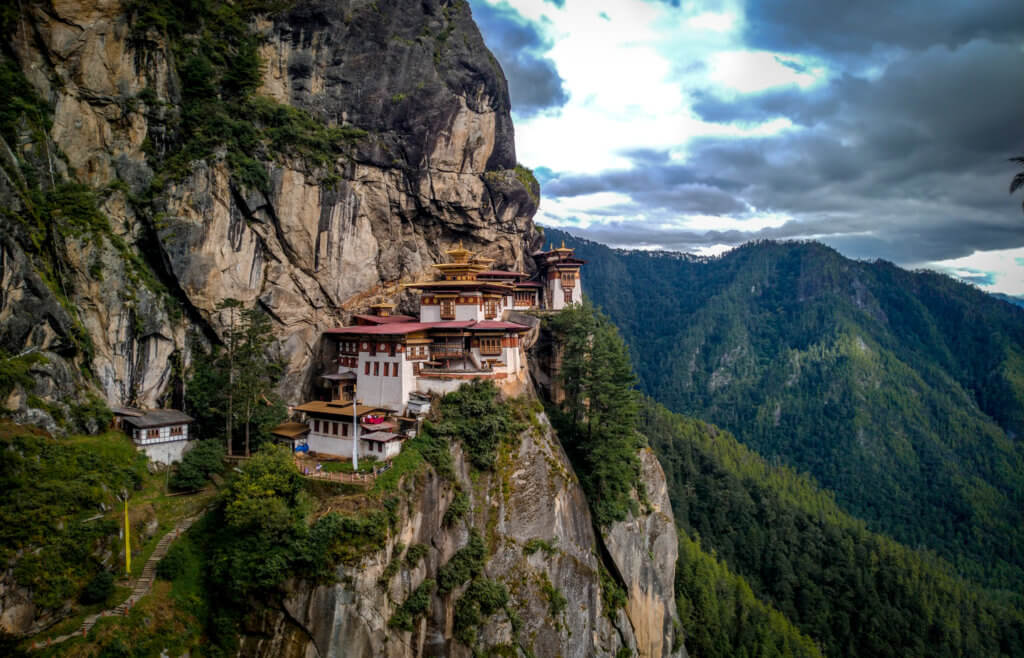 Bhutanese Hot Stone Bath: After the Tiger's Nest Hike, soak in a hot stone bath that Bhutan is so famous for. Don't worry! The hot stone won't burn you as they aren't placed in your bathtub but in an adjoining chamber. The minerals released by the heated stone along with the properties of Artemisia leaves gives the water medicinal benefits known to heal stomach disorders, arthritis, joint pains, hypertension and other minor ailments. It is the  perfect way to relieve sore muscles are the tiring hike. 
Visit Bjagoe Menchu in Paro for a low-cost option else you can also indulge in such a bath at Punakha, Bumthang or Gangtey.
Paro Dzong or Rinpung Dzong: Firstly, let me elaborate on what Dzongs are. They are traditional Bhutanese fortresses that were built in the 17th century to defend against attacks from Tibet. The exteriors are constructed in traditional Bhutanese architecture and interiors are adorned with intricate art. They now serve as administrative offices and religious residences. The Rinpung Dzong has massive buttressed walls that tower over the town and are visible throughout the valley. When here, appreciate these massive walls, colourful decorations, and intricate wooden carvings. Do not miss peeping from the windows of the building to admire the terraced farms of Paro Valley – a sight to behold.

Location: 10 minute drive from Paro Town
Best months to visit: March-April and September-November
Time for visit: 6-7 hours
Timings: 8 AM – 4 PM.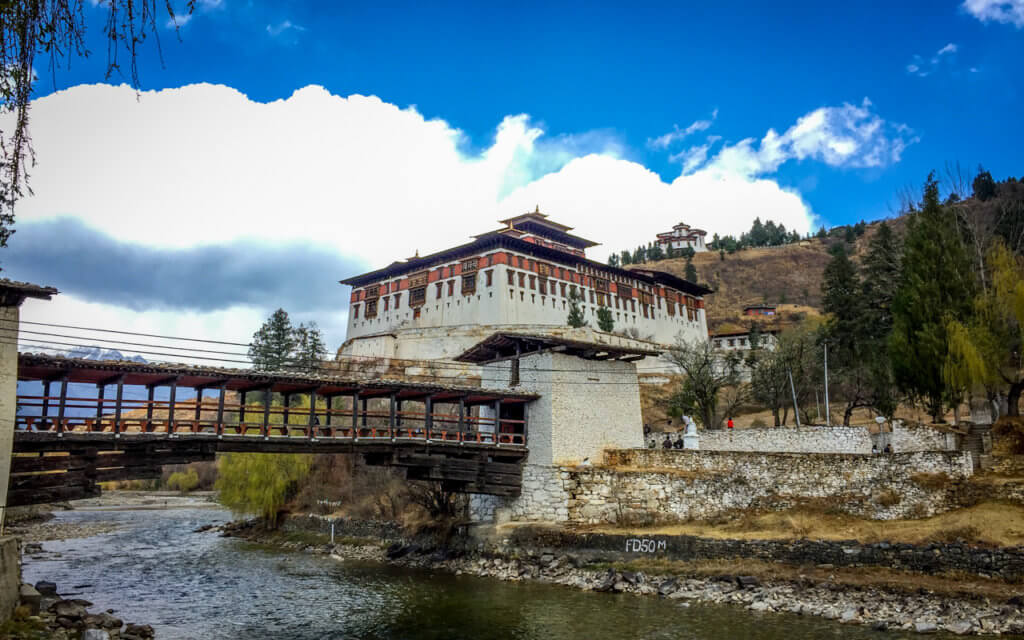 Chele La Pass:
Chele La is the highest motorable point in Bhutan, sitting 3,988 metres above sea level. If you're a nature lover, you will love visiting this pass for the panoramic mountain views and a glimpse of magnificent Mt. Chomolhari – Bhutan's most sacred and highest peak at 7329 metres. If you're visiting on a snowy day, just ask your driver to take you till the point that is safe for driving. Here you can have a good time playing with snow. Do try red rice porridge from the trucks selling light snacks at this point. Made of rice, cheese, ginger and chillies/pepper, it is happiness in a bowl!
Location:
1.5 hours from Paro between Paro and Haa Valley.
Best months to visit:
April to June
Time for visit:
1-2 hour
You can also visit the National Museum of Bhutan and try beer from the Namgay Artisanal Brewery just out of town.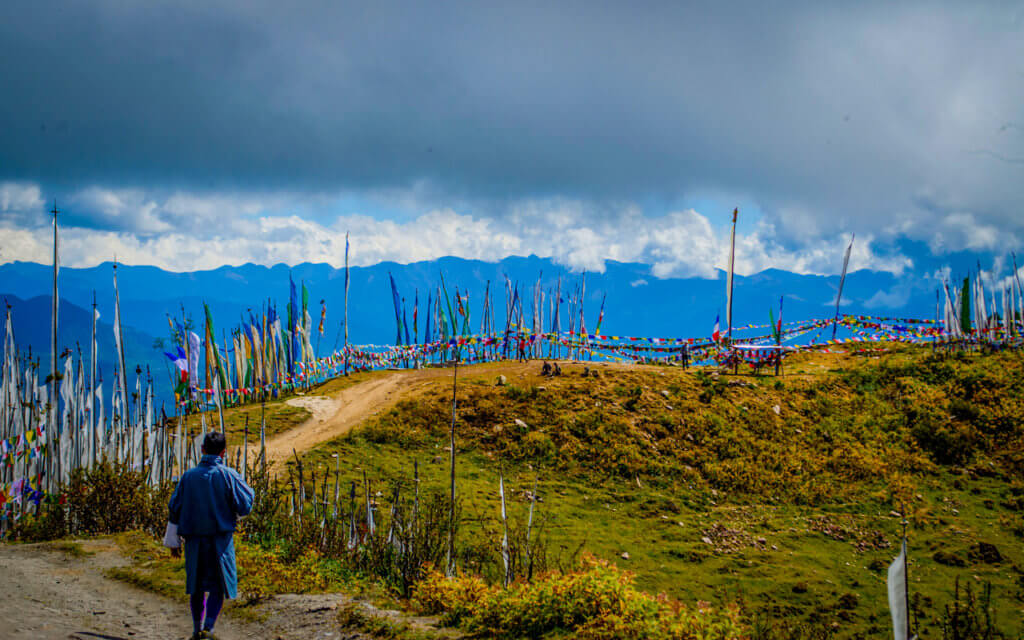 Thimphu is  the capital city of Bhutan. But it isn't not your regular capital city. Why? There is no hustle-bustle, no flashing billboards and no skyscrapers despite it being the largest city in the country. It is rather peaceful and serene but with great café culture.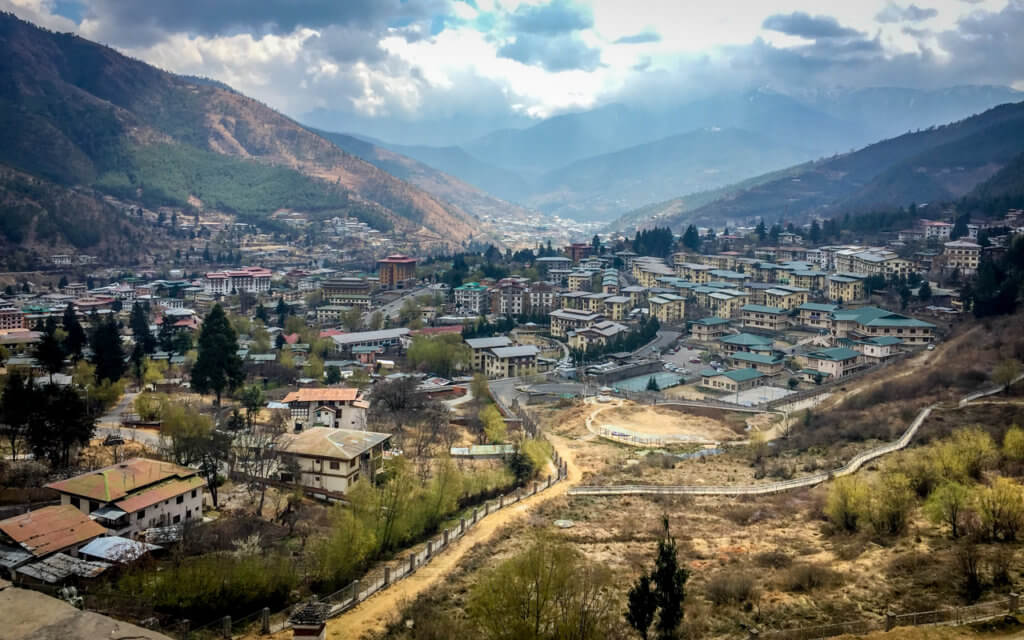 The Best Things to See and Do in Thimphu Bhutan
Dochula Pass

:
Unlike other passes, the Dochula pass is adorned with 108 stupas or chortens built in the memory of martyred Bhutanese soldiers. Here, you'll see many Bhutanese people offering prayers by walking around the circular or sitting between the Chortens enjoying a picnic. To know why this is one of the top things to do in Bhutan, do not forget to look at the breath-taking view of the Himalayas from here.
Location:
40- minute drive from Thimphu towards Punakha.
Best months to visit:
March to May and September to November
Time for visit:
1 hour
Timings:
NA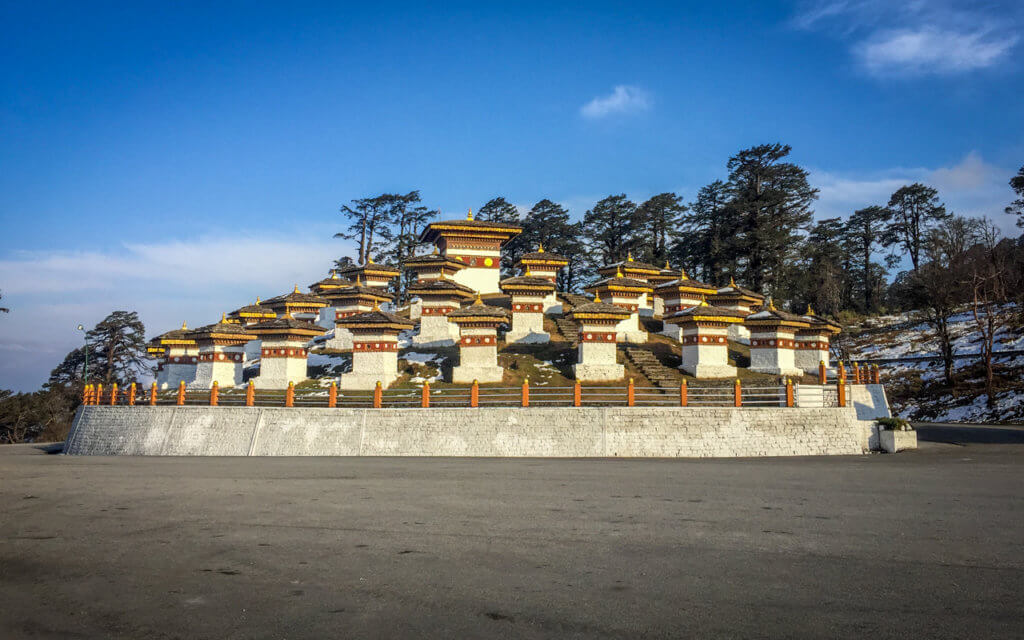 Buddha Dordenma: The Buddha Dordenma is a 169 feet tall bronze Shakyamuni Buddha statue symbolizing indestructibility – an awesome sight! It is built on top of a hill in Thimpu and can therefore be seen as a speck from all over the city. This statue sits on top of a meditation hall that houses 1,25,000 small gold gilded bronze Buddha statues.

Mind-Boggling Fact: The construction cost a whopping $100 million.
Location:15- minute drive from Thimphu Town
Best months to visit: Year-Round
Time for visit: 1.5 hours
Timings: 9 AM – 5 PM, closed on Mondays and other National holidays.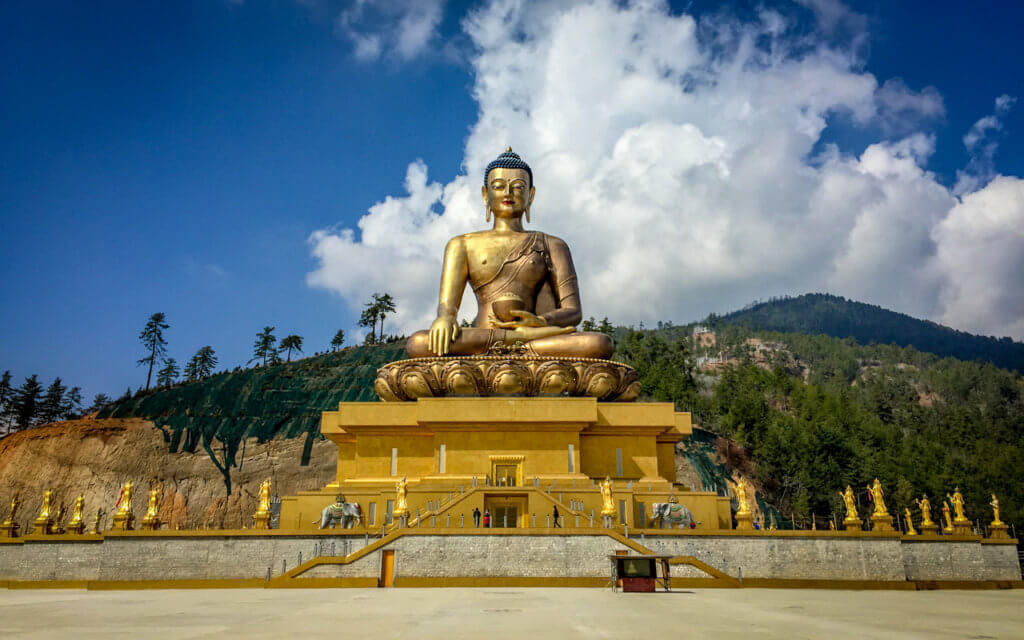 Thimpu Dzong or Tashiccho Dzong: This Dzong, located 2 km away from Thimphu Town at its border, is of major importance as it houses the office and throne room of the King of Bhutan and serves as the main secretariat of the Bhutanese government. Time your visit precisely at 5 PM to see the changing of the flag (change of guard) ceremony. Stay till nightfall to see the Dzong lit up beautifully.

Location: 7km from Thimphu Town
Best months to visit: Year-Round
Time for visit: 1.5 hours
Timings: Open weekdays only from 5 PM- 7 PM. Saturday & Sunday – 8 AM to 6 PM. (please check these timings with a local guide or travel agency or your driver before you visit as there is a lot of different information given by whomever you ask).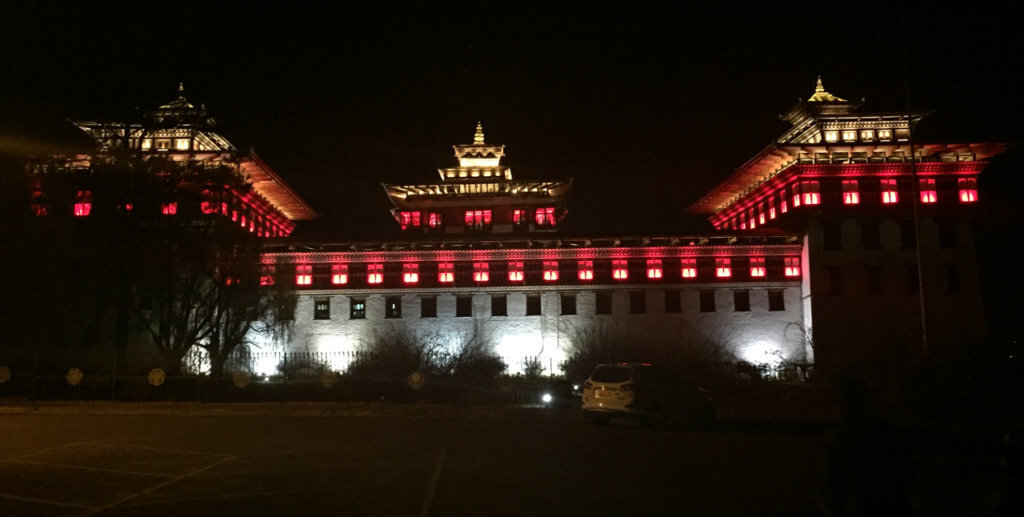 You can also visit the National Memorial Chorten (daily pilgrimage for local people), Changangkha Lakhang (Bhutanese temple), Motithang Takin Preserve (to see the national animal of Bhutan -Takin), Walk around Clock Tower Square (the heart of Thimphu), and the Weekend market (to see local life and buy food, and souvenirs)
Punakha is a scenic valley known as the rice bowl of Bhutan where rice is grown on terraced fields in a traditional manner. It is the place where two of the most important rivers of Bhutan meet. When visiting you'll be rather shocked to see Phalluses painted on the walls of buildings.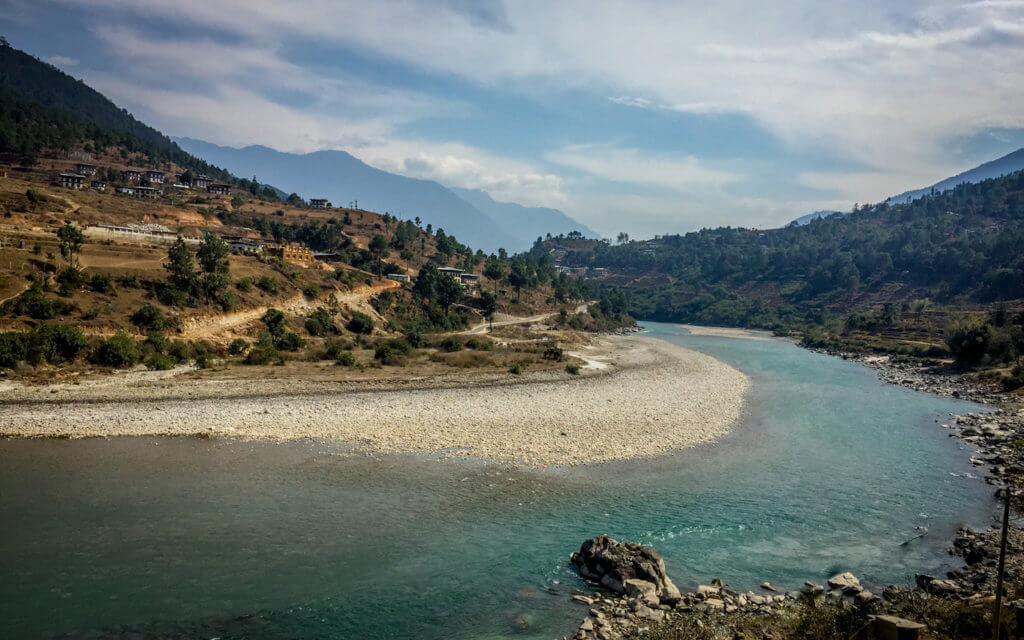 Things to See in Punakha Bhutan
The Punakha Dzong is the second-largest and second-oldest but considered the most beautiful. And boy, it is magnificent with a super picturesque location between two rivers. Take your time inside to let the grandiose and colour of the interiors be etched upon your mind since photography isn't allowed inside the buildings. 
It is definitely one of the most beautiful places to see in Bhutan. 
Mind-Boggling Fact
: The dzong is built without the use of nails!
Location:
30-minute drive from Punakha Town
Best months to visit:
March-May and September-November. The best time to visit the Punakha Dzong is mid-May when lavender coloured jacaranda trees blossom.
Time for visit:
2 hours
Timings:
9 AM – 5 PM. The dzong is shut from 1.30-2.30 so plan your visit accordingly.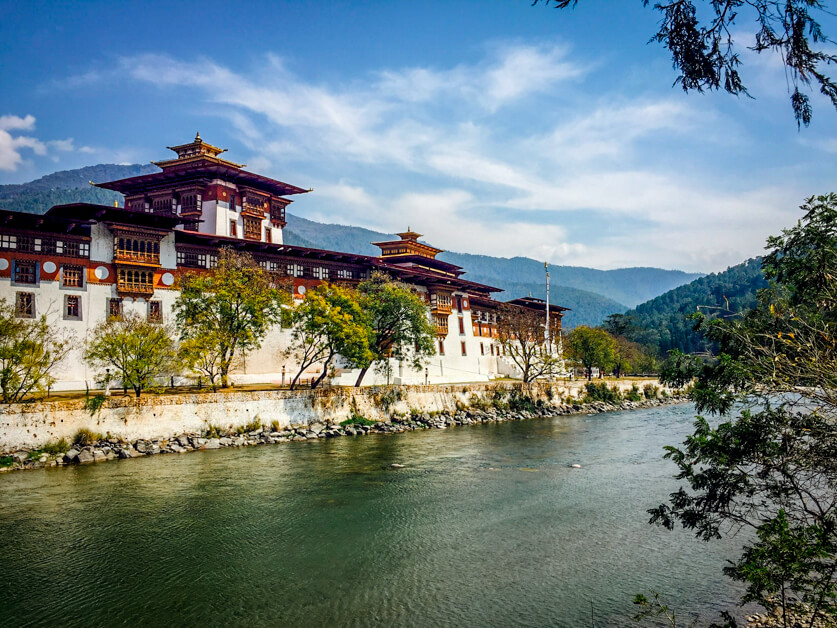 Chimi Lhakhang: Chimi Lhakhang is a temple of fertility perched on a small hill amid rice fields at Sopsakha village. It is where childless couples are blessed by keeping a wooden penis on the head. Couples even get their baby here to get a name, which is always Chimi. According to a legend, a Divine Madman used his penis to defeat a demoness. Since then the Phallus is used as a symbol of protection to drive away evil and hence painted over houses in the area. I'm sure you can see why it is one of the top Bhutan tourist places.

Location: 25-minute drive from Punakha town
Best months to visit: March to May and in October when the paddy is beautiful green and gold.
Time for visit: 1-2 hours
Timings: 9 AM – 5 PM.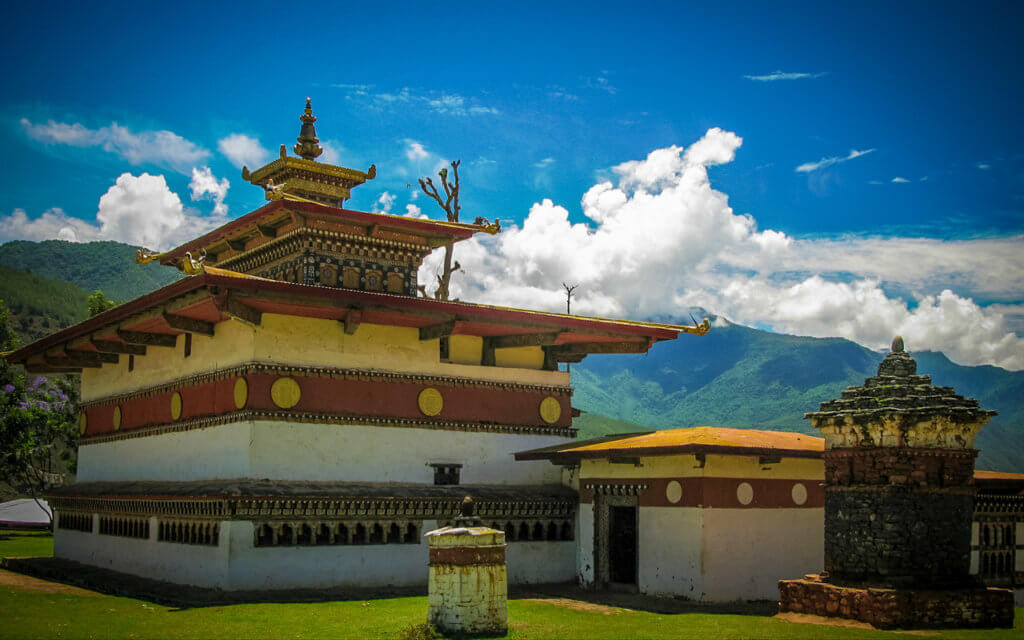 While the towns mentioned above are the most popular Bhutan tourist places owing to distance and time, there are other places that you should visit if you have more than 7 days to spend in Bhutan. Here are the less frequented places to see in Bhutan.
4. Phobjikha or Gangtey Valley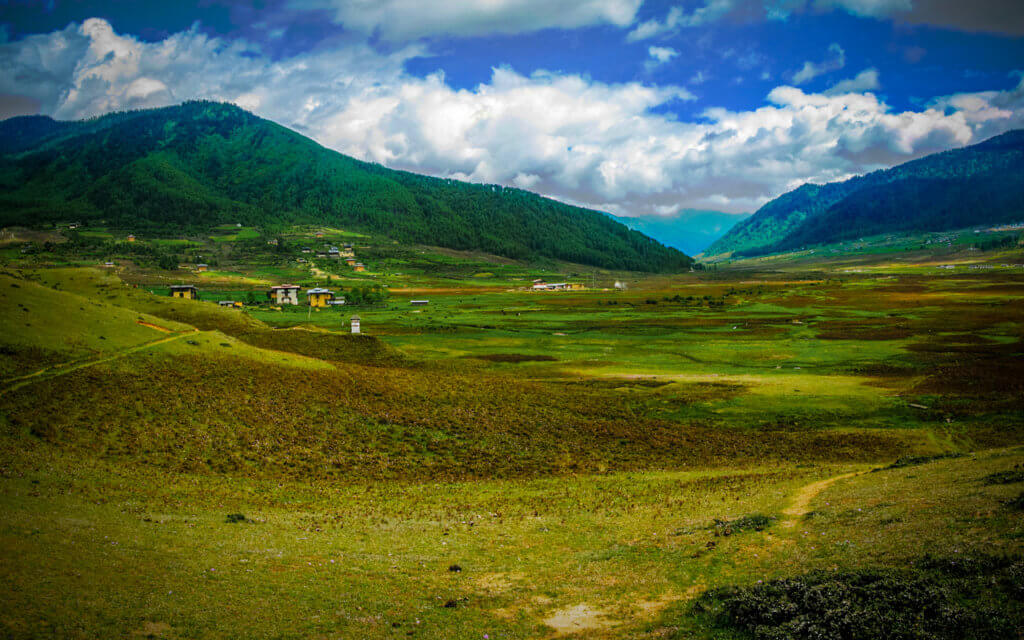 This is a glacial valley in central Bhutan which is famous for two reasons-  the Gangte Monastery and the rare black-necked cranes that visit here in the winter. These cranes arrive in the last week of October, they circle around the Monastery roof three times before landing in the valley's wetlands and repeat this process as they leave for Tibet in March. Hundreds of birdwatchers come to this area in October and March to witness the amazing spectacle of the cranes. Besides the cranes, the valley is home to more than ten protected species of birds and animals. The valley is best seen on a three day trek through it. Read this amazing Gangtey Valley experience to decide if you should visit here.
Best months to visit: October to March to witness the cranes. November is best to see the Crane festival at Gangtey Monastery.
Bumthang is the spiritual heartland of Bhutan as it has some of the country's oldest Buddhist temples and monasteries. It consists of four valleys – Chokhor, Tang, Chhume and Ura –  but Chokhor Valley is normally referred to as Bumthang! Bumthang is amazingly picturesque with stunning – meadows and forests dotted by villages- so walking and admiring this beauty is one of the best things to do here. Read this complete guide to Bumthang for more details.
Best months to visit: March to May and September-November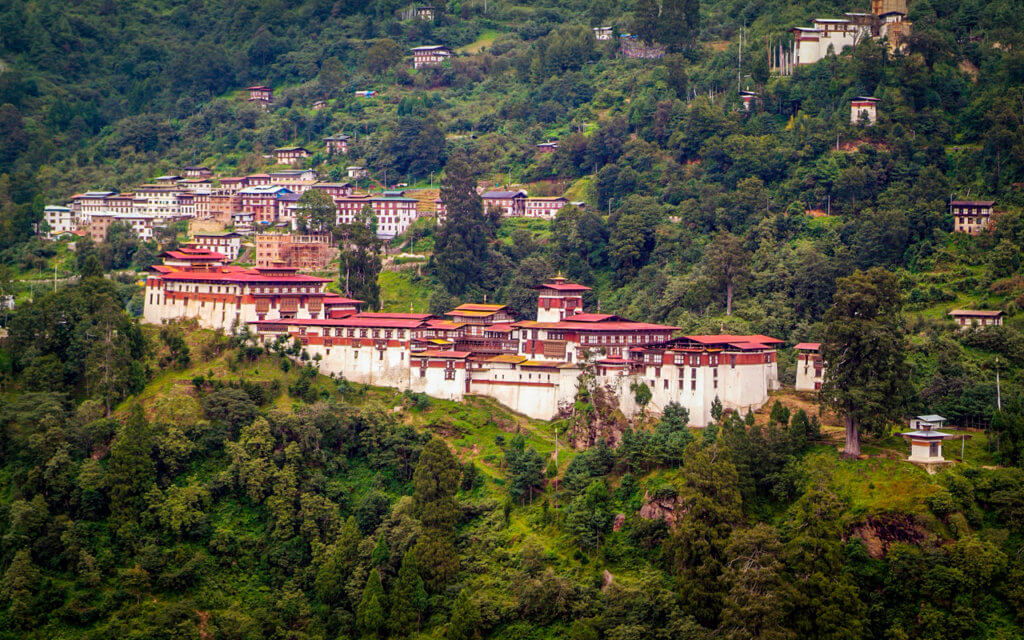 Trongsa, located at the centre of Bhutan on a steep gorge ridge, is a sleepy town with traditional whitewashed shops mostly run by Tibetan Bhutanese.
Trongsa is home to the largest most impressive Dzong in Bhutan, Trongsa Dzong, which is built on a mountain spur high above the gorge. What's interesting to note is that the crown prince has to serve as the Penlop of Trongsa (governor of the province of Trongsa) before he becomes a king. From the Trongsa Dzong, you can enjoy the breathtaking view of the whole valley. Also visit the Watchtower of Trongsa which is now a museum that is the perfect place to learn about the history of the kingdom. 
Other things to do: Kuenga Rabten Palace, Yathra Weaving Centre, Mangdu-Chu River hikes.
Best months to visit: March to October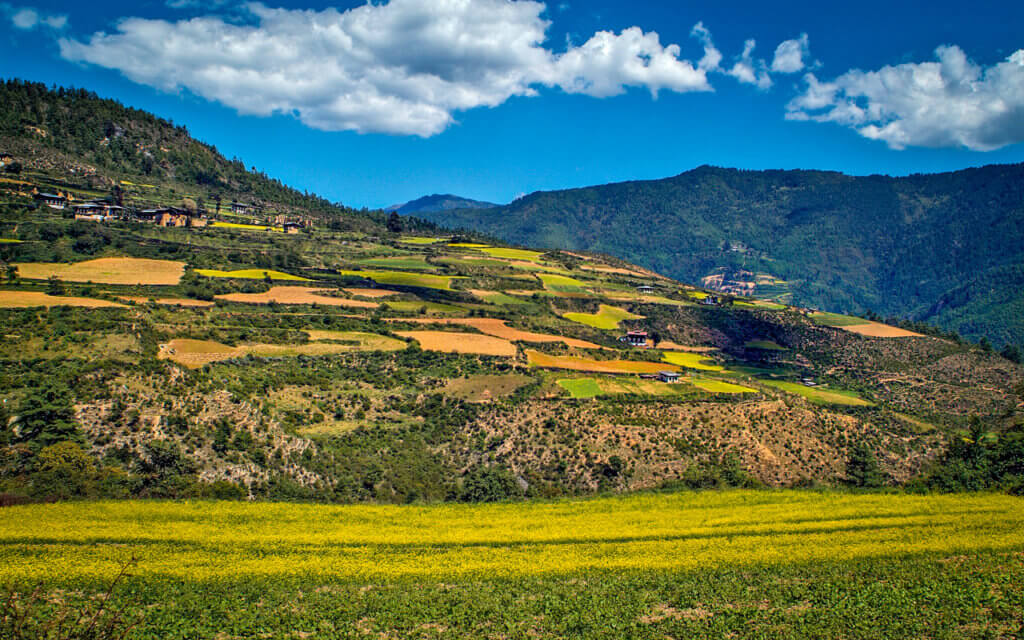 Haa is a beautiful valley with the scantiest population in all of Bhutan and known for its ancient tradition and culture. Surrounded by mountains and filled with paddy fields and grasslands, it makes for an amazing hiking and biking area. When here ensure you get an insight into the indigenous life of the local people and learn about the shamanistic rituals practised here. Places to visit include Lhakhang Karpo (White Temple), Lhakhang Nagpo (Black Temple) and Wangchuklo Dzong. To know more read this article on what to see, do and eat in the Haa Valley.
Best months to visit: September – November for mild weather with conditions conducive for trekking and hiking.
Hope you enjoyed this post on the best places to see and things to do in Bhutan. Do tell us in the comments which of these places or things to do in Bhutan interests you the most? Also, would you visit the four offbeat places and if so, which ones?
This blog post on the 'The Best Places to Visit in Bhutan' has affiliate links that enable us to earn a small commission when you make a purchase, with no extra cost to you. We only recommend products and activities we like and those that might interest you. If you like any suggested product, do buy from the given links.