Hampi is an incredible UNESCO World Heritage Site located by the Tungabhadra River in Karnataka, India. The ancient city's boulder-strewn landscape delights the eye; lush paddy fields and serene lakes soothe the soul, and the timeless ruins with their impressive history and architecture amaze the mind.
Here is a Hampi travel guide with a solid itinerary to maximize your time, details of how to get there, places to stay in Hampi, how to get around and tips for your visit!
Before we start, let us tell you that the face of Hampi has changed in the last year. If you've read or seen any content on Hampi before landing on our Hampi travel blog, then note that Hippie Island and restaurants like Mango Tree in Hampi don't exist anymore. Because of this, your Hampi itinerary could look a lot different from what you had initially planned. Luckily for you, this blog post is from our visit after these changes so you'll get the most updated information.
Add a header to begin generating the table of contents
Brief Hampi History
Hampi was the capital city of the mighty Hindu Vijayanagar Empire for over 200 years (around 1336 AD to 1565 AD) covering all of southern India south of the Tungabhadra river. The city was an important centre of trade since it controlled both cotton and spice trade routes of Southern India and traded gold, pearls, and other precious items by the kilo. The rulers fortified the kingdom and used their wealth to build an impressive city with beautiful palaces, temples, monolithic statues, markets streets, and monuments.
After the death of the empire's greatest king, Kishnadevaraya (reigning period 1509-1529), the kingdom soon fell to the combined armies of the neighbouring Muslim rulers of the Deccan. The city was ravaged and plundered and now lies in ruins.
In around 1 CE (the era of the Ramayana) this area was called Kishkinda – the kingdom of monkeys. The Hindu God Hanuman was born in the area!
When to Visit Hampi
Hampi's main tourist season is in winter from October to February. To avoid crowds, you can also visit in March (explore early morning and evening) and September (rains slow down and Hampi is very green). Know that in the rainy season, however, you will not be able to take a coracle ride in the Tungabhadra due to the strong current!
We have only travelled to Hampi in these off-season months and it turned out to be awesome. Lots of peace when exploring the ruins.
How to Reach Hampi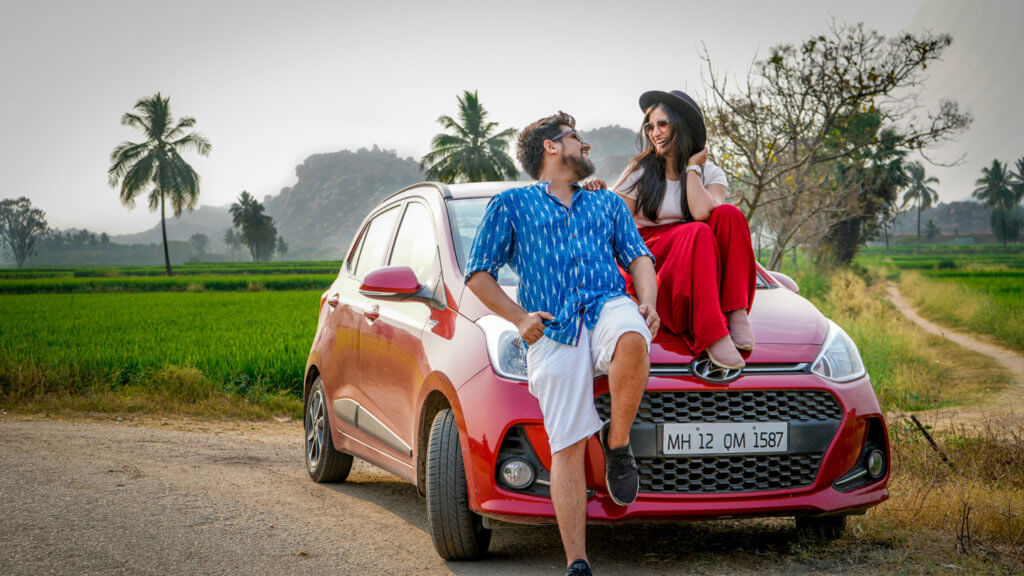 Flight: Toranagallu (11 km), Bellary (61 km) and Belgaum (191 km) are the nearest airports to Hampi. However, since flights are limited to these locations, it would be best to fly to Bangalore (351 km) and then take a bus or hire a car and drive for around 6 hours to Hampi. Book your flight here.
Car: Hampi is at a drivable distance from major cities like Bangalore (351 km or 6 hours), Hyderabad (385 km or 7.5 hours), and Panjim Goa (346 km or 8 hours). We love this method of transport and have always gone on a Hyderabad to Hampi road trip. The drive is a pleasurable one with vast fields and bouldered hills. 
Bus: You can book an overnight bus to Hampi in all cities mentioned above like Bangalore, Hyderabad and Goa. You can book this on Redbus. If living in the neighbouring town of Hospet, you can catch a local KSRTC bus to Hampi which takes about half an hour.
Train: Hospet Railway Station, located about 12 km from Hampi is the nearest station. It is directly connected to major cities like Bangalore, Hyderabad, Goa, etc. From Hospet, you can take a local bus to Hampi which takes about half an hour.
Days Required to Explore Hampi
You need a total of at least three days to see the main sights of Hampi – Two days to explore the heritage area side and one to explore the other side of the river – Anegundi, Anjaneya Hill, etc.!
Four-five days is ideal for a slower, more comfortable, visit!
Places to Stay in Hampi
To make the most of your time in Hampi, it is best to stay at a distance of 0-10 km from Hampi – the closer the better! Know that Hampi isn't a town in itself. Locals live in a small village called New Hampi but the location doesn't have any hotels or accommodation. So, you will have to opt for the area near Hampi or at nearby villages.
We have stayed at below given (first two) Hampi resorts and hotels and highly recommend them in terms of location.
Clarks Inn – Located in Kamalapur Town 4.7 km from Hampi's main attractions, it makes for an ideal place to stay. Small but well-appointed rooms with an in-house restaurant and a small pool! Perfect for those who'll spend their days exploring and look for only basic comfort in their accommodation. We booked this for only Rs.2000 per night making it a super budget stay, but per our understanding prices are not so low during season time. Check prices and book property here.
Heritage Resort Hampi – Located 7 km from Hampi, this resort is a great mid-range option for families and couples looking for a relaxed and comfortable stay amongst nature. Large rooms, great food at the restaurants, happy hours, evening entertainment, amazing greenery (lots of mango trees) and a decent-sized swimming pool make this stay option one of the most ideal resorts in Hampi. Check prices and book this property here.
Evolve Back Hampi – For the ultimate luxury, opt for this Hampi resort located 9 km away. The architecture of the resort is inspired by that of the Vijayanagar Empire. You'll feel like you're staying in a palace. We haven't stayed here but would love to someday! Check prices and book property here.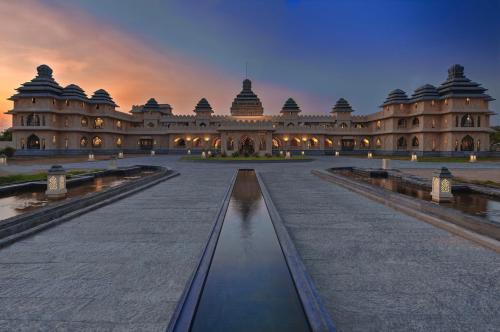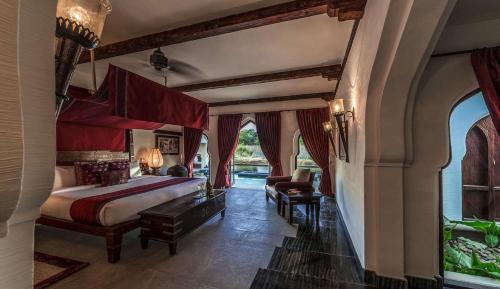 If you're on a tight budget and don't care much about worldly comforts, opt for a homestay. You'll not only save money but also have an authentic local experience.
How to Get Around Hampi
Having your own set of wheels is super convenient. However, if you can't do that, hire an auto-rickshaw for the day.
You can also opt to hire rickshaws to transport you from one location to the other but this might be more time consuming and you may not find rickshaws outside all points of interest especially if travelling out of season.
Earlier, scooters used to be available for rent, but now due to the demolition of the hippie area, we are not sure if it is possible. It would be best to enquire about scooter hire at your accommodation or ask guides in the Hampi area on Day 1.
Hampi Itinerary – 3 Days
Here is a 3-day Hampi itinerary that will help make the most of your time.
Day 1
Day one's itinerary has been written assuming you will be reaching by mid-day or morning, checking into your accommodation and stepping out only after lunch.
If you type Hampi on Google Maps, it takes you to the main Hampi area consisting of Virupaksha Temple and Hemakunta Hills. This is the area you should explore today to get a flavour of what Hampi is all about.
Park your car at the Virupaksha Temple parking or take an auto till there and start your walking adventure for the day. You won't need a vehicle till after sunset to go back to your hotel.
Sri Virupaksha Temple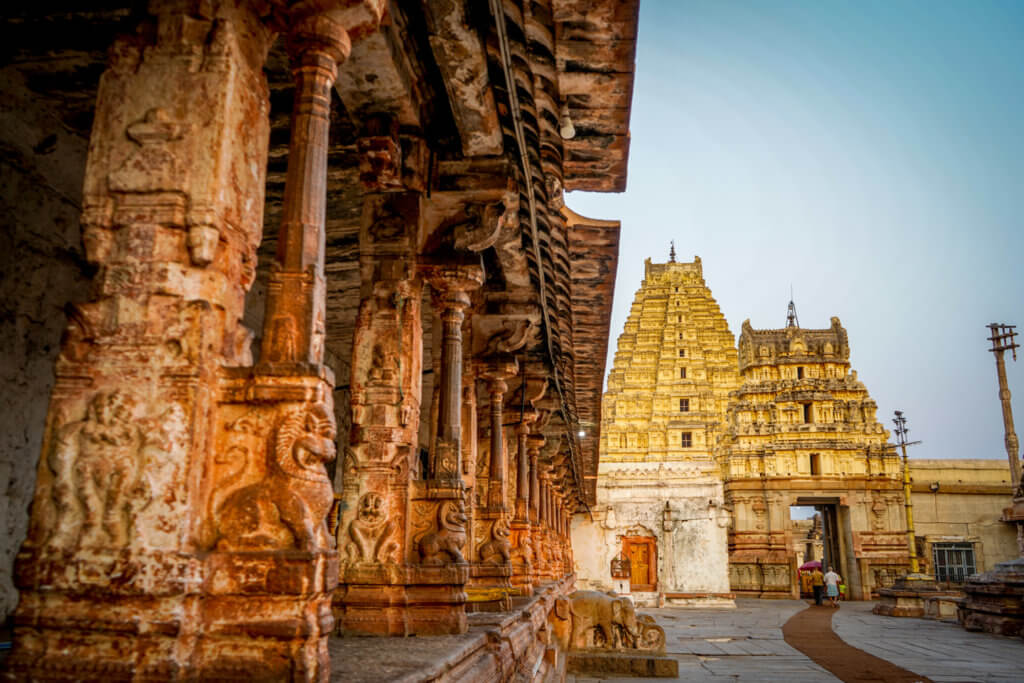 Dedicated to Virupaksha, an incarnation of Shiva, this is the most popular and probably the oldest temple in Hampi as it was built in the 7th century (most other sites were built in the 15th century). It is a must-visit for two reasons:
It is the only working temple in main Hampi
You get to meet and get blessings from an adorable elephant called Lakshmi.
As you approach the temple, you'll be welcomed by a beautiful gold Gopuram. Leave your shoes on the left side of the entrance (Rs.2), buy your ticket (Rs. 25 per person), and hire a guide (Rs. 200). You'll start at a serene courtyard, admire vegetable paintwork on the roof of the main temple, gape at a fascinating opening in the wall that works like a pinhole camera, see a charming kund, and various temples dedicated to other Hindu gods.
The visit should take about half to one hour.
Hemakuta Hills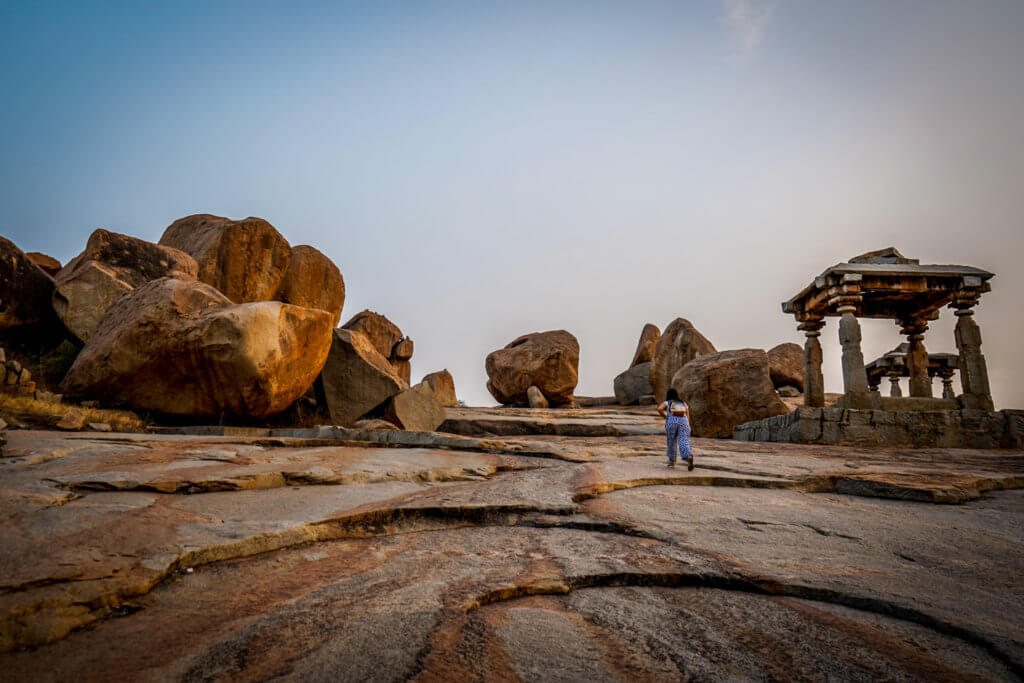 When we think about Hampi, the Hemakuta hills is what comes to mind. It is a hilltop (made of one huge rock) dotted with several temples and smaller boulders. While the most iconic place to visit here is the Moola Virupaksha Temple just a 3-min walk from Virupaksha Temple, we say don't sweat it. Just climb the hill and explore on your own though we must mention we love the frangipani tree at the Hemakuta Hanuman temple. Watch the sunset sitting on one of the cliffside benches (google sunset point Hemkuta) or anywhere else that appeals.
Remember the sun doesn't set at the horizon but much above it due to the haze in the area. Don't miss the sunset thinking you have a lot of time. Also, as soon as the sun sets, get ready to leave. If you don't, a police guard will usher you out.
Wondering why this is important? Well after sunset, bears and leopards freely roam the Hampi area. You wouldn't want to serve yourself as dinner to these animals 😛
Day 2
Vijaya Vitthala Temple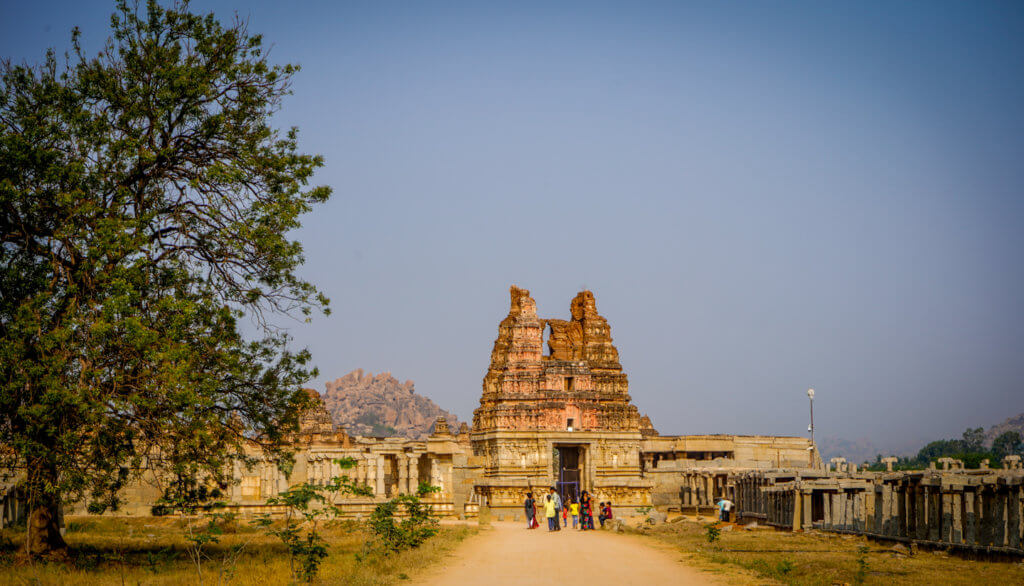 The Vithalla Temple is dedicated to Vittala, an incarnation of Lord Vishnu. It is the most popular, beautiful and fascinating structure in Hampi and attracts a significantly large crowd. Therefore, it is best visited first thing in the day.
The temple opens at 8:30 AM so ensure you're at the parking by 8:15 AM. Since the temple complex is at a distance of about 1.3 km from the parking, you will have to choose between the two options for getting to the temple – a 15-minute walk or a golf cart ride for Rs. 10 per person. We recommend you walk to the temple visiting various sites on the way and take a golf cart when exiting to save time and energy for the rest of the day.
While walking to the temple's entrance, you will see the Pushkarni (water tank), Guduregombe Mandapa (temple), and lastly structures that used to be a marketplace. At the entrance buy a ticket (Rs. 40 per person). Keep the ticket safely as it is used at some other sites you'll be visiting today as well.
On entering the walled temple complex through the gopuram gate, you'll immediately notice the stone chariot that is featured on India's Rs. 50 notes. A marvel! Further, you'll see the Nritya/Ranga mandapa (dance hall) that has musical pillars. When tapped, these pillars that are made of a single piece of resonant stone, make musical sounds. It's an absolute wonder! This mandapa is shut for maintenance so you may be shown this phenomenon at another mandapa.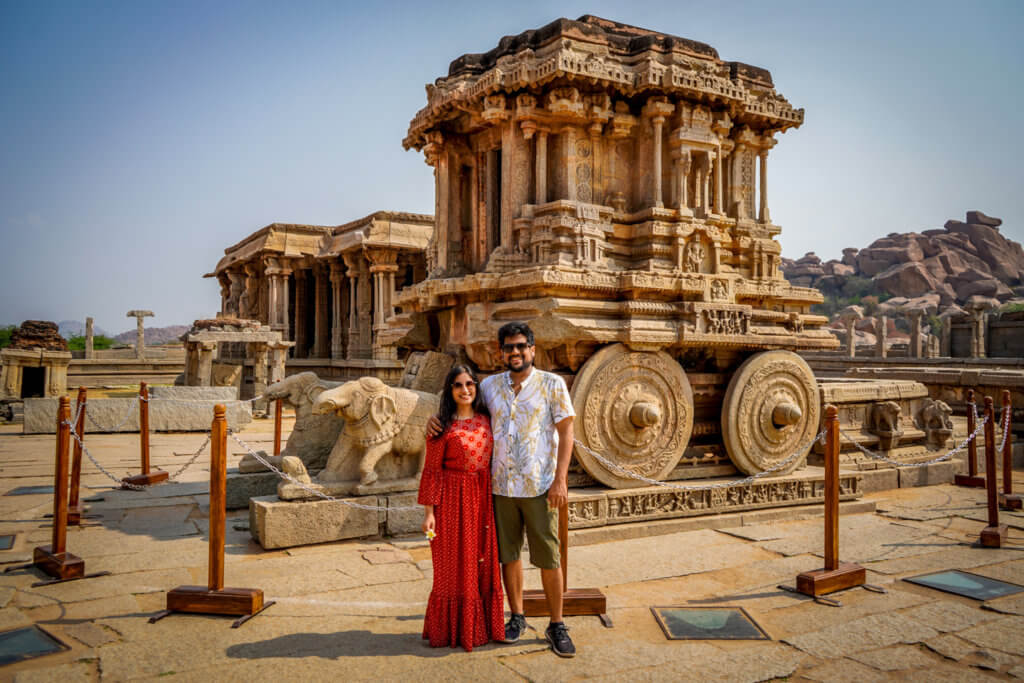 After your visit, check out the King's balance nearby (300 metres) or head directly to the Queen's Bath (in the Royal Centre) which is about 5 km from here.
The visit should take about 1-1.5 hours.
Royal Centre
Hampi is divided into two – the Royal Centre and the Sacred Centre. Today, for the first half of the day, you'll be exploring buildings in the royal centre that houses the palaces, durbars, tanks, residences, and baths used by the royals of the empire. Start at Queen's Bath the first building in the Royal Centre area.
Queen's Bath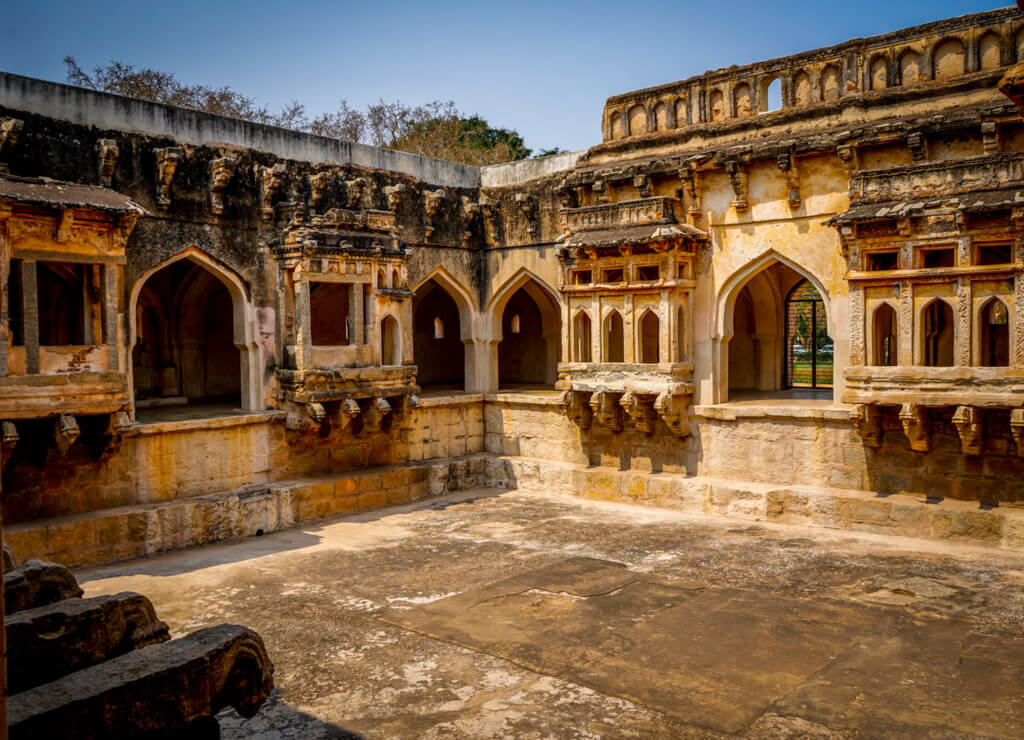 The Queen's bath makes for a short and interesting visit. Constructed in Indo-Islamic style, the structure has a simple exterior and an ornate interior with a colossal sunken bath. Due to its distance from the royal enclosure, it is believed to be a pleasure complex. Arched corridors and ornate balconies are what makes this place worth the visit. An owl and owlets are often found inside the empty bath. An additional delight!
After exploring the bath for about 15-20 minutes, head to the Royal Enclosure located 550 metres from the Queen's bath. Better to take your vehicle instead of walking it if you have one!
A guide is not necessarily required to explore this structure and as such, you won't find any outside it.
Royal Enclosure
The royal enclosure was the seat of power of the Vijaynagara Empire. In its heydays, this 59000 square meter area housed 45 buildings including the great platform, durbar halls, tanks, and underground chambers.
The main places to see in the Royal Enclosure are:
Mahanavami Dibba (Great Platform) – This 3 tier 8-meter-high platform is the only structure in the enclosure that still stands as it did back then. The raised platform was used by the king to view the Navami/Dussehra celebrations. There are beautiful war carvings at the lower sidewall of the structure.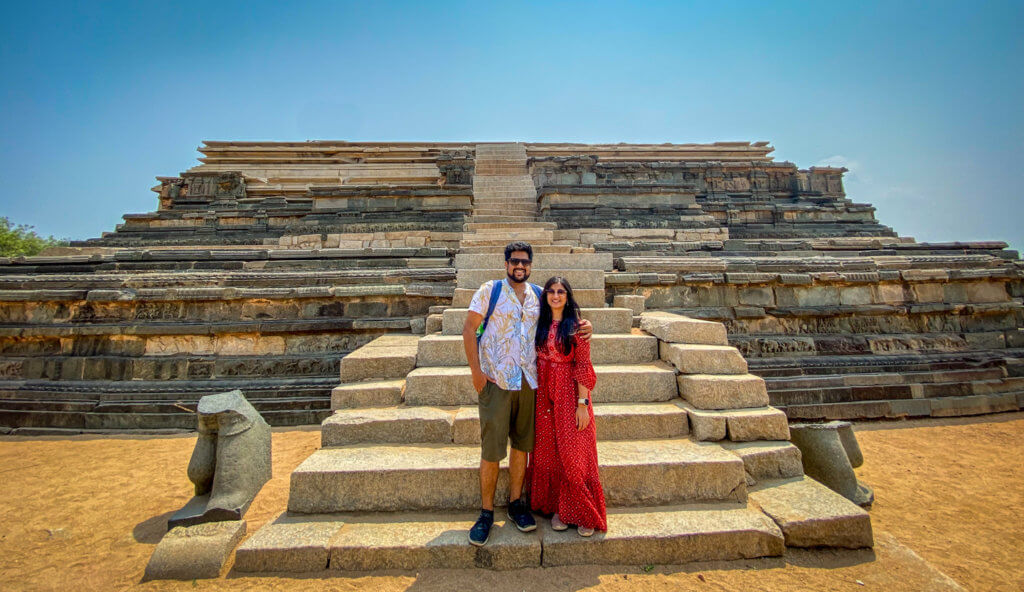 The Underground Chamber – This is where spies were held for questioning. It is constructed in a manner that left spies wondering where they are and was made soundproof with flowing water above.
The Stepped Tank – This is a 5-tiered super-symmetrical and aesthetic 7-metre deep tank that was used for ritual bathing before prayers by the royals. It is different from other tanks in Hampi as it is made of black schist stones to heat and purify the water.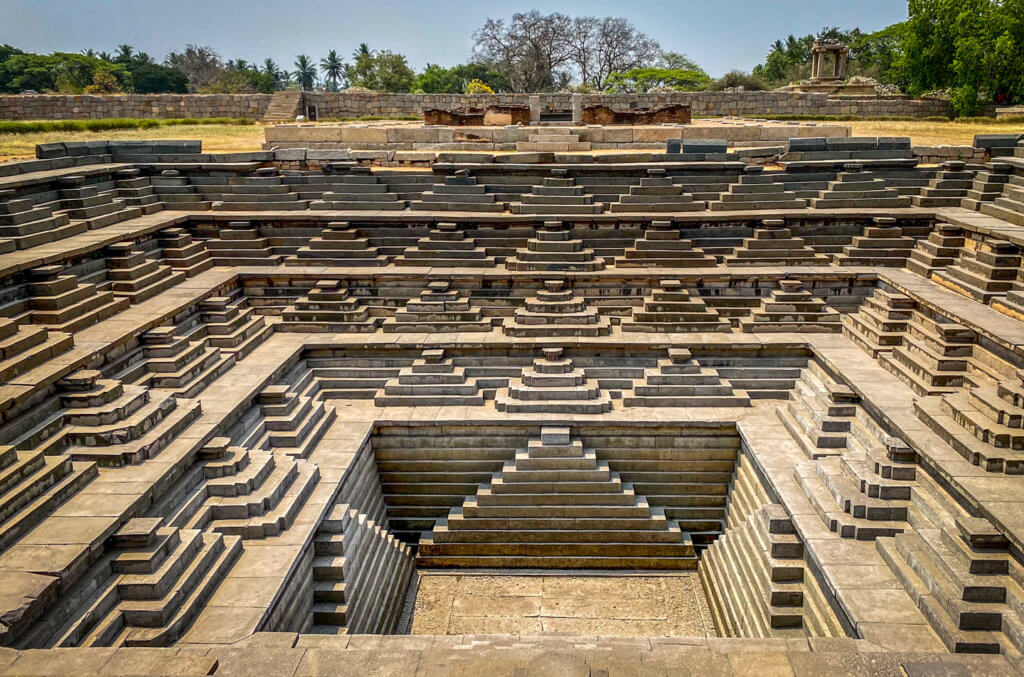 It'll take you about 30-45 minutes to see the above three structures. Other structures in the enclosure are absolutely ruined so we did not see them. But if you wish you see them anyway then you'll take about an hour!
Next, proceed to the Hazara Rama Temple located 280 metres from the Royal Enclosure.
Hazara Rama Temple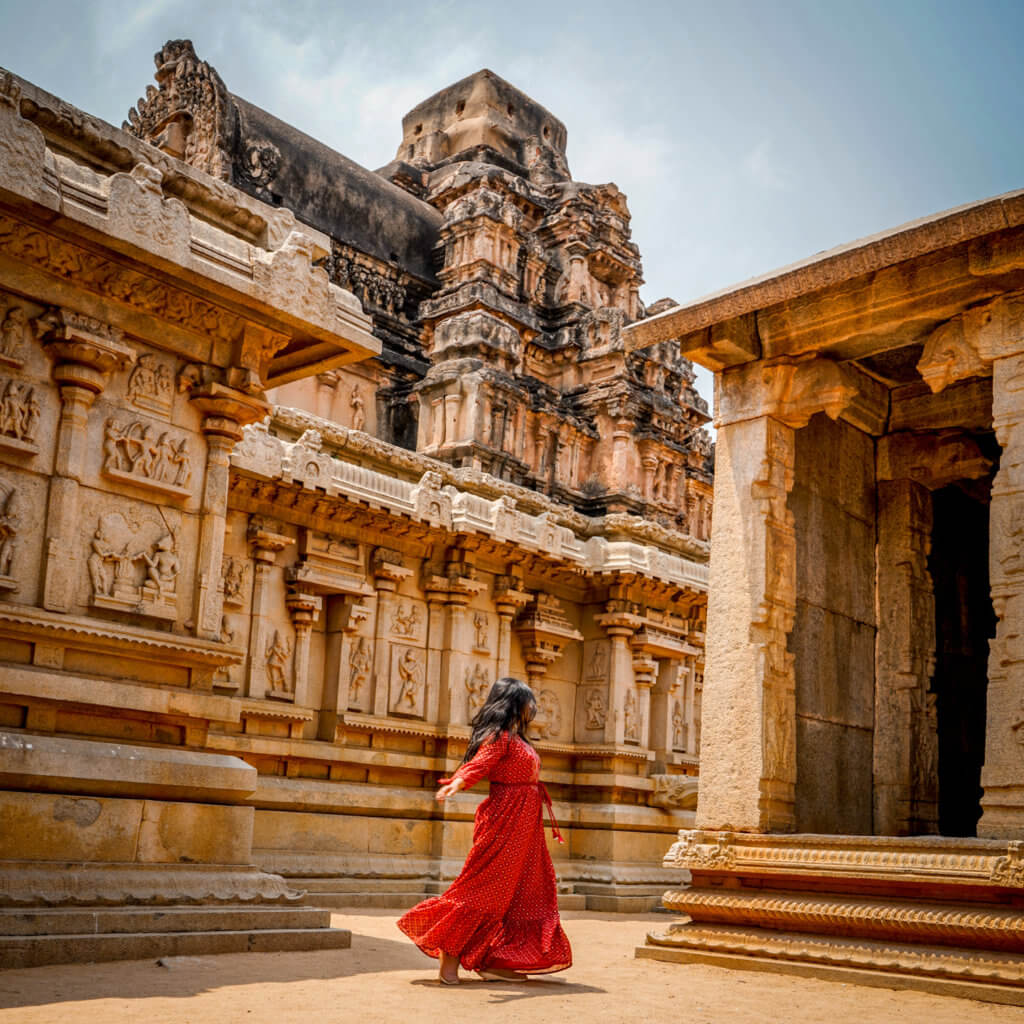 The Hazara Rama temple is a small but beautiful temple that was used only by the royal family. As the name suggests, it is dedicated to Vishnu in his aspects as Lord Rama. Since the geographical area is a part of the epic Ramayana, it isn't tough to reason why there exists a temple entirely dedicated to showcasing Ramayana stories on its walls. The pictorial stories are almost like a comic strip carved along the exteriors of the main shrine. The temple also has black marble pillars that are unlike any other in the city.
The Hazara Rama Temple will take about 20-30 minutes to explore.
Zenana Enclosure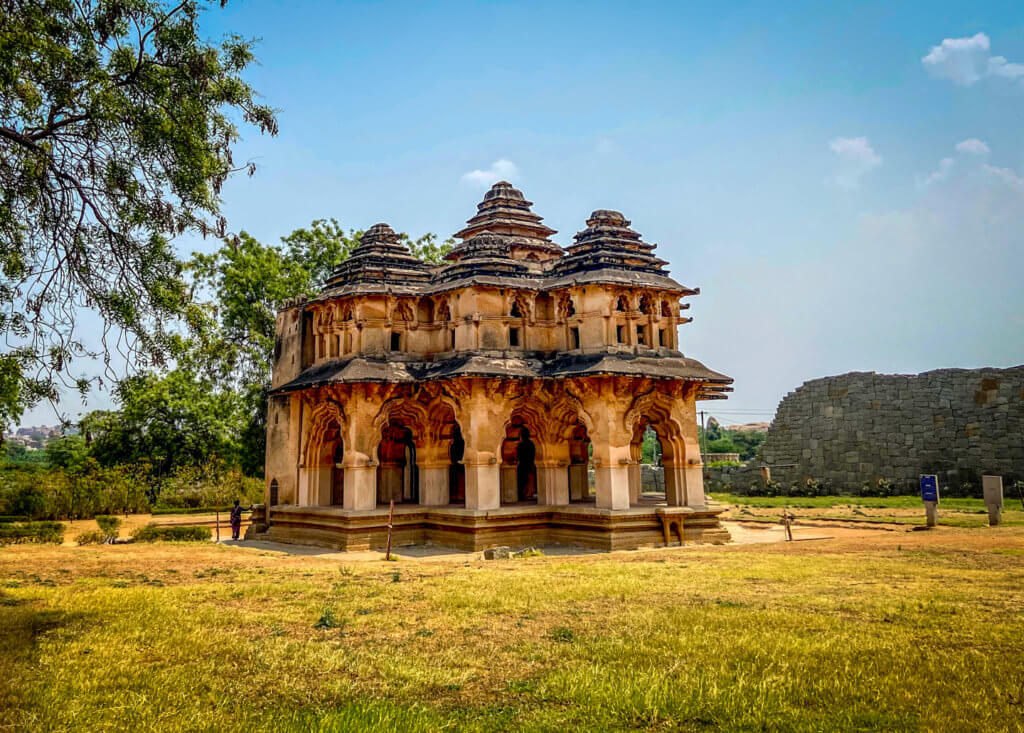 Now, proceed 500 meters along the dirt path to the Zenana Enclosure, a fortified and secluded area for the then royal ladies including the Queen. Per our guide, this structure was primarily used to house the royal women and protect them in times of war. The area was protected by eunuchs and the only man allowed inside was the king.
The main attraction here is the Lotus Mahal built in Indo-Islamic style. You aren't allowed to step inside which doesn't matter much as the beauty can be appreciated from outside itself!
You'll take about 10 minutes here.
Elephant Stables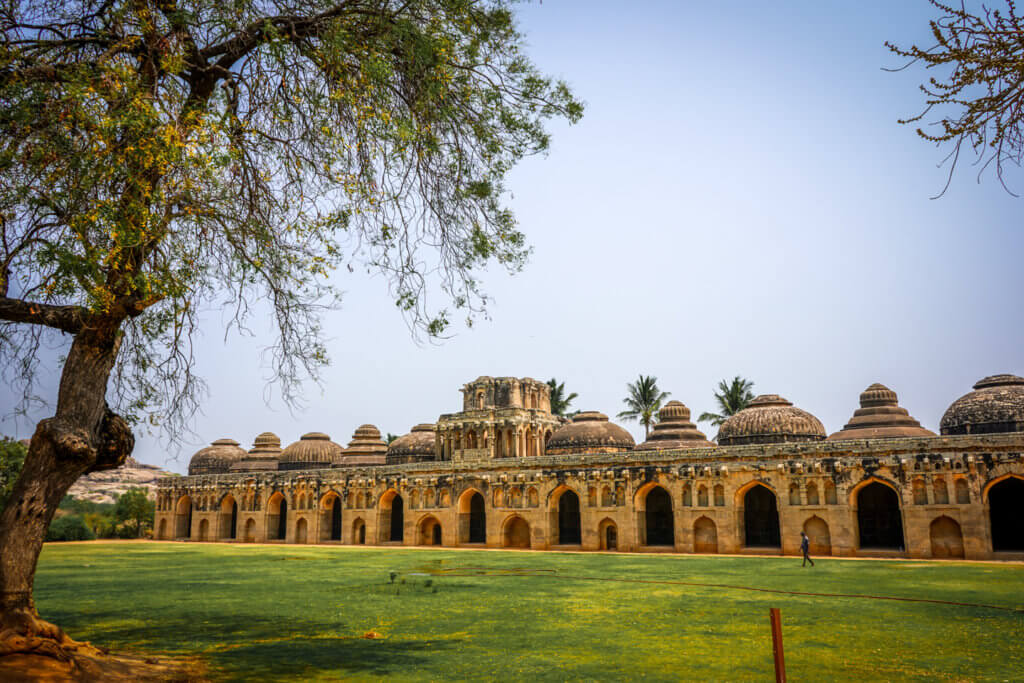 Just through a pathway from the enclosure, located right outside it, is the famed Elephant Stable. This structure used to provide shelter to the royal elephants, clearly showing their importance in the empire. The architecture has fluted arches topped with Jain, Hindu and Muslim style domes. The secular nature of this Hindu empire was something we appreciated a lot.
You can explore the stables and just sit in the garden and relax for a bit. It will take another 15-20 minutes to explore this area.
Lunch and Relaxation
It'll be around lunchtime by now. So, head to your hotel, grab a bite and relax for a bit before heading back to explore.
Note that all the famous restaurants you must have heard of do not exist anymore so eating at your hotel restaurant is a good option. If you don't want to head back to the hotel, ask a guide for information on where to eat.
Lakshmi Narasimha Temple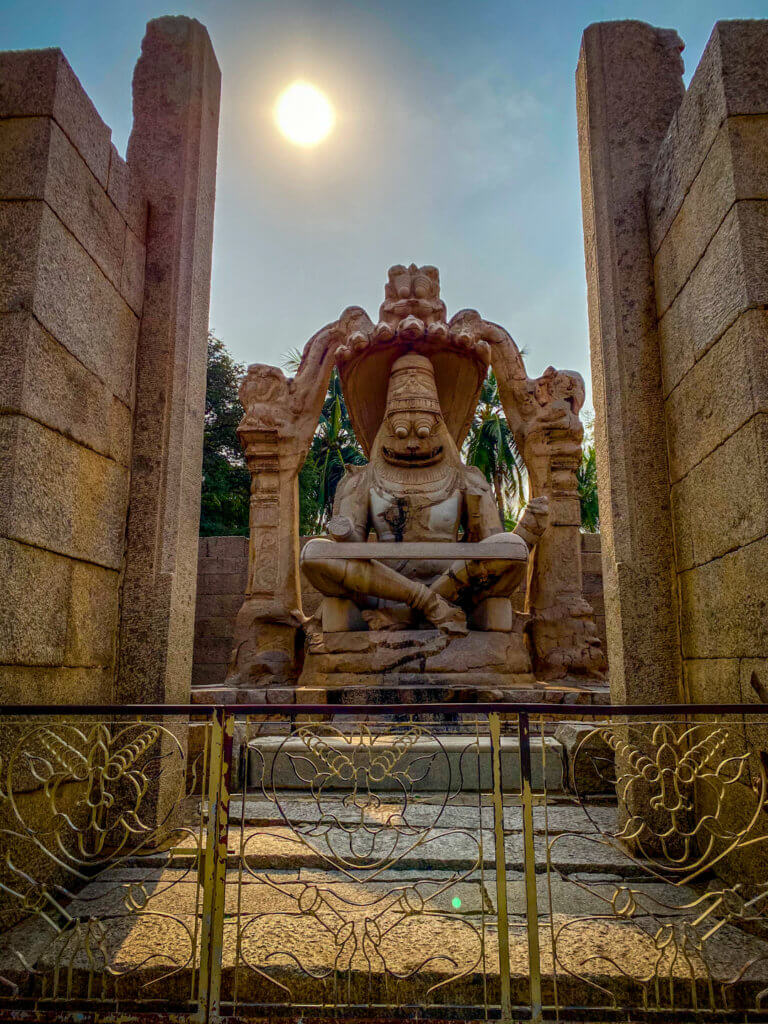 This temple is dedicated to Lord Narasimha, one of the ten avatars of Lord Vishnu, and Goddess Lakshmi as well who was his consort. It is the largest monolith statue in Hamp – an imposing sight! You'll take about 5-10 minutes here.
Badavilinga Temple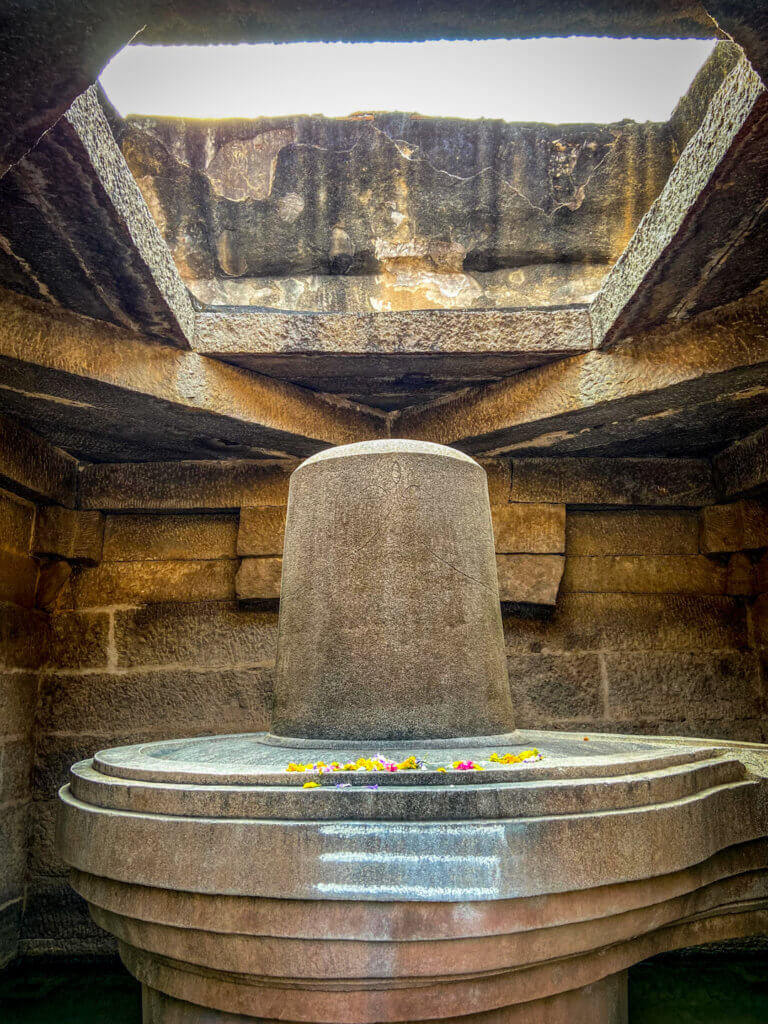 Located a few steps away from the Narasimha Statue is this giant shrine for Shiva. At 3 metres, it is the largest Linga in Hampi and is made of impressive black stone. Another 5-10 minutes are required to admire this structure.
Kadalekalu Ganesha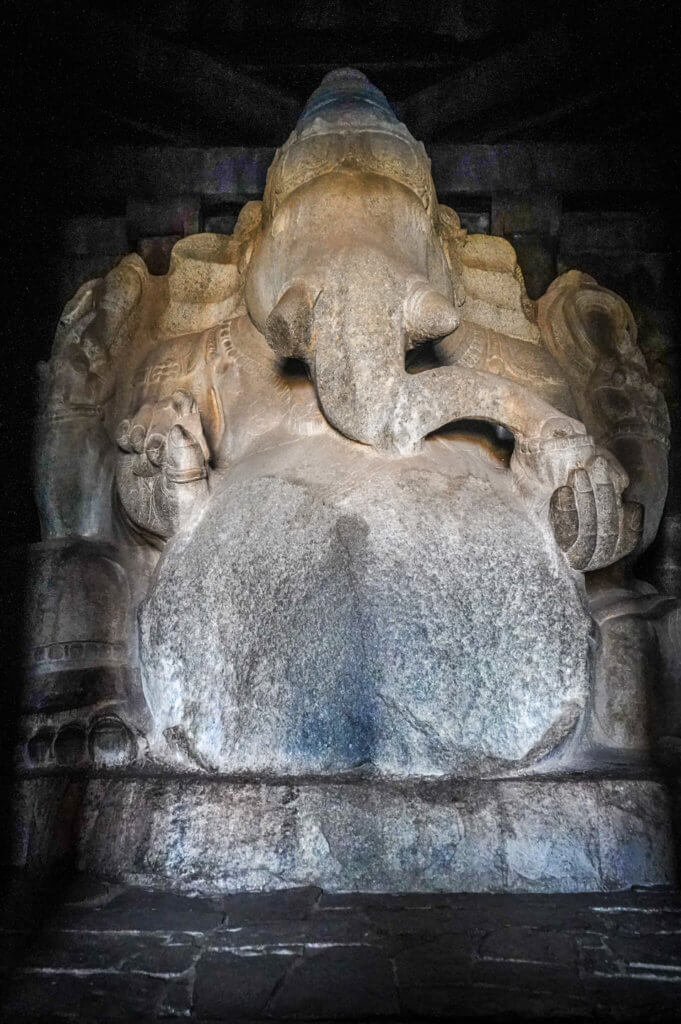 Next visit the Kadalekalu Ganesha, a 4.6-meter statue, the belly of which resembles a Bengal gram. The temple is a beautiful stone structure decorated with ornate tall granite pillars (that reminded me of Roman ruins for some reason). This Ganesha statue was worshipped by the royals.
This structure is located on Hemakuta hills 450 meters from the Narasimha statue. It will take about 10 minutes to visit.
If you're a devout Ganesh follower or simply would like to see another Ganesh statue, then you can also visit the Sasivekalu Ganesha – a 2.4-metre high statue of Ganesha that has a snake wrapped around it (to prevent it from bursting due to over-eating per mythology). This Ganesha statue was built for the common people of the kingdom. It is located just 170 meters away from Kadalekalu so you can visit both statues with just 15 minutes to spare.
Coracle Ride on the Tungabhadra River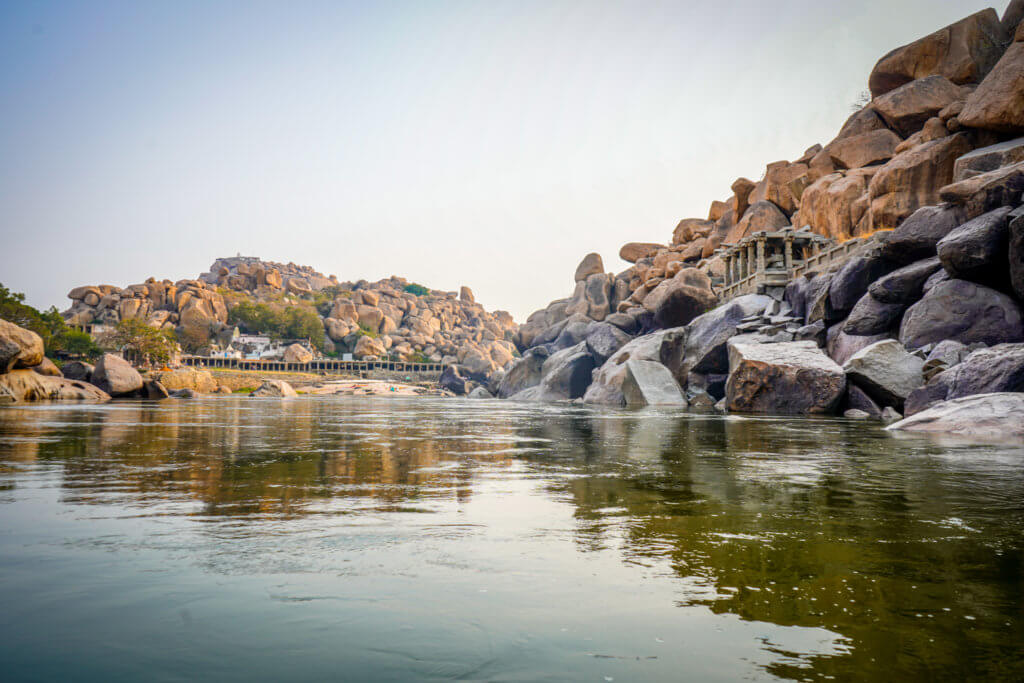 The coracle ride on the Tungabhadra river was our favourite experience and we're sure you will enjoy it too. The evening is the best time for a coracle ride as the area is in shade in the evening.
The round boat (coracle) is rowed on the river between massive boulder-strewn cliffs on either side. It is incredibly serene and so hypnotising that you'll forget you're in present-day India. You'll see flowing water, boulders, temples perched precariously atop these boulders and some even submerged in the water. The boatman will tell you about these temples and tell you other interesting facts about the area. Then he will ask you for permission and spin the boat. Shut your eyes and enjoy as the world rotates around you!
We only did the half an hour ride and weren't completely satisfied, so I suggest you do the whole one hour ride.
The coracle ride costs Rs. 400 per person for half an hour and Rs. 750 per person for an hour.
Sunset at Kamalapur Lake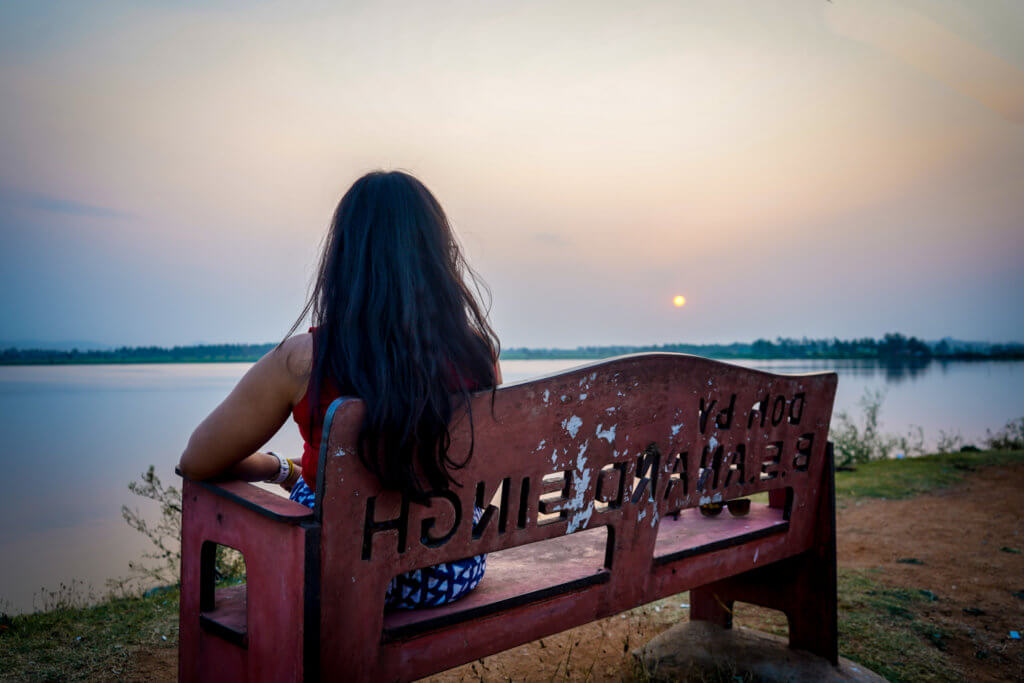 For sunset, just sit on the benches on the banks of Kamlapur Lake (you'll see this from the road itself while going from Hampi to Kamalapur) and enjoy as the sun dips and the birds fly by! You'll only be able to do this if you have your vehicle as there is no transport available in the area.
Phew, that was a long day. It feels longer than it was but for sure it will be tiring. Sleep early to be rejuvenated for the next day's adventures.
Day 3
Matanga Hill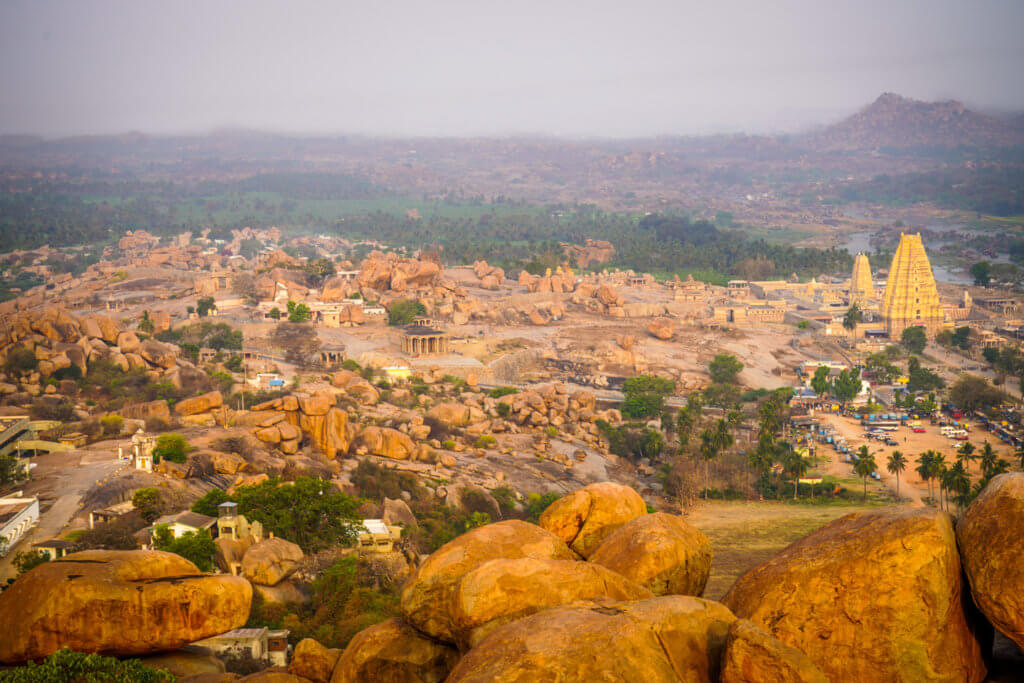 Do a sunrise climb to Matanga Hill that has a small Veerbhadra temple at the top. The view from the hill is incredible. You'll see vast expanses of paddy fields, mountains, scattered boulders, Hemakuta Hills with all its temples, Virupaksha Temple and Achutaraya Temple. You might also be shown a cave on your way up. The hike to Matanga hill is not to be missed!
I suggest hiring a guide for this hike since the path is not defined. As it is just through rocks, it is exposed and slippery in some areas so it is ideal to have someone knowledgeable and confident guide you up. Besides that, the hike isn't gruelling at all! It takes 40 minutes to reach the top. You will have to start the hike between 5:30 AM-6 AM but confirm the time with your guide first. The hike back down is is a relatively easy one through proper stairs.
It is always better to do this hike at sunrise than at sunset due to the danger of bears after dark!
Have Breakfast and Change
It'll be around 8:30 AM-9 AM by now. Go back to your hotel to change out of your sweaty hike wear and have breakfast. If you want to catch a little nap (like we did) you can do that too and head out by 10:30 AM -11 AM. You will not be coming back to the hotel until after sunset!
If you don't care about hotel breakfast, then explore Achyutara temple (below) first before going back to change, as it is located right beside Matanga Hill.
Achyutaraya Temple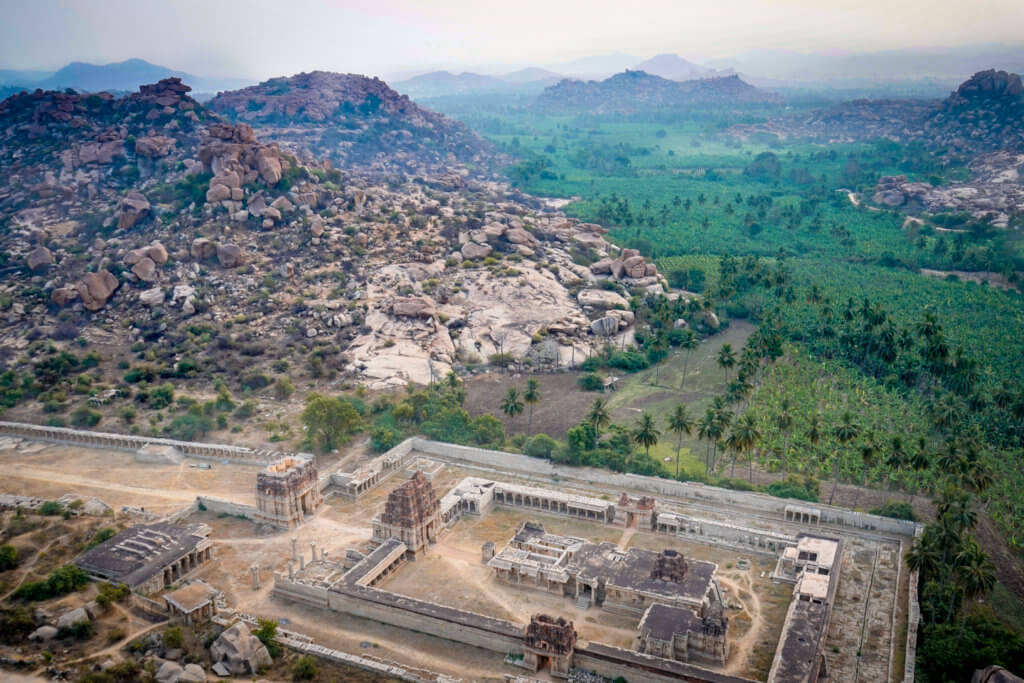 We didn't visit this temple ourselves (despite plenty of requests to our guide), however, it is a great place to visit as far as I know. It is a temple dedicated to Lord Tiruvengalanatha, a form of Vishnu. The pillars and walls of the temple have exquisite carvings and ornamentation. The temple is secluded so few people visit!
Park your car/ get off at the Virupaksha Temple parking. Now head toward the opposite side of Virupaksha temple. You'll see the Hampi Bazaar on either side and the Monolithic Bull at the base of the hill before heading to explore the temple. The visit will take an hour or so.
Note that this temple cannot be visited after 5 pm as leopards have often been stopped after that time, so visiting during the daytime is ideal!
Lunch at Baba Café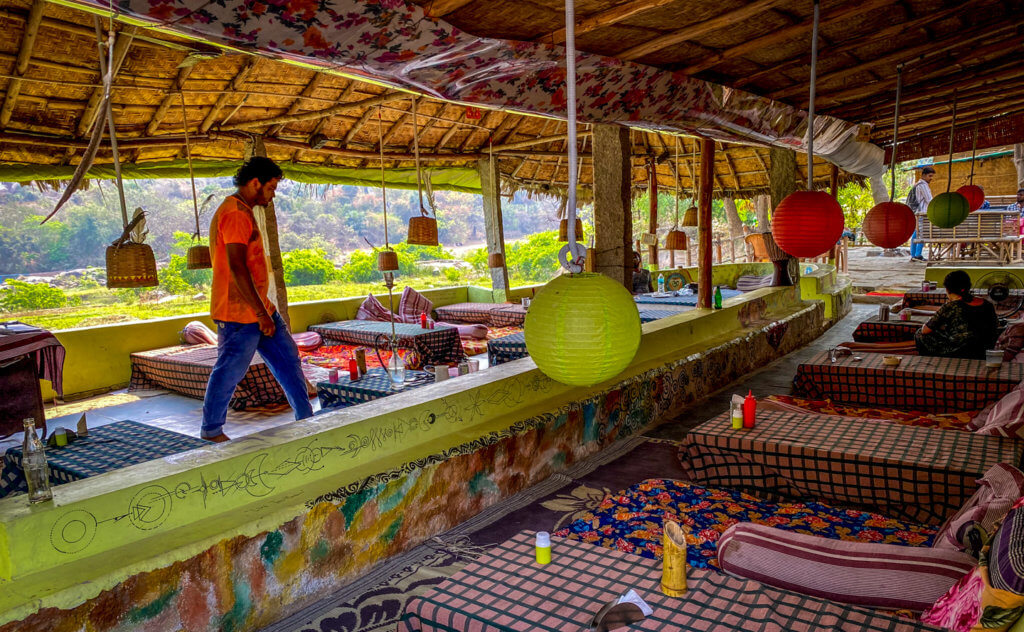 Head to the other side of the river for a relaxing lunch at Baba café. This café is reminiscent of the hippie island days with a similar vibe. Due to it's awesome location amongst nature, the cafe makes for a great place to have some beer and international fare.
Attractions around Anegundi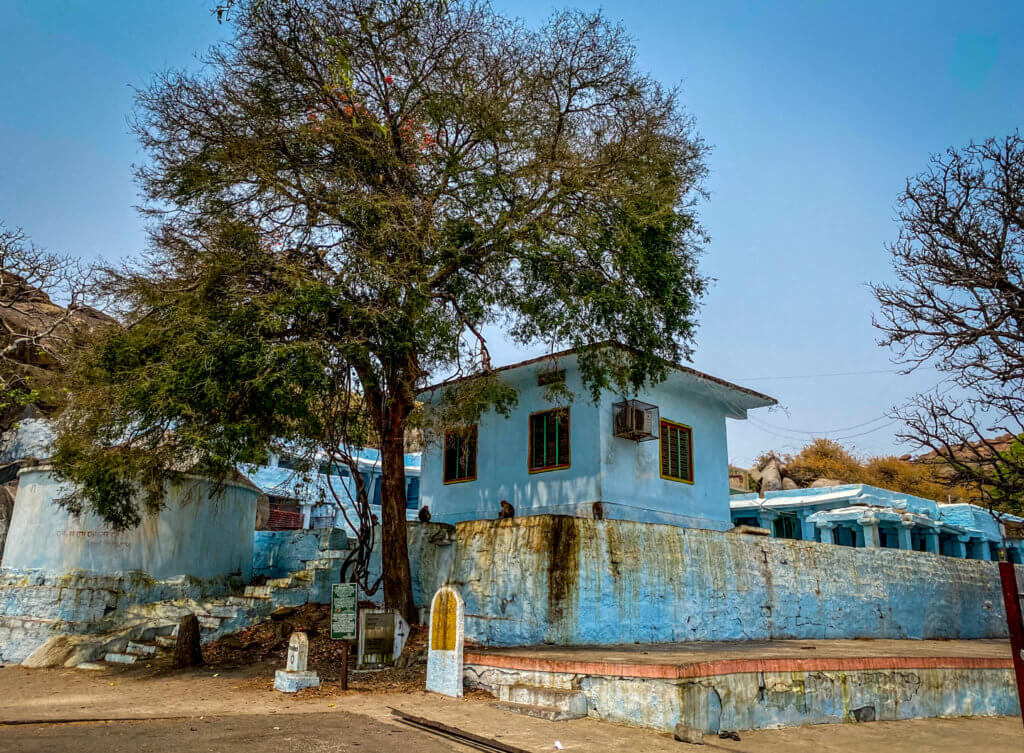 Visit temples at Anegundi only if you're religious or into the Ramayana. We only visited these because our guide had planned today's itinerary with no interference from us. As per us, these temples are not architecturally beautiful – just regular temples.  
Chinthamani Temple: Chintamani Temple is a Shiva Temple visited by Ramayana enthusiasts. It is the spot from where Ram aimed and shot his arrow to kill Baali during his fight with Sugreev. The temple is worth considering for all due to its epic location beside the Tungabhadra.
Pampa Sarovar Temple: Pampa Sarovar is a sacred lake for Hindus – one of the 5 sacred lakes (Panch Sarovar) in Hindu mythology. The temple is constructed where Pampa (a form of Parvati) punishes herself to show her dedication to Shiva. If you're not into mythology, consider visiting only from November to December when lotuses are in full bloom at Pampa Sarovar Lake.
Anegundi Fort: The Anegundi with its many gates, tombs and temples (Ganesha Cave Temple and Durga Temple) is a sprawling fort that once used to guard the region.
Another famous spot is Sanapur Lake. Again, we did not find it worth the visit. This is where cliff jumping took place. However, per our guide cliff jumping is now banned as several people have lost their lives while at it. If you wish to cliff jump, do ask the locals before attempting it. We did a coracle ride here too but it paled in comparison to the one on the Tungabhadra. Do a coracle ride here only in the Monsoons when coracle rides in the Tungabhadra are not possible due to the strong current.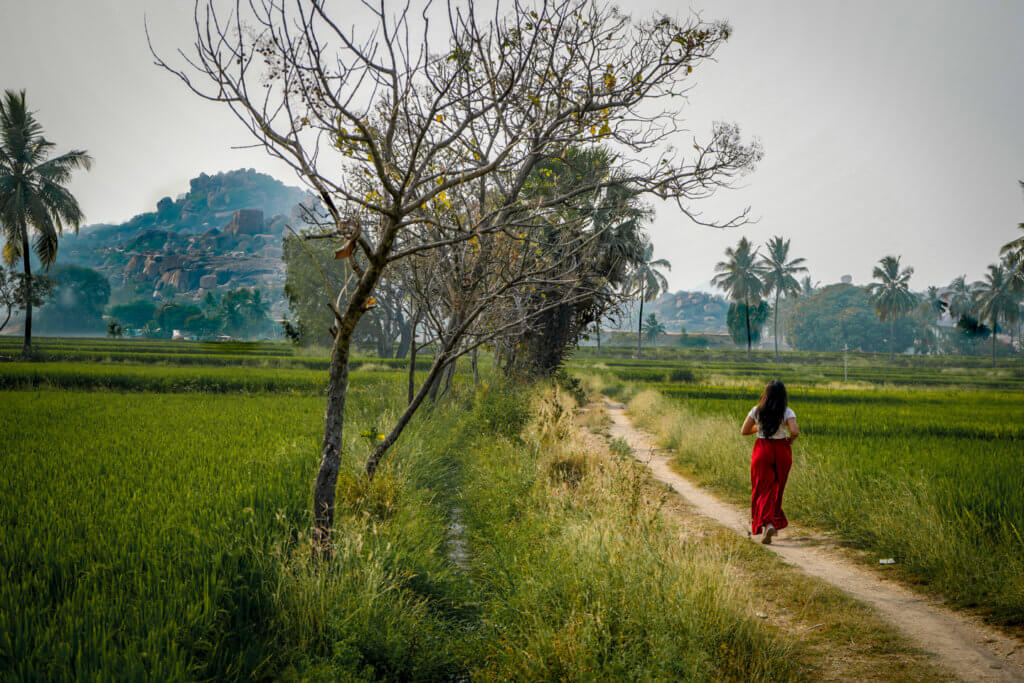 You can do all the things mentioned above if they appeal to you. Else, simply drive around the area through lush paddy fields. This is the bit I loved. Riding a bike here (if available) is an excellent option!
Anjaneya Hill
This hill is known to be the birthplace of Lord Hanuman! There is a Hanuman Temple on top of the hill which takes about 2 hours to climb through a well-defined shaded path. Check the sunset time on google and start your hike up well in time to be able to explore the temple and see a spectacular sunset from the top!
This brings us to the end of the three days Hampi itinerary. If you have more time on hand you can consider visiting the Krishna Temple near Kamalapur, the Underground Shiva Temple or the Tungabhadra Dam at a distance of 27 km from Hampi. The dam's premises has a Japanese style garden that makes for a pleasant visit.
Read our post on the 25 best places to visit in and around Hampi for more details or options for things to do.
Hampi Travel Tips
Photography: Drones, tripods, high-resolution cameras, and any out of the ordinary camera equipment is not allowed at Hampi's sites. We carried our DSLR without issues, however. You aren't even allowed to sketch, paint or draw at the sites. Per our knowledge, you can do all of this on the other side of the river – Anegundi and surrounds.
Guide: Hire a guide to understand the ancient ruins better. A full day guide cost around 2000 per day but due to COVID, some may ask about 1500 per day. However, while they make navigating the ruins of Hampi a breeze and make you understand the structures better, they also kind of put pressure on you to hurry up in order to show you as much as possible.
If you're okay with that, do use full day guides. Honestly, we felt it was a bit rushed. 
Photographers, bloggers and vloggers would be better off hiring guides at specific structures. Follow this itinerary and hire guides at Vithalla Temple, Royal Center, and for the Matunga Hill hike. 
When hiring one, ensure he/she speaks your language fluently. Ours wasn't very fluent in English or Hindi so sometimes it got very difficult to understand what he was explaining.
Google Maps: Download offline maps of the area on Google Maps to navigate easily. The internet is quite sketchy in Hampi.
Cash: Keep cash on you to pay for things like tender coconut, sugar cane juice, entry tickets, guide hire, coracle ride etc. While UPI is widely accepted, it doesn't work a lot of times because of bad internet.
Shoes: Wear comfortable walking or sport shoes as you'll be walking all day and hopefully even hiking. 
Clothes: Wear comfortable clothing in Hampi. There are no restrictions on what you wear to temples. However, it will be better to dress appropriately (cover midriff and knees) to not hurt the religious sentiments of worshippers. 
Day Bag Items: Important things to carry in your day bag for exploring Hampi:
Sunscreen: Physical sunscreen without a white cast
Sunglasses
Some light snacks to eat in case you get hungry midway – We always carry Whole Truth Minis for a quick but healthy bite.
A filled reusable water bottle (at least one each per person). We particularly like collapsible bottles to save space or the thermos type bottlesto keep water cold.
A reusable straw for drinks on the trip. Think tender coconut and sugar cane juice. Yum!
Hope this Hampi travel guide mentions all that you were looking for. Comment below if you thought our Hampi travel blog post was helpful. Also, do tell us if we are missing any information you'd like mentioned in the post.
Pin It For Later
This blog post on the 'Hampi Travel Guide and Hampi Itinerary' has affiliate links that enable us to earn a small commission when you make a purchase, with no extra cost to you. We only recommend products and activities we like and those that might interest you. If you like any suggested product, do buy from the given links.