Solo trips are still not popular among Indians despite thriving in other countries and despite us seeing so many foreigners travelling solo in India. For a woman to go for a solo trip in India is a bewildering thought. This particular story is not just an account of my first solo trip but also the internal battles I faced before getting out there – alone. People think I'm someone who welcomes risks with open arms. But it isn't so. I'm usually plagued with fear but push myself to give new experiences a chance. I'm happily surprised more often than not. I'm sure if you try it, you'll be too.
I got a call from a friend asking if I would like to go to Goa for her birthday weekend in late February. I agreed happily. After all, I had been scouting for company for almost five years but in vain.
I insisted on North Goa but when she assured me that South is much better in all possible ways – scenic beaches, fewer people, chill vibe- I went along with her suggestion. I had nothing to lose plus I reminded myself it was a 'New Experience'. So, South Goa it was!
Excited for the trip, I instantly got down to planning it, especially since our decided date was just a weekend away. While planning, I got a call from her cancelling her trip for medical reasons.
Wait! What?
This couldn't be happening. I was so excited to finally be going to Goa after centuries. Bah! I had even taken two days of leave from work. Why do this to me, Jaishree?
Battling Self-Doubt Induced Fear
A decision had to be made- to go or not to go. I had never been on a solo trip before so the thought of going alone made me sick with fear. My mind was haunted with questions-
What will I do alone for 4 whole days? – Goa is party central in India. What does one do alone at such a place?
What if I'm not able to strike a conversation with strangers? – I had mostly travelled in groups and had never needed to talk to strangers.
What if I feel lonely? – Alone and lonely aren't synonymous. But you need to be comfortable spending that much time in your own company and enjoy it to not feel lonely. I wasn't sure if I would. Plus I would be staying in a hostel with unknown roommates for the first time!
Will I be safe? – India is not the safest country for female travellers. That too solo female travellers. I would have to get around this and take the necessary precautions.
Will I be okay driving in an unknown place? – Precautions led me to want to rent a car since I didn't think it would be particularly safe to get in a taxi alone. I had learnt to drive only a few months back so I wasn't sure if I would be comfortable driving in a new place.
Will I get an automatic car for hire? – I can only drive automatics and they aren't widely available for hire in India. I would need to somehow get my hands on one else there would be no point making the bookings at all.
To add to the woes of my fear inflicted brain, concerns were expressed by my friends and family as well. A girl travelling alone in India is unheard of due to safety reasons and patriarchal ones. However, I decided to go. No more was the lack of company going to stop me from going where I wanted to. I started planning my trip with my constant companions- Fear and Self-Doubt.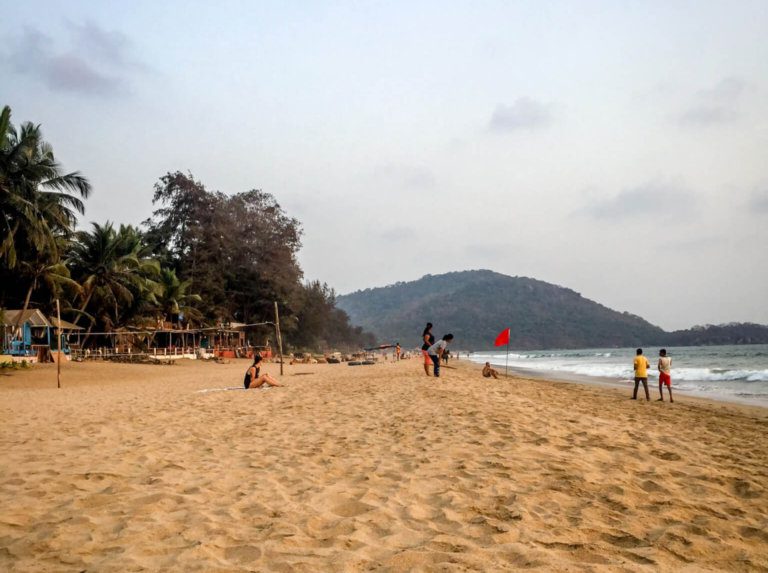 Planning the Solo Trip to Goa
Four days seemed a bit much to stay in one place. So, I decided to expand the boundaries to include more than our originally intended location of Agonda. The itinerary looked like this:
Day 1: Arrive in Goa by an overnight bus from Pune. Check-in at a hotel in Agonda. Explore the area.
Day 2: Chill at Agonda Beach
Day 3: Check-out from the hotel at Agonda. Visit the Spice Plantations in Ponda and the churches in Old Goa. Spend the night in Panjim.
Day 4: Explore Panjim. Leave for Pune by bus in the evening.
I was going to be travelling solo so I had to figure out the car rental first. After several hours on Google and several texts to rental companies, I found my saviour, Mr. Damu. He was ready to provide a Suzuki Celerio (hatchback) for Rs.4000 for four days during season time (November-February) and was okay with me picking it up at the Madgoan Bus Station (southmost bus stop for busses from Pune) and dropping it off at the Panjim Bus Station for a relocation charge of Rs.500. I was thrilled that my trip was finally starting to take shape. Can't say the same for my aforementioned companions.
Since I was on a solo trip, I thought it would be best to stay right at the beach. I booked a lovely beachfront hut at
Jardim-a-Mar
. It was a bit pricey for one person at Rs. 8,000 for two nights but I was glad that I wouldn't have to move my butt at all. I would just step out of my hut onto the beach. Safe, easy, fun! It was my first time using
Booking.com
and I had a smooth experience. I've used it every time from then onwards, for accommodation bookings, in conjunction with
Airbnb
.
Finally, I needed to book a bus to Goa. I contacted a friend from my MBA days, Anuj, who is from Goa but was working in Pune, for suggestions on which bus to take. Guess what I learnt? He would be in Goa the same weekend. Now you know who will be taking me around the spice plantations and Old Goa. There is nothing better than having a friend show you his hometown.
I booked my overnight Ashray Travels bus through Redbus, as always.
Tips
1. Opt for a lower berth on a sleeper bus because the upper portion of the bus sways quite a bit and may cause motion sickness.
2. If you're a woman travelling solo, it goes without saying that you should book a single bed.
My First Solo Trip to Goa Begins
Day 1 and 2: Assuaging Fear at Agonda
After an overnight journey in a sleeper bus, I was glad to be stepping off in Madgaon on a bright sunny morning. Picked up my car, took a video of it, adjusted the mirrors, set Google Maps to Agonda Beach, filled petrol, and set off.
Tip
Always take a video of the car when you rent it. If the rental company falsely claims that damage to the car was caused by you then you have proof that it wasn't. In my case, it gave me peace of mind when I noticed scratches on this car the next day.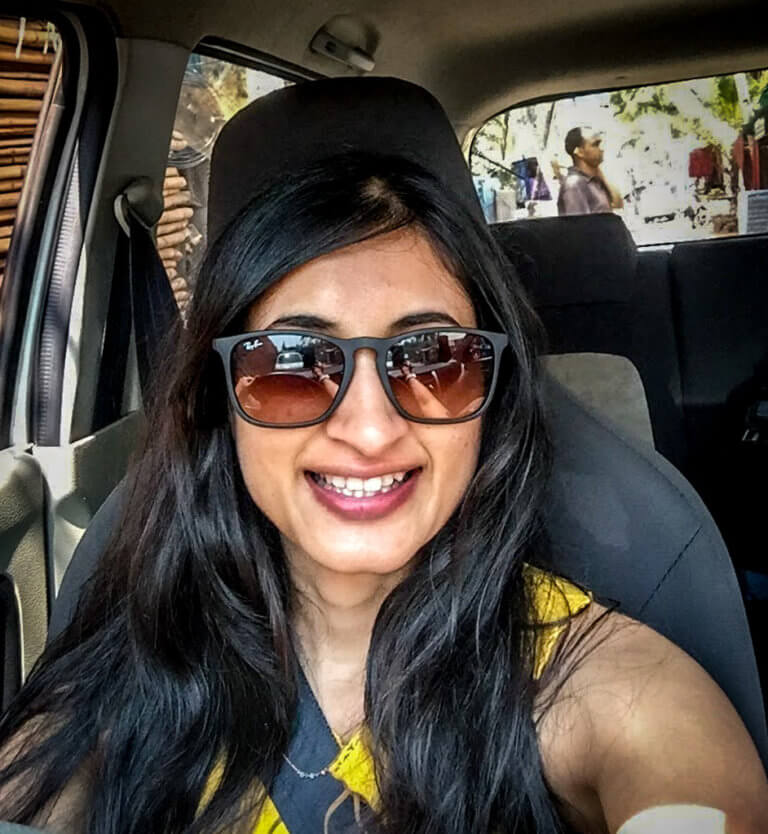 As I drove southward past forests, fields and streets fringed with palm trees, I felt free. There was something liberating in the air I couldn't put my finger on– the defiance of the norms of patriarchy or financial freedom or just the feeling of self-confidence travelling by myself. But it was enough to put me in the jolliest of moods.
Self-Confidence joined me on my drive and said, smiling, "Look at you zipping away! And here I thought you were apprehensive about driving in a new place."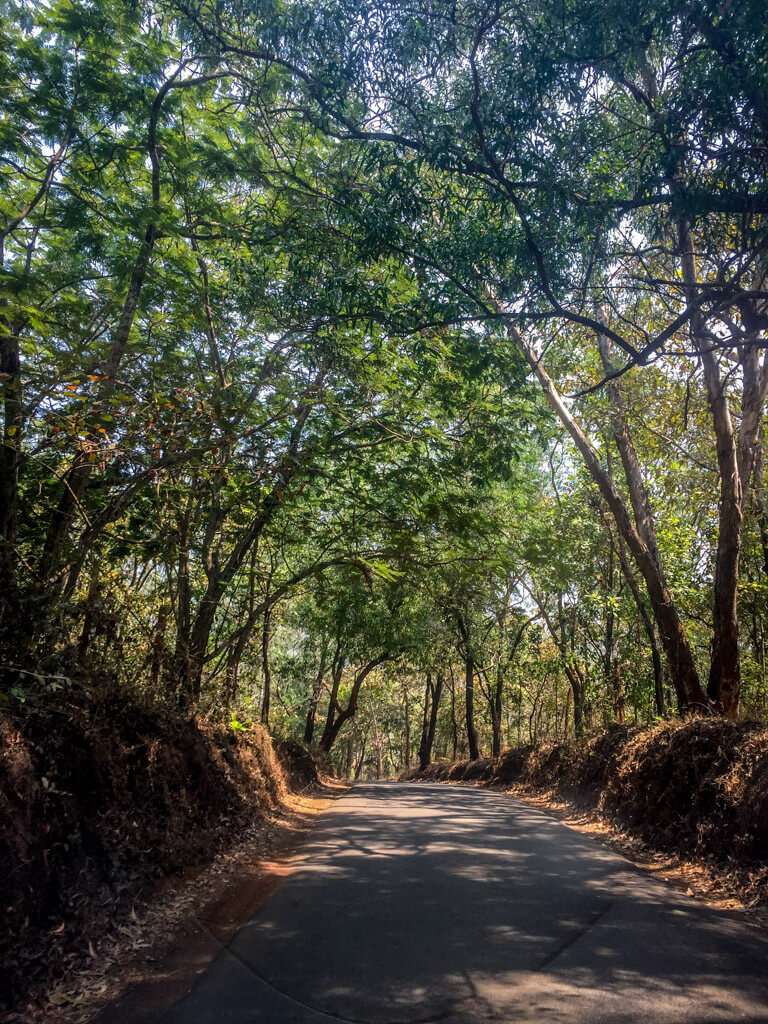 The first thing I saw when I set foot in Agonda through incapacious lanes was a pretty church with whitewashed walls backdropped by the expanse of the Arabian Sea. After parking my car at Jardim's sister property some 500 metres away, I waved it goodbye for two days and made my way to the Jardim's beachside restaurant that has seats for lounging about in addition to typical dining ones. As I ate delicious breakfast facing the sea (henceforth, I ate all my meals facing the sea while occupying one of the tables closest to the beach), I got onto long conversations with servers and fellow travellers. Something, I initially thought I couldn't do but was rather good at.  In the back of my head, I heard my new friends mocking my pre-trip fear.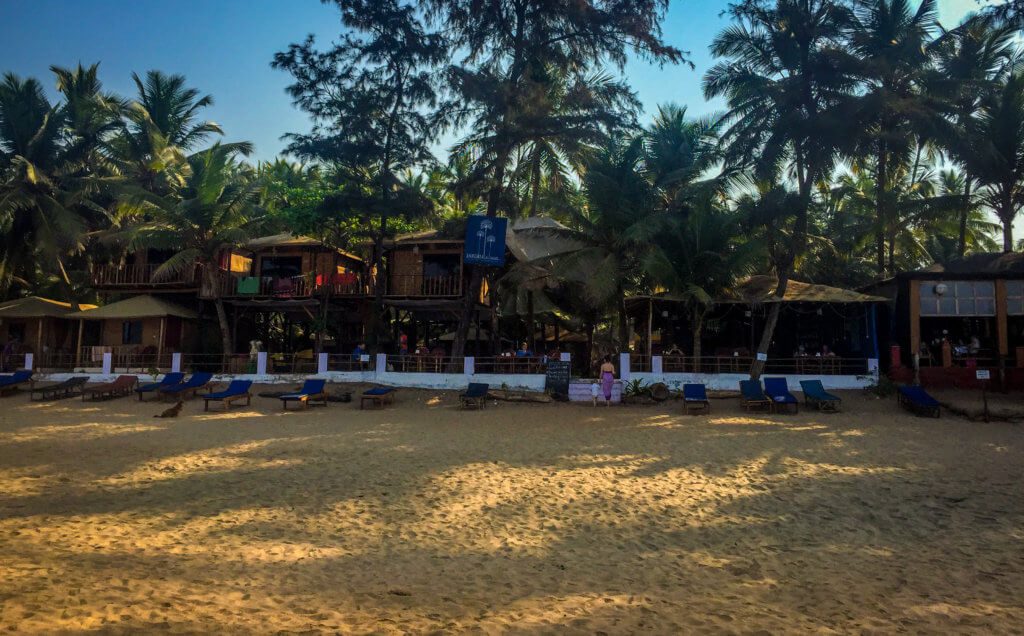 Checked into my hut and I couldn't be happier with the basic set up – a bed with a mosquito net, a cupboard and a table. The best bits were the open-air bathroom where you could bathe with water and sunlight, and the balcony porch where you could sit with a drink and quietly reflect on life as the ocean's constant susurration and magnificence hypnotized you.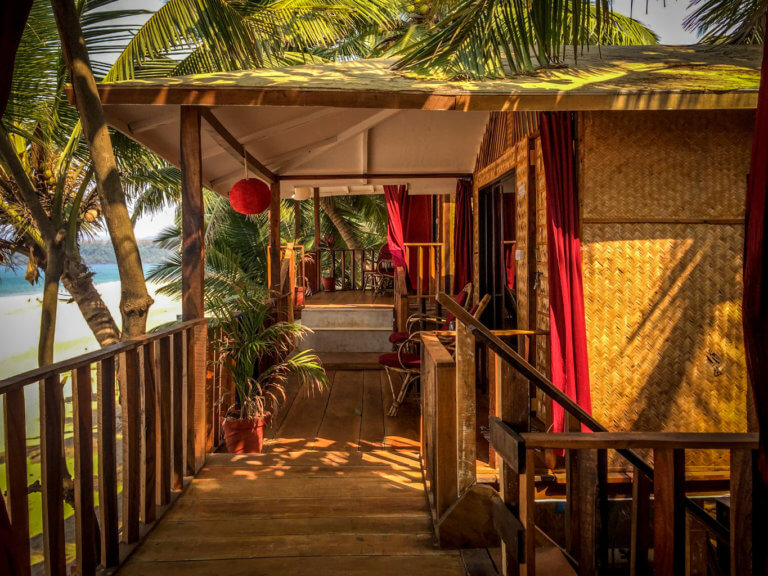 My two beautiful days here were spent playing with the waves falling about due to their overpowering force, reading a book while lying on the rather empty beach or while sitting on my sea-facing porch, strolling along Agonda beach's long stretch of golden sand, sitting on the beach's rocky outcrop observing crabs go about their day, and window-shopping in Agonda's single lane market while sharing stories with shop-owners and travellers.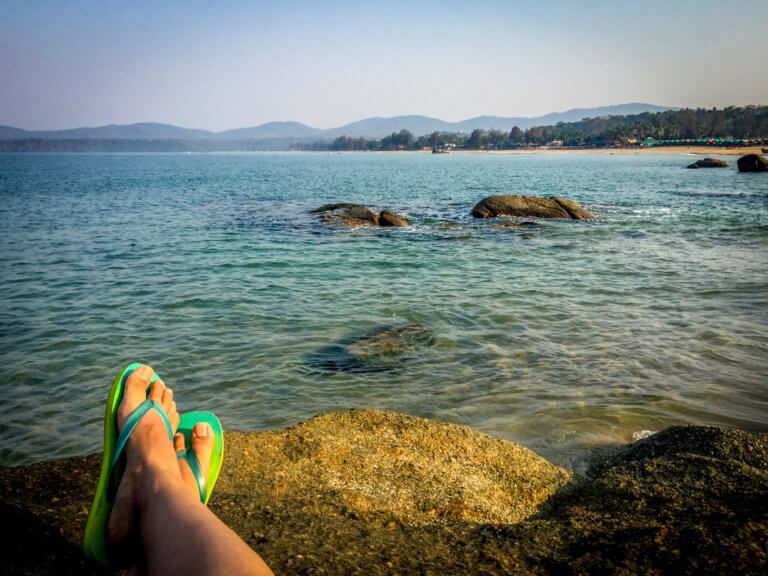 The most interesting experience, however, was the Holi celebration with residents of the hotel. Holi, if you're unaware, is the Indian festival of colours that celebrates the arrival of Spring, the triumph of good over evil, and the spreading of love and joy. The walk to my going-to-be-relaxing massage was cut short when I was asked to cancel my plans and join the festivities. I'm glad I did because I had a wonderful time sharing my culture with people from all over the world-Germany, Nepal, Russia, Ukraine, and the USA; downing drinks that were on the house and dancing the day away to English Pop and Nepali Folk Songs.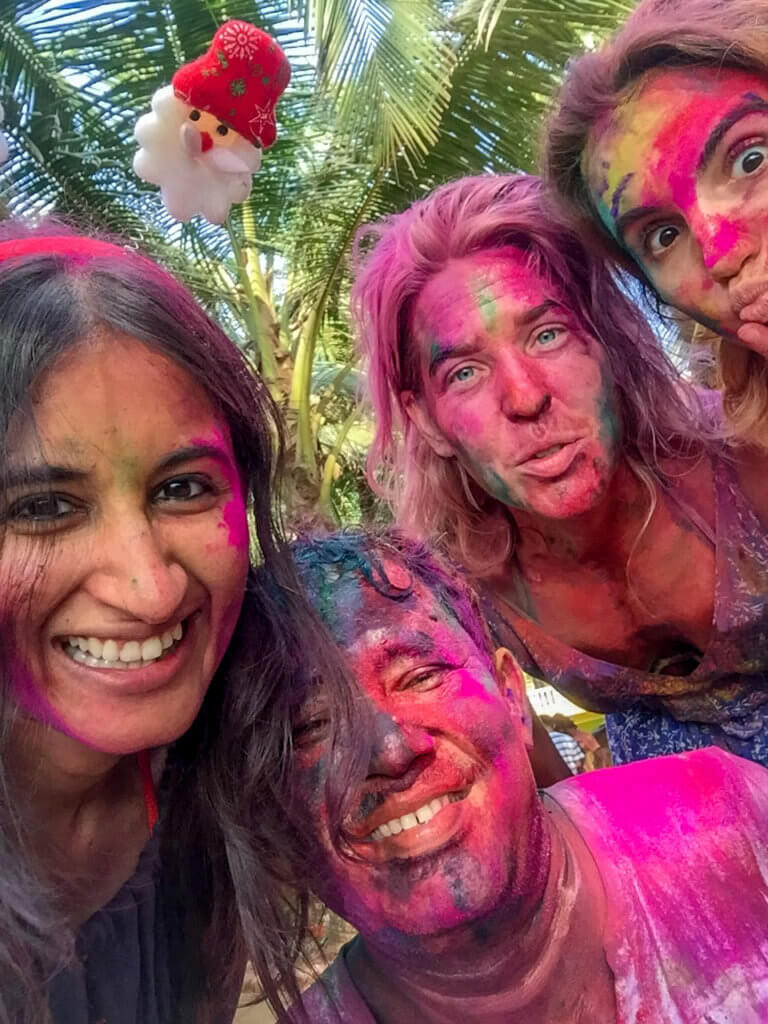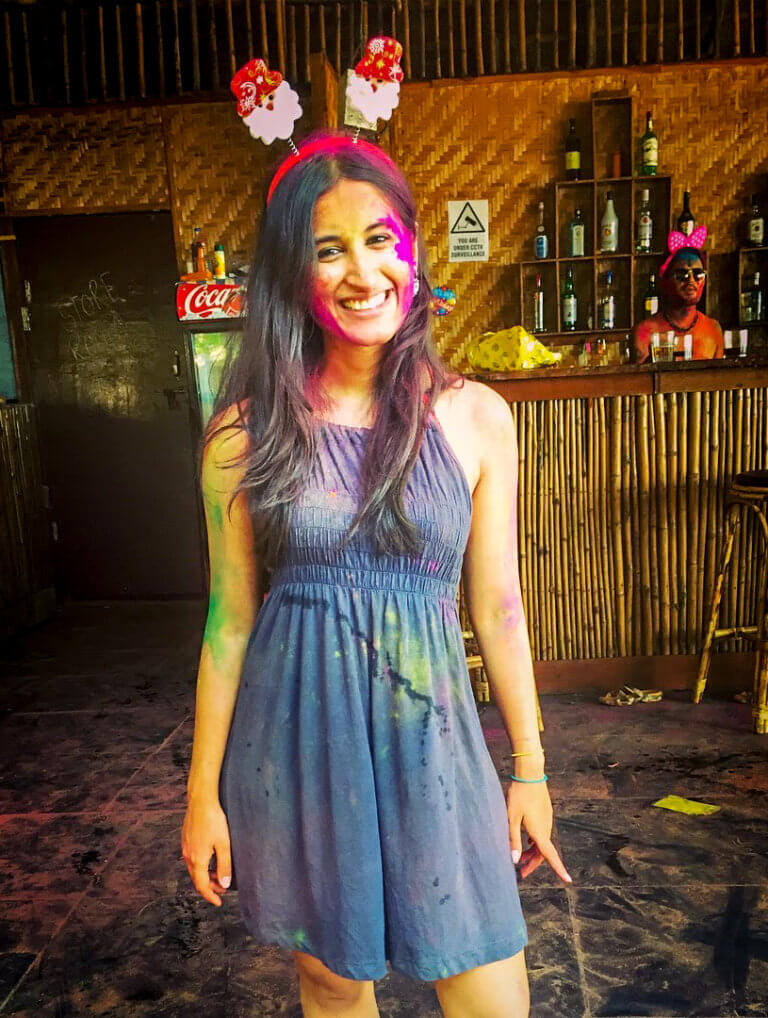 Realizing I was doing just fine and in fact enjoying myself despite being alone, Self- Doubt and Fear decided to leave in search for another friend. As they left, I befriended Self-Confidence, Self- Reliance and Adventure – friends who've stuck with me on my many travels and helped me have unique experiences.
Day 3: Gallivanting in Goa
People usually stick to the shore failing to realize that what gives Goa its soul isn't its beaches but its history, heritage and culture. Since I was travelling alone and could spend my days the way I wanted (without hearing a 'no, I don't want to do this' from anyone), I knew I wanted to explore Goa the way I wouldn't be able to with company.
Goan spices were what attracted the Portuguese to India back in the 1400s. This eventually led to Europeans colonizing us. I wanted to understand this spice fascination better so I set out for the Sahakari Spice Farm in Ponda, the area where most Goan spice plantations are situated. For the first time, I drove through the truck-filled roads past the reddish-brown soiled mining area. Despite the slow truck traffic, I'm glad I had to drive through these patches as tourists never really get to see the industrial side of Goa. After an hour and a half, I reached the spice plantation where I was joined by Anuj, the friend I spoke of earlier.
As we traversed the plantation, our sensory organs were put to a test. A knowledgeable guide led the way, telling us interesting facts about spices, herbs and fruits and explaining how they're processed for food, alcohol (Feni- Goan Liquor), medicinal and skin-care purposes. This fascinating information made me value spices more and understand that they're rightly priced as high as they are. I will let you on a few of these facts:
A pineapple bush grows only one pineapple a year. Also, each pineapple is the result of the fusion of 100-200 individual flowers. 
A Coffee Bean is the seed of a fruit called cherry that grows in multiple colours – red, yellow, green – on a coffee plant
Clove is a dried unopened flower bud of a tree that takes seven years to blossom.
Cardamom is one of the most expensive spices in the world as it requires manual harvesting which involves a lot of labour.
Vanilla is not native to Goa hence painstakingly artificially pollinated. Once the pod is ready it lasts only for one day. It needs to be plucked immediately and dried for 4-5 months after which it yields only a little bit of vanilla essence. Hence, it is very expensive and most vanilla you get in the market is actually artificial.
 Nutmeg can act as a hallucinogen when consumed in large quantities.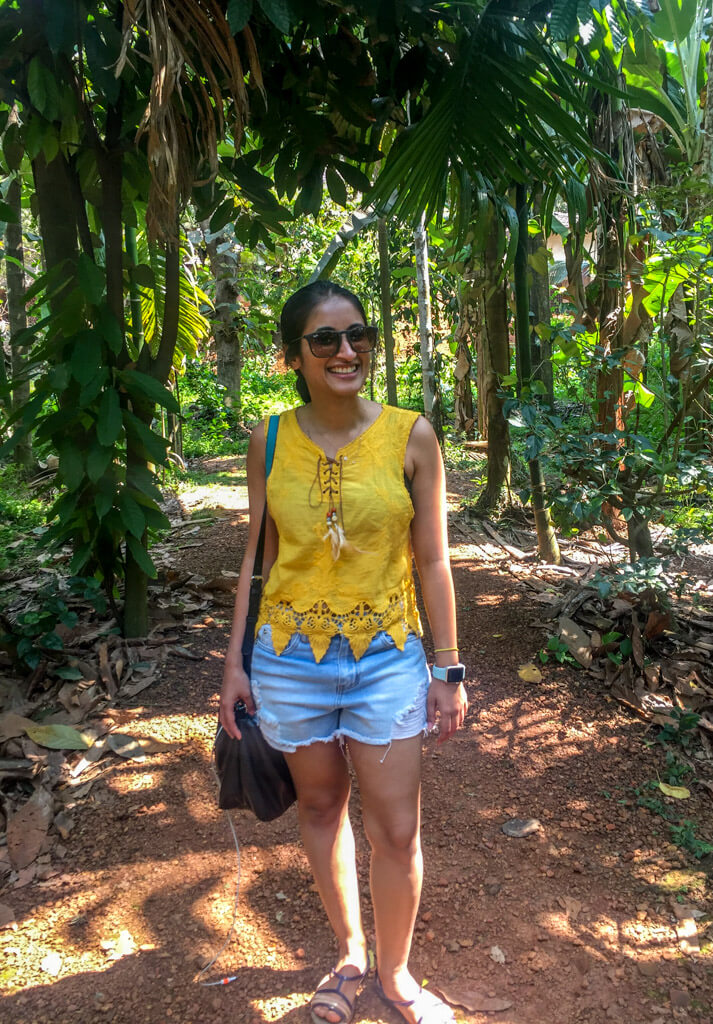 Information aside, the most fascinating thing we witnessed was a man deftly swinging from tree to tree like Tarzan plucking betel nut. This visual alone made the long drive worthwhile.
The tour ended with a glass of herb-rich cool water being poured down our backs for a quick (and shivering) cool-off after which we devoured a spread of delicious Goan food.  All this at a cost of just Rs. 400. It was completely and totally worth it!
Tip
Reach the plantation by about 10:30 AM- 11:00 AM so you can finish the 45 min tour in time for the lunch buffet.
With full tummies, we drove down to the UNESCO World Heritage area of Goa and the former capital of Portuguese India, Old Goa or Velha Goa. Old Goa comprises a multitude of beautiful churches all within walking distance.
We started at the most famous of the lot and the only church with unplastered walls in Goa – Basilica of Bom Jesus. It contains the undecaying mortal remains of St. Francis Xavier who was known for his miraculous powers of healing. The walk in the church took us through simple halls that were contrasted by gilded altars and fine marble floors inlaid with gems. It was beautiful despite being quite crowded.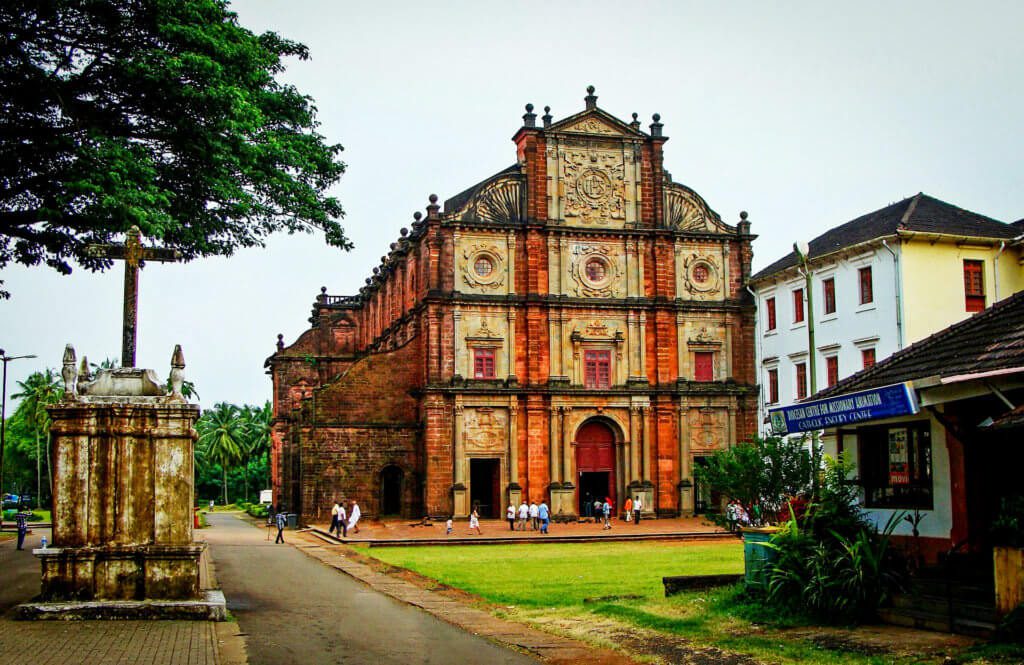 On the other side of the road are two Church's – Church of St. Francis of Assisi and Se Cathedral – situated beyond well-manicured grass gardens. After a few rounds of photographs outside, we made our way to Se Cathedral. Unfortunately, I wasn't allowed to enter because I was wearing shorts and a tank.
Tip
Always wear knee and shoulder covering clothes to the churches of Goa else you will not be allowed to enter.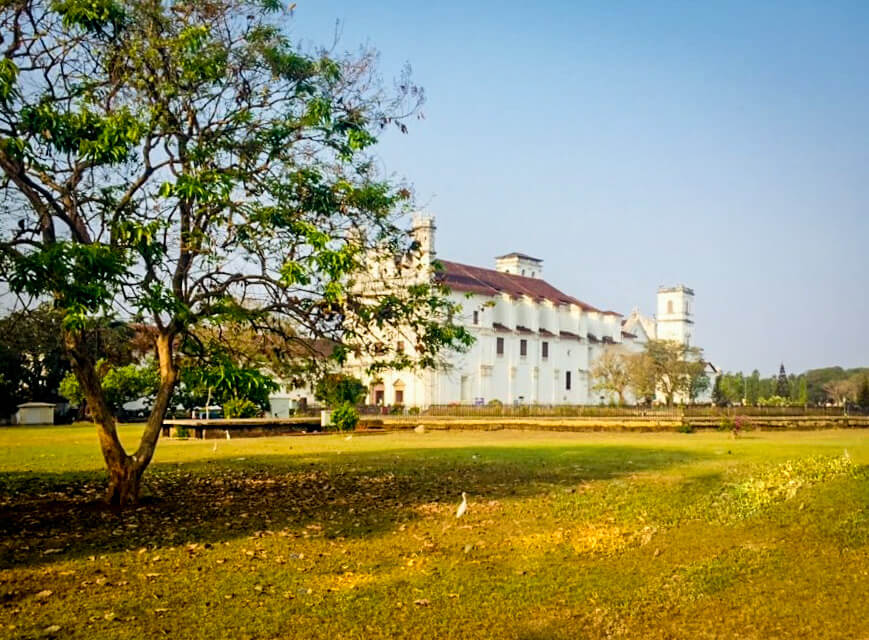 Lastly, we walked to the Church of St. Augustine which fell due to neglect in the mid 19th century. Despite the ruins, I found this place the most charming of all with its half-broken but imposing 46-metre-tall tower. Both of us loved our peaceful time here because there were hardly any people around except for organisers who were getting the place ready for an annual sacred music festival.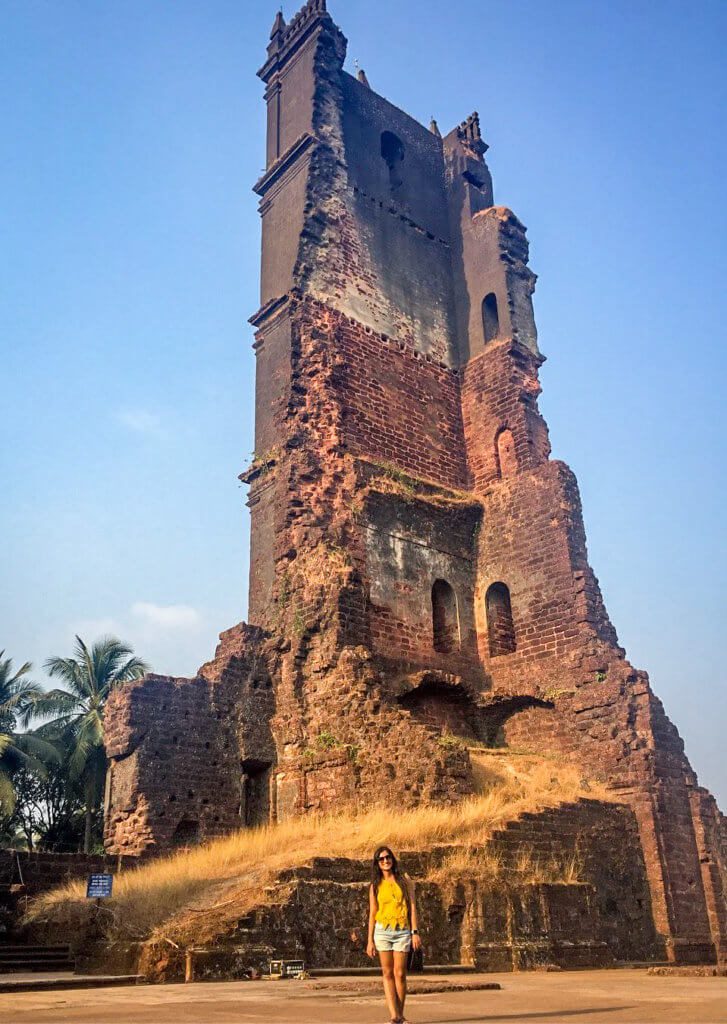 You can visit several other churches in the area as well- Saint Catherine's Chapel, Church of Saint Cajetan, Church of Our Lady of the Rosary. So, take your pick but do give the area at least a day's visit.
If you want to learn more about the churches and history of Old Goa go for a Walking Tour of Heritage Churches.
From Old Goa, we drove to my new accommodation – a hostel in the heart of the Portuguese quarters of Panjim (the only Portuguese quarters in Asia). As we entered Fontainhas, I was awestruck by the old-world charm of the narrow lanes lined with houses built in the colonial style and painted in bright shades of red, blue, green, and yellow. The hostel, Old Quarter, was easy to spot with its colourfully printed tile facade and black-walled entrance.
We sipped on delicious coffee and an even better pastry while lounging in a rather cool corner of the café- something that the hostel has plenty of- discussing our plan for the evening. It was time to party!
Tip: Hostels can be really amazing but not so nice too at times (I had the worst experience in Sri Lanka). So, read up on how to book a great hostel before actually venturing on your first solo trip.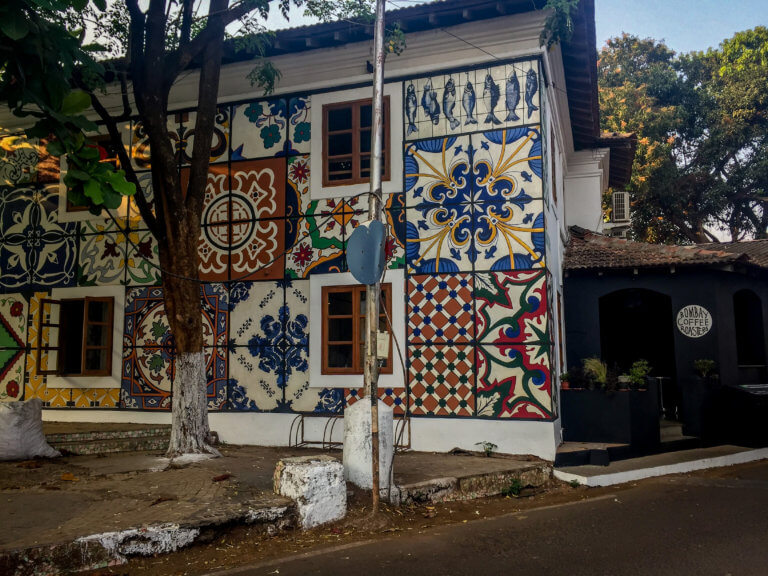 Cheap alcohol and an abundance of bars and nightclubs have led to Goa becoming India's party capital. If Anuj wouldn't have been in Goa, I probably wouldn't have got to party for safety sake. But now that I had company, I didn't have to think twice.
Tip
Be careful while partying in Goa. Watch your drink, stay vigilant always and if on a solo trip go out partying only with your hostel mates or other people you know. As a solo girl traveller, never go alone or with strangers.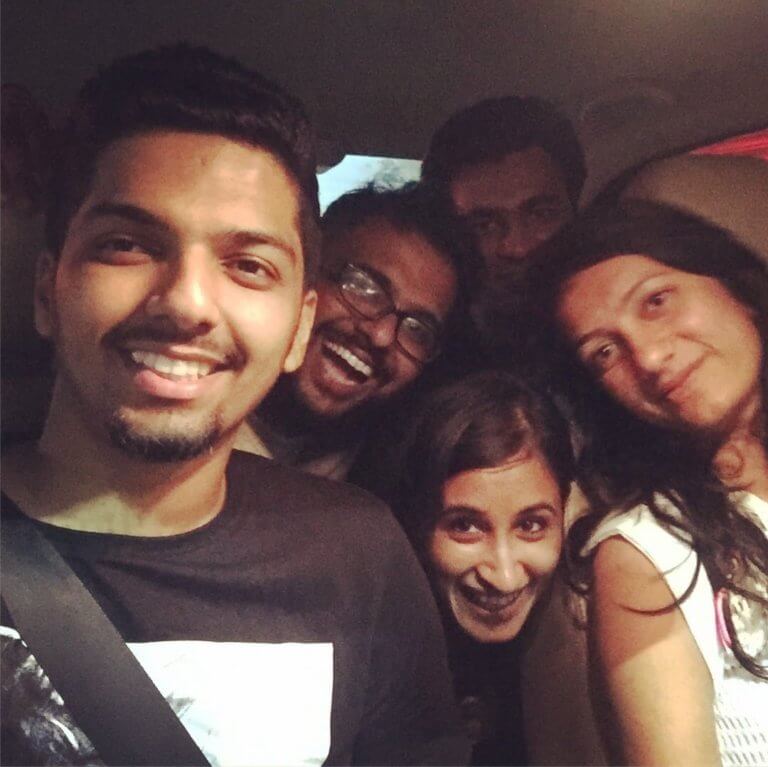 We met up with a few of his friends at Baga Beach (North Goa) for a quick dinner before we headed to our party destination. I remembered enjoying my time here a few years back but, on this day, I realized I have no affinity for hordes of people and overlapping music emanating (excuse for noise) from the beach shacks.
How could people enjoy the madness here? I was glad I stuck to South Goa for my stay. Thanks for the recommendation, Jaishree.
Ended the night partying at Club Cabana – a multi-tiered club having pools lit with neon lights that is situated atop Arpora hill. If you haven't been here, do go. It is a different experience from your regular nightclub visits.
Day 4: A Perfect Day in Panjim
I didn't have anything planned for this day. Based on Anuj's recommendation I was to go to Kokni Canteen for Goan Food but changed my mind after driving all the way. I suddenly wanted something more luxurious to treat myself. So, based on a pamphlet provided by the hostel, I decided on Black Sheep Bistro. The freedom to change my mind last minute was so satisfying. One of the perks of being on a solo trip is that you can go wherever and do whatever. There is no one to say otherwise. 
I had the toughest time getting to the restaurant despite deserted roads because the roads were shut or blocked by chairs for school/religious ceremonies. Also, there was literally no one on the road to guide me. Goa is known for its susegad, laid-back attitude, and on Sunday this is amplified. 
This sleepy, Goa?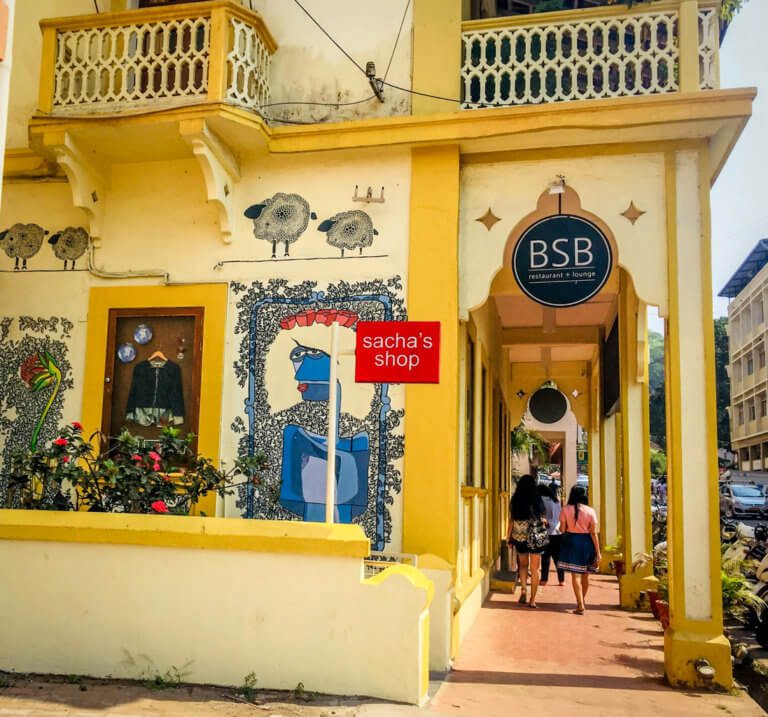 Set up in a 100-year-old yellow-painted Portuguese house, Black Sheep Bistro serves mostly fusion food and is rather popular. The restaurant was all hustle bustle when I got there so I sat on the only seat available – at the bar. Glad at that as I had the most scrumptious meal based on the bartender's recommendation- Peanut Crusted Kingfish with Orange Buerre Blanc. You guys have to visit here and try this soft fish encased in crispy peanut with a subtle hint of citrus. The amalgamation of flavours and textures hit all the right notes. While I was on dessert, a plate of warm churros with dark chocolate dipping sauce, the group sitting beside me at the bar asked me to join them because they felt sad that I was sitting by myself and thought I needed company.
Umm, is this the face of a sad person?
It is funny how a lot of people think it sad to be enjoying a meal alone. I assured them I was very happy as I was on a solo trip but I was also happy to join them. Long conversations, a great meal and a few glasses of delicious wine were exactly what I needed on my last day in Goa.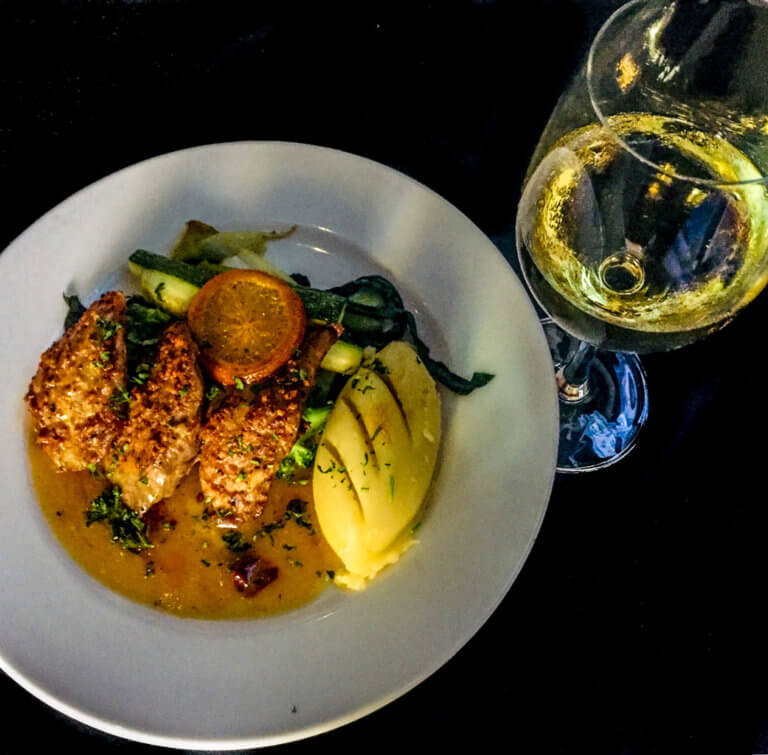 There was just one last place to explore – my neighbourhood for the day. So, I meandered through the colourful alleyways of Fontainhas – enjoyed the hues and quaint architecture, the flower-filled romantic balconies, and coffee and food at the age-old cafés and bakeries. Unfortunately, being a Sunday, the Gitanjali Art Gallery and Velha Goa Ceramics Galeria were closed. The window displays had awoken the shopper in me then let it down.
These lanes are best explored on a guided walking tour.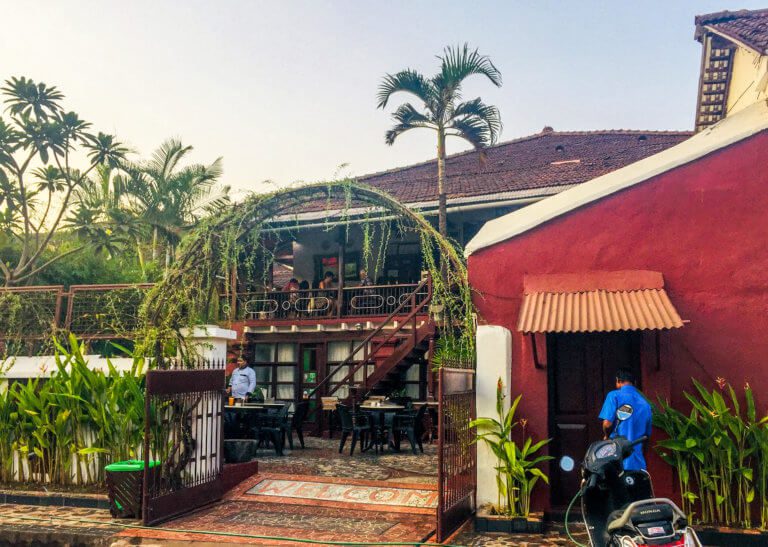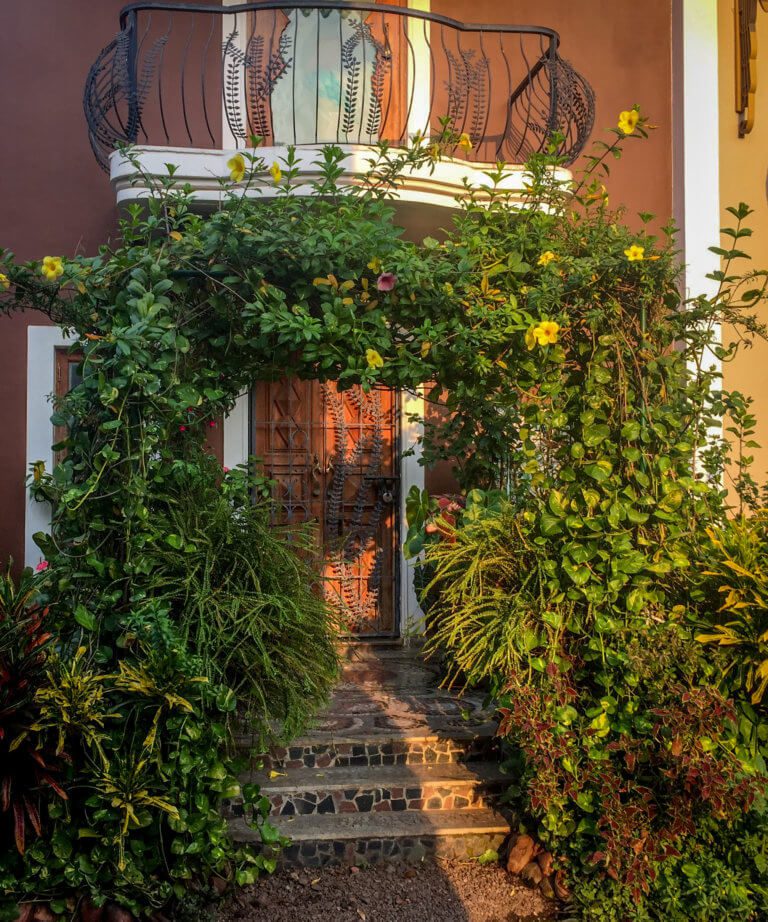 It was time to go back home. I was sad that this solo trip was at an end but happy that I had rid myself of bad company and made friends with qualities that brought out the best in me.
I boarded the bus back home and awaited my return to this tropical paradise I had fallen totally and completely in love with.
I have returned to Goa several times since this solo trip with different people including the friend that cancelled on me. My itinerary has almost always remained the same – stay at Agonda Beach, explore new places nearby and have lunch at Black Sheep Bistro in Panjim before departure.
To understand the gravity of this you need to know that I hate visiting the same place twice. Yet, I visit these places time and again. They have a special place in my heart for making me feel so welcome and helping me meet myself.
If you want to plan your first trip to Goa, that isn't exactly like the one mentioned above, read our complete travel guide to Goa for first timers.
Travelling solo despite apprehensions made me realize that we fear the unknown unnecessarily sometimes, overthink the self-doubt and self-amplify our anxiety. Unless we get out of our comfort zone, we never really know our capabilities. Having new experiences- solo trip or not- is essential for personal growth.
So, wander more. Be open to new things. Take that leap of faith. Sometimes things may go wrong. It's okay. Go ahead break that leg. Get lost. Get scammed. Get your tummy upset with street food. Why? You will not only have some amazing stories to tell from all over this planet but you will also learn new things, grow more self-confident, and never have to think – What if?
Let me know what you thought of this story in the comments below. Have you been on a solo trip before? What were the challenges you faced on or before your first trip if any? If you've never been, did this story inspire you to plan your first solo trip?
This blog post on My First Solo Trip to Goa has affiliate links that enable us to earn a small commission when you make a purchase, with no extra cost to you. We only recommend products and activities we like and those that might interest you. If you like any suggested product, do buy from the given links.