Home to over 150 plush resorts located on different islands, Maldives is the perfect place to splurge on accommodation and take advantage of all that chosen the resort island has to offer. But selecting the resort itself is a daunting task as you are spoilt for options.
After much research, we selected Coco Bodu Hithi Resort Maldives, a medium-sized island resort inaugurated in 2005. It is an entry-level 5-star, an ideal place to enjoy all the top-end facilities without a hole in the pocket.
Being medium-budget travellers, the money-value payoff is the primary reason we chose to stay at the Coco Bodu Hithi Escape Water Villa which is a decent-sized over-water villa at 144 square metres, has a spacious two-person hot tub and a large patio housing a lap pool.
Location of COCO Bodu Hithi Resort Maldives
Coco Bodu Hithi Maldives is centrally located in North Male Atoll. It is only a 40-minute speed boat ride from the Velana International Airport. This 40-minutes may seem long on reading but time just flies while on the boat.
On exiting the Velana International Airport at Maldives, you will promptly be met with a resort representative (or have to meet them at the designated counter) and directed to a waiting area. After a few minutes, you'll be joined by other waiting guests, or have to wait about an hour or so for other guests to arrive, and subsequently be helped onboard the speed-boat. The whole process took about 15 mins for us since another family had already been waiting.
The boat ride could be a little bumpy so ensure you have an anti-sickness remedy working in your favour. I popped an Emeset (anti-sickness pill) as soon as we exited the airport, so the boat's motion did not bother me even a bit.
Sit back and relax on the boat. Enjoy the cool breeze, the sunny skies and beautiful blue waters as you depart all the commotion of city life for the duration of your resort stay.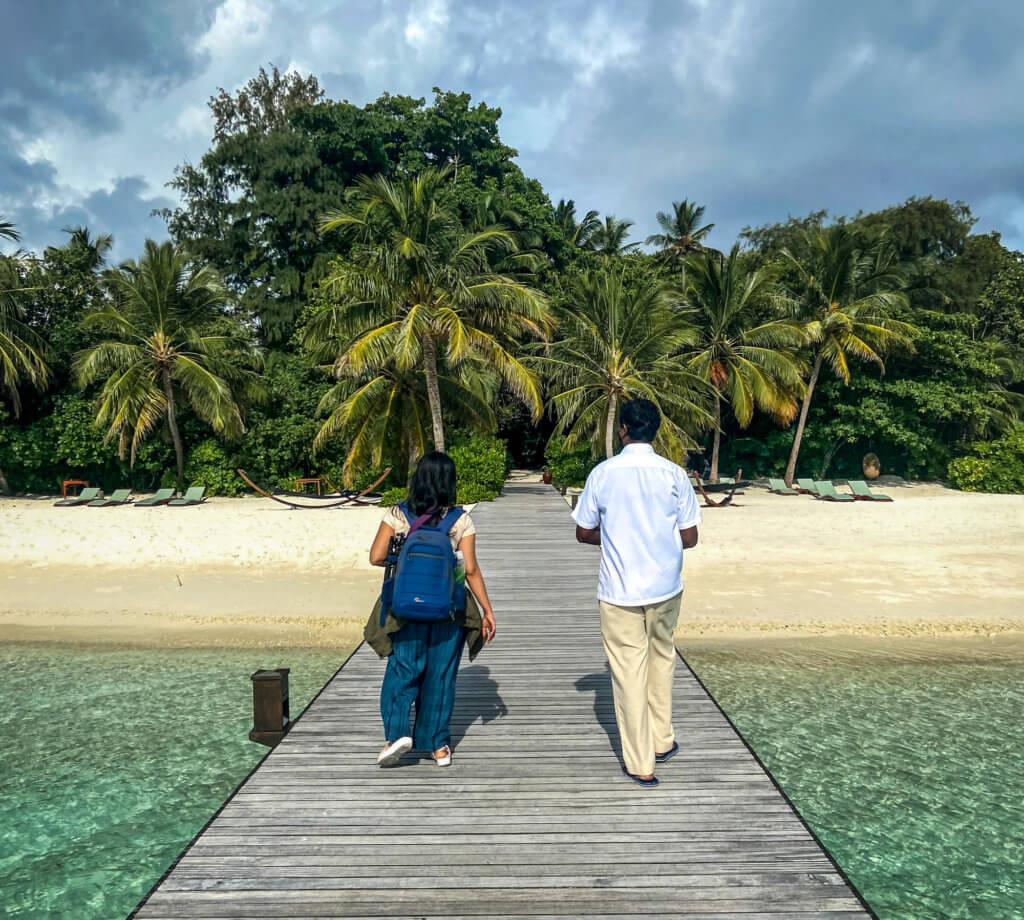 On arrival, you'll be greeted by your hotel representative (or butler) who will be your sole point of contact throughout your stay. The butler will lead you to the lobby/reception area or directly to your villa for paperwork, payments, and telling you all about the property, activities, events etc. You will be able to contact them at all times via Whatsapp connected to the Free-Wifi in the resort.
There was no receptionist when we visited but we are not sure if that is a COVID measure, or they never have a receptionist. 
The resort has a 100 villas – 44 on land 56 on the water – all with private pools. There are four villa categories:
1. Island Villa with Private Pool: The island villas that are located amongst the lush greenery of the island. These are generously sized at 188 sq.m. with one end opening up to a private plunge pool and the other to the beachfront. These villas have a big circular bathtub central to the room.
Over-Water Villas: Water Villas are built on stilts over the lagoon and therefore have spectacular views with direct ladder access to the water for easy snorkelling. Hence, these do not have direct beach access. There are three categories of over-water villas: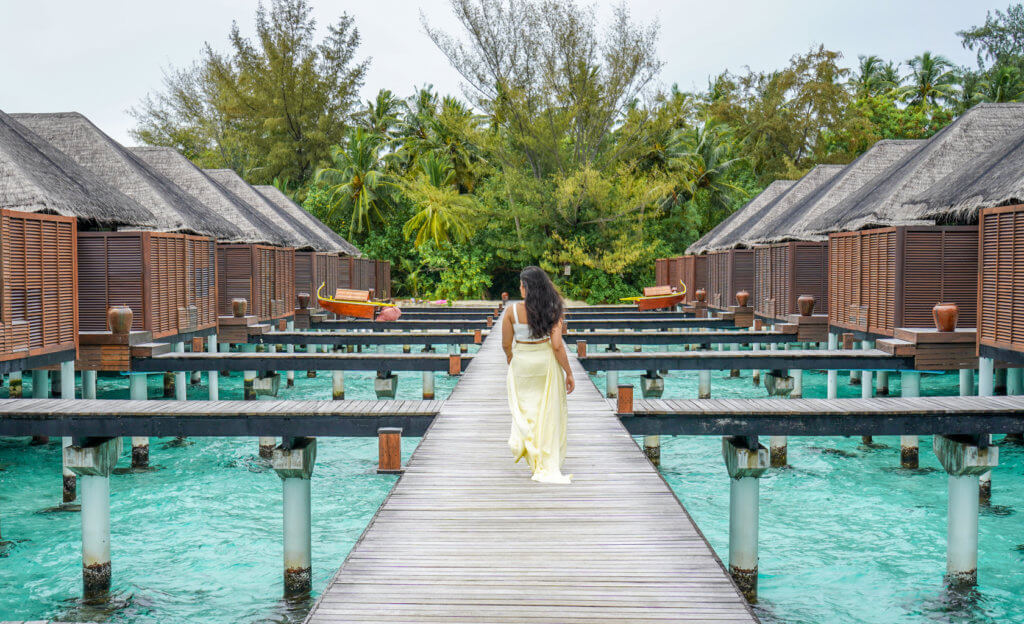 2. Water Villa with Private Pool: The basic water villas located over the turquoise lagoon are 109 square metres in size (much bigger than most resorts). The bed faces a well-furnished deck in this type of villa. The water villas are closest to the best spot for snorkelling on the island.
3. Escape Water Villa with Private Pool: Escape Water Villas are a step up in size at 144 square metres with a separate living space. Floor-to-ceiling windows in the bedroom look straight onto the water and the glass doors in one corner of the room open up to the deck.
4. Coco Residence with Private Pool: Also known as Escape Water Residence, these are located on a separate jetty for more privacy, and are the largest overwater villas at 184 square metres, with even more space in the living and dining area. It is a long walk to the resort hub, but the section is closest to the restaurant Stars, the spa and the fitness centre. These are the only water villas that have a view of the sunset and sunrise depending on which side the room is.
The villa decor is a mix of contemporary and Maldivian style (beautiful thatched roofs that take you into another time). Being an old property, the facilities and décor is a little old school. All villas have king-sized beds overlooking the sea, a large deck with private lap pools, dining table with chairs and deck chairs.
They have large in-room tubs, indoor and outdoor showers, enormous bathrooms with double vanity sinks, toiletries, bathrobes, slippers, beach bags, flat-screen TV, DVD player and free Wifi. They also have Nespresso machines, electric kettle for tea/coffee, and bottled water.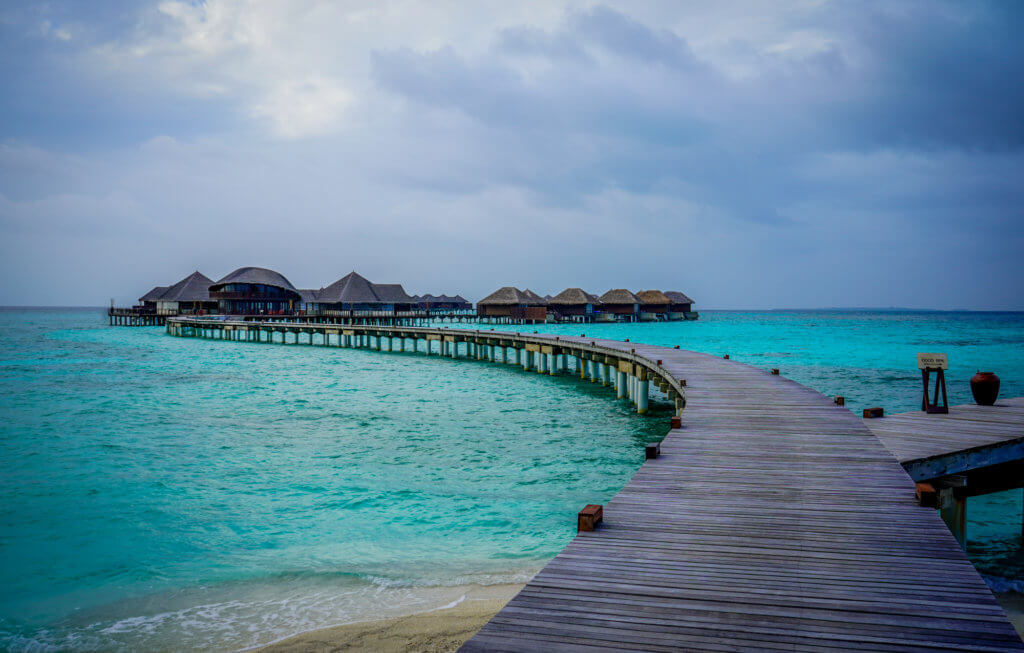 Our Experience at Coco Bodu Hithi Escape Water Villa
On booking via Booking.com, we had the option to upgrade at no cost from a Water Villa to an Escape Water Villa, which we grabbed. The Coco Bodu Hithi Escape Water Villa was perfect with its airy big rooms, large hot tub and lap pool. The pictures on the internet were accurate, so there was no disappointment at all.
The best bit was that there were huge glass doors on all sides of the villa that faced the outdoor deck – at the front of the hot tub area, the front of the living area and the left side of the bedroom. We super appreciated that these could open up fully, letting in sunlight and wind and giving us a feeling of being outdoors without actually being so. We took full advantage of the pool, deck, and Nespresso machine, all of which MADE our stay!
However, being an old property, there were some issues we noticed in the room.
1. Some tiles in and around the edges of the pool were coming off. 
2. The hot tub didn't have a flow of hot water. The engineer could only fix the problem temporarily. To get hot water, we had to turn on the tap of a basin (where the jam was occurring) in addition to the tap in the tub. We tried this too, but given the low water pressure and only warm (not hot) water flowing from the tap, we filled it halfway in about 30 -40 mins and decided it was not worth our time. Neither did we want to waste all the water from the basin tap!
We spent two hours or more on the whole affair, with the engineer coming in twice but to no avail. We gave up on the tub. It was our only truly bad experience at the resort. 
3. The roof had a leak in the living area. But it didn't bother us in any way.
4. The AC did not cool as much as we would have liked. Thick blankets and an AC that didn't cool sufficiently made for an uncomfortable time falling off to sleep. However, you must note that all Maldives islands are run entirely on generators, so you might want to cut the resorts some slack!
These were in no way a deal-breaker (except for the tub). We had already read reviews about the maintenance issues, so knew what to expect. That said, for the price we paid, we should have received top quality!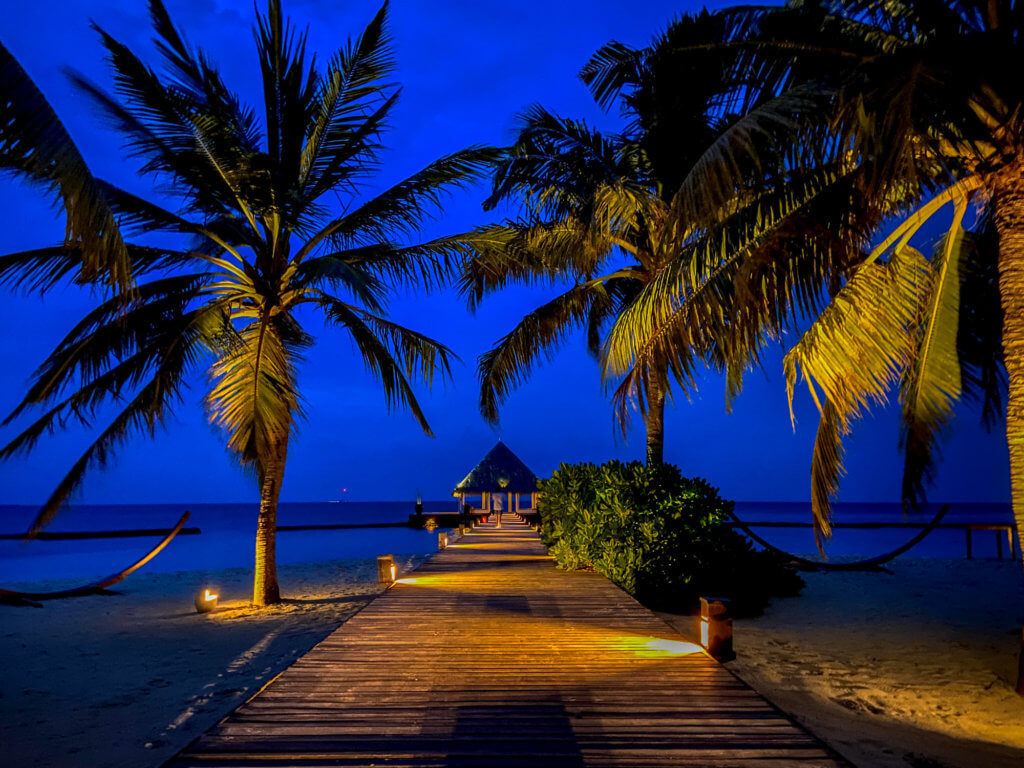 The resort is a charming one with beaches on the perimeter (albeit some are eroded) and tall tropical canopy filling the centre. The whole island takes about 20 minutes to walk around, but it is so beautiful, you'll make plenty of photo stops along the way. Hence, it will take at least an hour or more doing the whole round. The best bit was that we hardly saw any people at the property except during meal times. It made us feel like we were the only two people on the island, which was wonderful.
Infinity Pool: The resort has a nice infinity pool with a glass wall facing the ocean. It is a great place to lounge about on the sunbeds which are nearly always not fully occupied.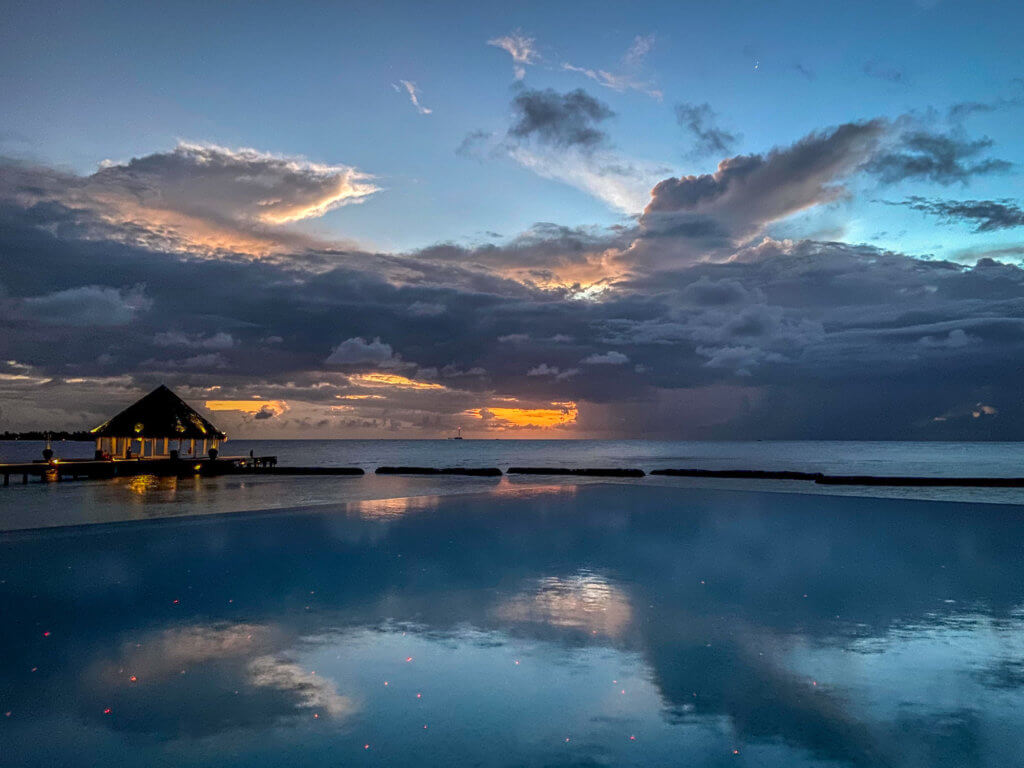 Dive Centre: Dive Ocean is a 5-Star PADI dive centre, a dive school with easy access to a host of excellent sites. You'll get an opportunity to spot White Tip and Gray Reef sharks, Hawksbill turtles, Dog Tooth Tuna, Napoleon fish, schools of Blue Stripe snappers, Batfish and Fusilier fish, Barracuda and Eagle and Manta rays. One dive for non-certified divers will cost about $143.
Timing: 9 AM – 6 PM
Water Activity Centre: The centre is a bit expensive, but you'll be spoilt for choices of activities like wakeboarding, windsurfing, parasailing, canoeing, stand-up paddleboarding, jet boating, guided snorkel trips to famous points, tube ride, catamaran safari and more. It is here that you can rent snorkel equipment (masks and fins) and life jackets for free to be returned on the last day of your stay.
Timing: 9 AM – 6 PM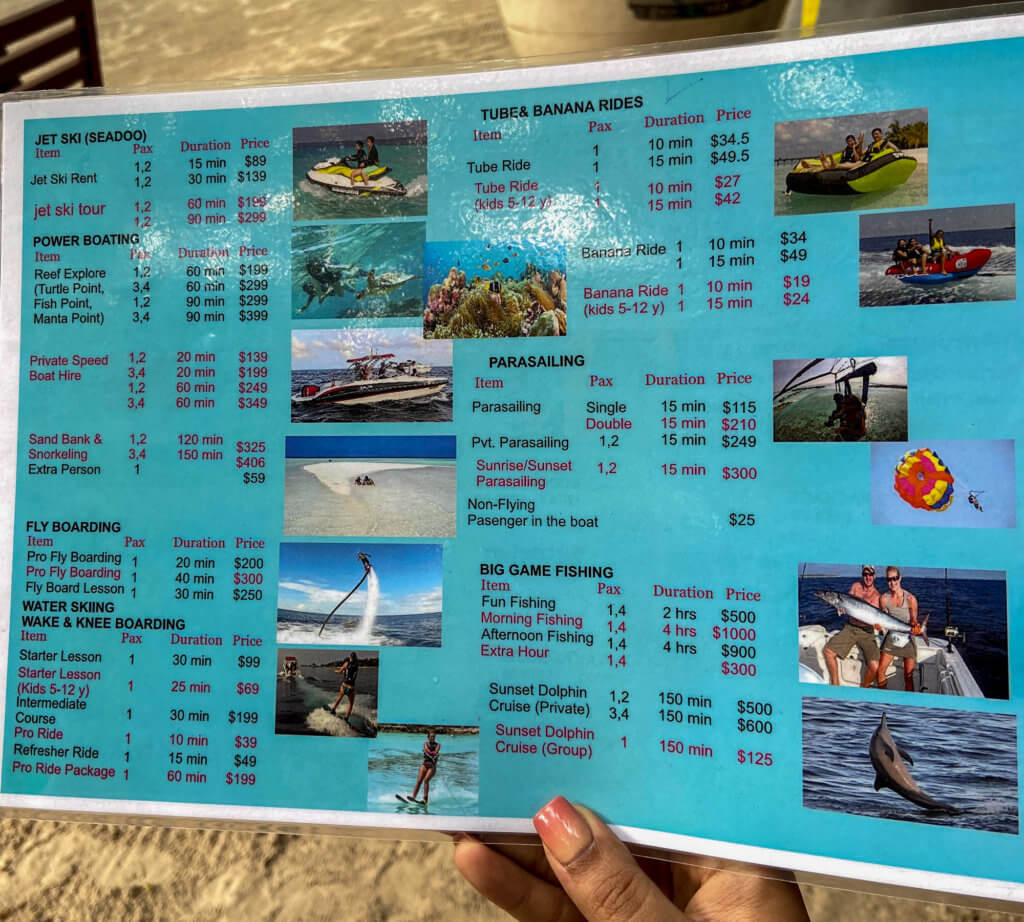 Sports Facilities: Nestled amongst the palm trees is a floodlit tennis court. Guests can take part in yoga sessions from 8AM-7PM that need to be pre-booked as it depends on the availability of the yoga master. There is also a recreation centre for table tennis and billiards.
Fitness Centre: Coco Bodu Hithi Resort Maldives has a superb over-the-water fitness centre with a good selection of equipment. A run on the treadmill with that view makes for a memorable workout!
Timing: 8 AM – 10 PM
Spa: The spa, located near the fitness centre, has a gorgeous over-water location. It offers every treatment you could possibly wish for. You can use the steam room, sauna, Jacuzzi and cold plunge pool for free.
Timing: 10 AM – 9 PM
Activities and Experiences: The resort offers several paid activities like sandbank visits, guided tour with a Marine Biologist to coral gardens & popular marine life sighting points, private cinema under the stars, sunset cruise, fishing, private villa barbecue, private breakfast on the beach, and private pergola dinner.
We were so excited about the marine biologist trip but the resort did not have on at the time due to COVID.
Shop: There is a shop for essentials and clothing (albeit highly-priced). Some products require a purchase in cash only.
Wifi: Wifi is complimentary in the rooms and the main areas.
Butler Service: Each villa is assigned a butler, and each butler services a specific number of rooms. Our butler was the most helpful during our stay. He volunteered to take us snorkelling on learning that we aren't experienced swimmers and snorkellers and because the marine biologist tour wasn't happening. That was very kind of him. For our anniversary night, a bottle of bubbly and cake was arranged by him along with bed décor. It was a very thoughtful touch.
There is no kids club at the resort. Most visitors are couples though we did see a few families.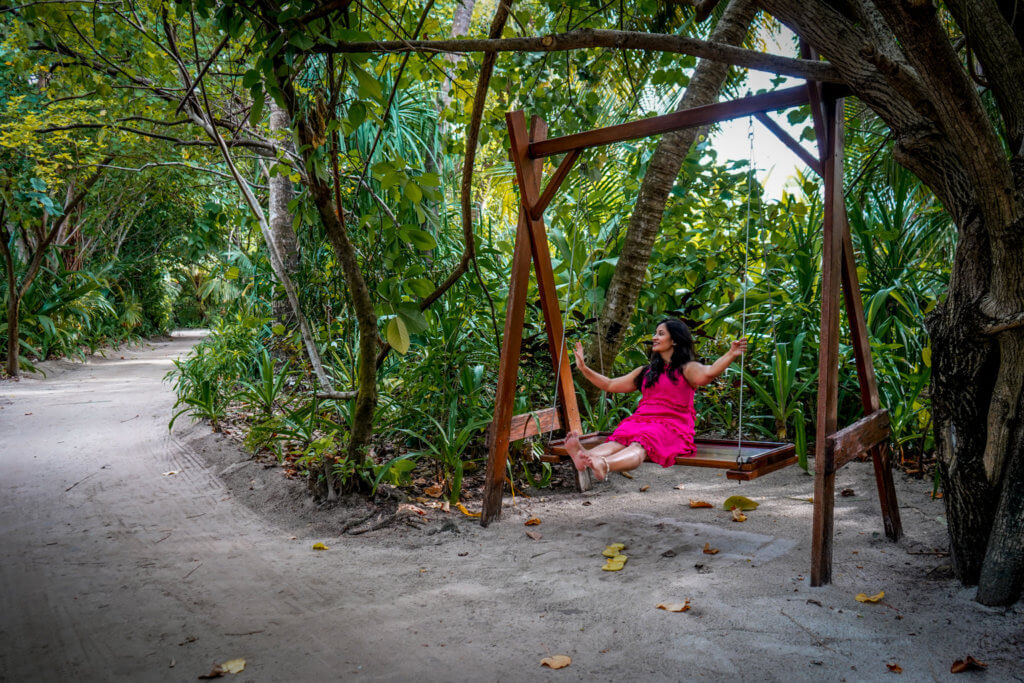 The property has 5 restaurants and 2 bars.
Air– Air is an all-day dining waterfront restaurant that offers international cuisine. It is here that you'll be served buffet meals (that are included in your meal plan) daily – breakfast, lunch and dinner. You can either sit in the shade close to the buffet or on the terrace overlooking the water. The ambience in the waterfront terrace is quite romantic.
Stars – Stars is an ocean view fine-dining restaurant, which offers international cuisine for all three meals daily. Guests staying at in the Escape Water Residences can use Stars restaurant for breakfast. Reservations are required for all other meals by all guests.
Aqua – Aqua is an ocean-view fine-dining restaurant that serves Asian seafood and is open for dinner only. Reservations are required.
Tsuki – This restaurant serves Japanese food for lunch and dinner.
Altitude– The wine loft which opens for romantic dinners and special events where wine is paired with food. You can visit here to purchase bottles to take back to your villa.
The Latitude Bar has an amazing view of the infinity pool and ocean beyond
There are two main bars on the property: Latitude Bar next to the infinity pool, which serves beverages and light international food and The Lounge next to Stars restaurant. Both bars are pretty quiet at night, however, there are events at Latitude like movie nights and karaoke. Free popcorn is served on movie night, yum!
Besides the restaurants, room service is available round the clock, and dinners can be arranged in the villas or along the beach. Events like beach barbecue nights are also held weekly.
During our visit, only Air and Latitude were open due to COVID. I remember hearing that another restaurant was opening for the new year, but I'm not which one it was. I have to mention that the food was average except at the live counters – which are plenty so you'll still enjoy your meals if not the entire buffet. Vegetarian options were few though Modi still survived happily due to the live counters and desserts.
Booking.com has special offers like we got, but do check out MakeMyTrip and Agoda too before you book.

Only AIR restaurant buffets are part of the meal plan. For all others, you'll have to pay extra.

When budgeting, account for room fare, meals, alcohol, hookah, transfers, activities and COVID tests.

Resort time is about an hour earlier than Maldives time. Change the time on your watch accordingly after checking the resort time with your butler. Don't be late for meals like we were 😛

Carry water for meals if you're on the half-board plan since it is chargeable. Imagine that!

Get snorkel gear from the activity centre on your very first day. You may not always be lucky in the water, so might as well start as early as possible.

If you've never snorkelled before, try to get used to the snorkel gear on day one itself. This will help you enjoy the water eventually.

The best snorkelling spot is toward the right of the water villa jetty (before the first water villa). Swim from there to the water activity centre. The best time is in the morning between 7 AM-9 AM.

Best spot for spotting sharks without getting into water is at both sides of the escape residences (in our experience).

Read our Maldives Travel Guide for more tips and info.
Go through our Maldives Packing List to know what to carry.
verdict of COco Bodu Hithi maldives
Location: 10/10
Amenities: 7/10
Food: 7/10
Service: 6/10
Value: 9/10
Overall Rating: 7/10
Beautiful island and beaches with stunning views

Great value for money (compared to Maldives standards)

Big villas, decent-sized in villa pools and large hot tubs

5 restaurants and 2 bars to choose from

A beautiful infinity pool

Peaceful and Romantic Ambience

House reef is teeming with marine life 

Free use of snorkel gear

Free Wifi so you're always connected
Visible maintenance issues in the room.
None of the newer amenities and attractions: Over-water hammocks, swings, slides
No Nightlife (if that's your thing)
Expensive activities with none included in the stay
No kids club (may be unsuitable for families)
A lot of walking required if staying in water villas (despite golf carts)
Service is mediocre
Vegetarian options are limited at the buffet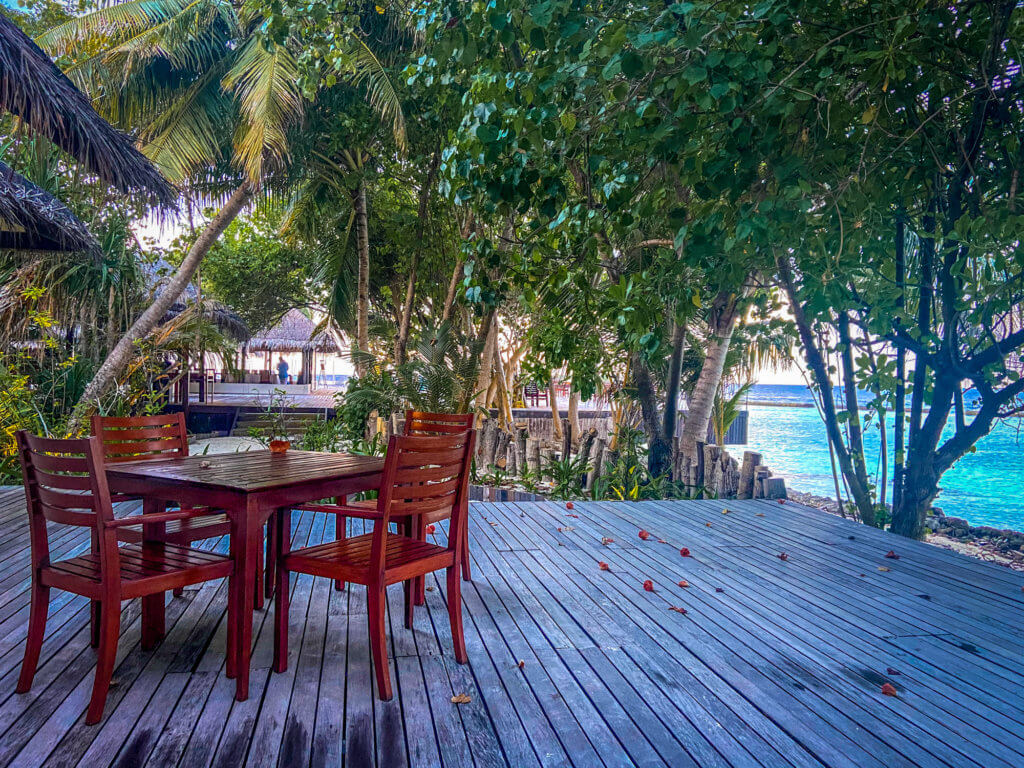 We really enjoyed our villa, walking around the beach, sipping drinks and having hookah at Latitude bar, snorkelling in the waters, watching stingrays and sharks, and the company and guidance of our butler. It was an amazing holiday because we aren't nitpicky and like to have a good time instead of focusing on the bad.
There are three major improvement points:
1. The management should be more accessible and be guest focused to offer the best service. 
2. The property needs to be upgraded with newer facilities and amenities to keep up with changing times.
3. The restaurants should be understaffed at no point and should especially not struggle during holiday season when occupancy is high.
Coco Bodu Hithi Maldives is an old, but beautiful property, that offers immense value for money but with a slight compromise in service and modern facilities.
This blog post on the 'Coco Bodu Hithi Resort Maldives Review' has affiliate links that enable us to earn a small commission when you make a purchase, with no extra cost to you. We only recommend products and activities we like and those that might interest you. If you like any suggested product, do buy from the given links.