Hanoi charmed us with all it had to offer. We hadn't gone expecting anything or having read much, so we had little time here – just about 2 days in Hanoi or less to explore. However, this short period was a gastronomical delight which also gave us a peek into Vietnamese city life and culture.  
Hanoi- The Charming Capital of Vietnam
Hanoi is located in the northern part of the country on the banks of Red River. It is home to more than a million people but has an intimate feel compared to the skyscraper-filled city of Ho Chi Minh.
Be ready for an assault on your senses in a good and in a not so good way too. You'll enjoy the visuals of yellow-hued crumbling buildings reminiscent of its French- colonial history, ancient attractions that tell a tale of its Chinese influence, museums & memorials that take you through its political past and lakes that provide some serenity in the midst of a bustling city. Your ears, however, will be bombarded with the whizzing and honking of motorbikes and the chatter of people brushing past or sitting on the sidewalk on small plastic stools enjoying food. It might be a little overwhelming at first, but you'll soon get used to the noise. And oh, the food! The aroma of herbs at every step and the well-balanced taste of Vietnamese food will tantalize you into spending all your time eating. Guilty!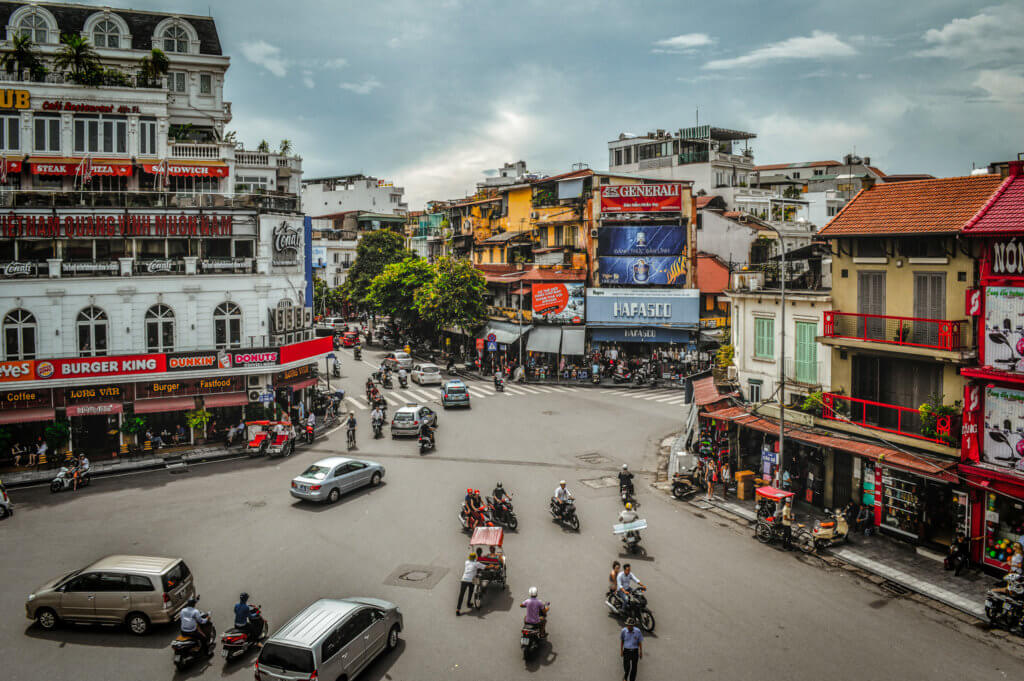 Hanoi has a hot summer and a harsh winter. The best time to visit is from October to December. This is the time when the days are warm and sunny, the humidity well below the norm and nights a little chilly.
January – February: It is quite misty and cold due to winds from the South China Sea and high levels of humidity.
May – September: It is hot and humid with high rainfall. Rains are at their peak from July to September during which may cause flooding.
Best Area to Stay in Hanoi
The area of stay in very important in big cities like Hanoi, as you may end up living away from the best spots and spend a lot of money on taxis to get around.
To experience Hanoi in 2 days, you should stay in the Old Quarter. You'll not only be at walking distance from the best that Hanoi has to offer, but also find the cheapest accommodation and food. It is the most happening place in the city and definitely the best area to stay in Hanoi.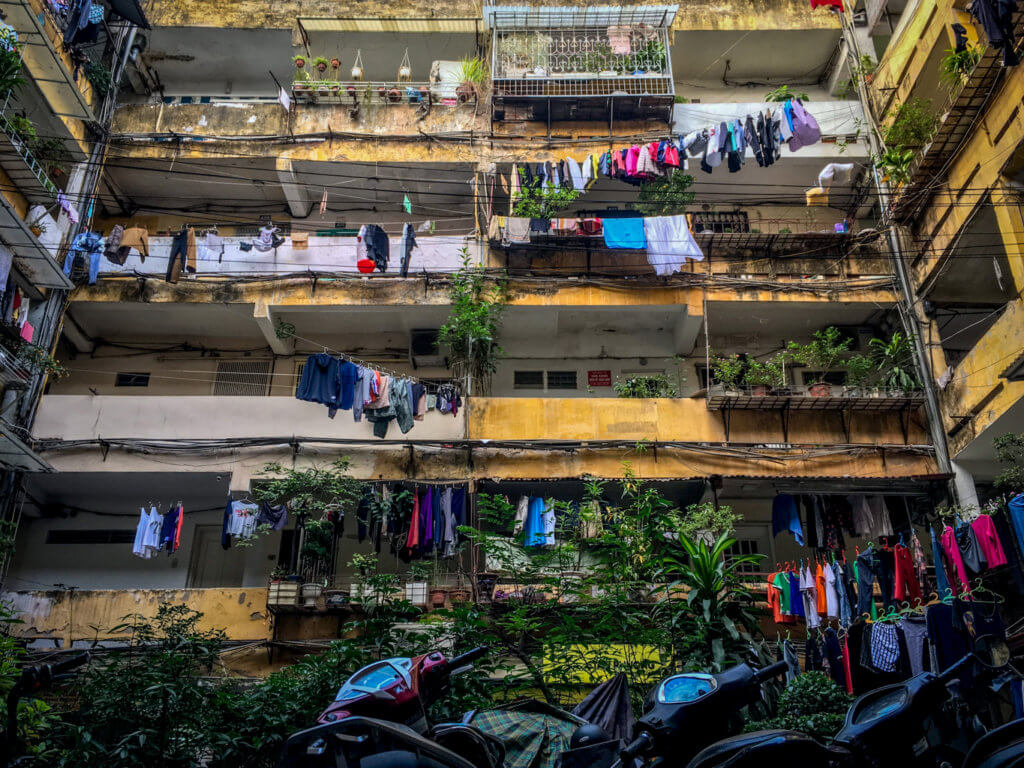 Here are some recommendations:
Hostel: Hanoi Amazing Hostel – Good location, clean rooms and friendly staff
Hotel: La Storia Ruby Hotel – Small hotel with clean rooms located just a minutes' walk from Hoan Kiem Lake. They have friendly staff too!
Airbnb: The Airbnbs in the Old Quarter are charming and cheap. We stayed at an apartment in a crumbly Old Quarter building. It was perfect for observing the life of the people of Hanoi from up close. Unfortunately, that property is no more listed on Airbnb but I would suggest booking an Airbnb for yourself too! Hanoi has some beautiful properties.
What to Do in Hanoi for 2 Days
Day 1: The Old Quarter - Long Walks, Food, Coffee and Beer
I have kept day one in Hanoi light assuming you would arrive sometime in the day and be tired to do too much. This day just involves walking, exploring and eating to get a flavour of life in Hanoi and its delicious food.
1. Stroll Around Hoan Kiem Lake
Hoan Kiem Lake, located in the centre of the old quarter, is a popular hangout spot amongst tourists and locals. Walking around the lake and gardens provides a sense of serenity amidst the chaos of Hanoi.
Here you can also visit the Ngoc Son Temple that sits on a small island in the centre of the lake. The bridge leading to the temple is super picturesque in the day and in the night when it is lit up with red lights.
Timings: Mon-Fri: 7 am to 6 pm, Sat-Sun: 7 am to 9 pm
Cost of entry to Ngoc Son Temple: 30,000 VND
Duration of Visit: 1 hour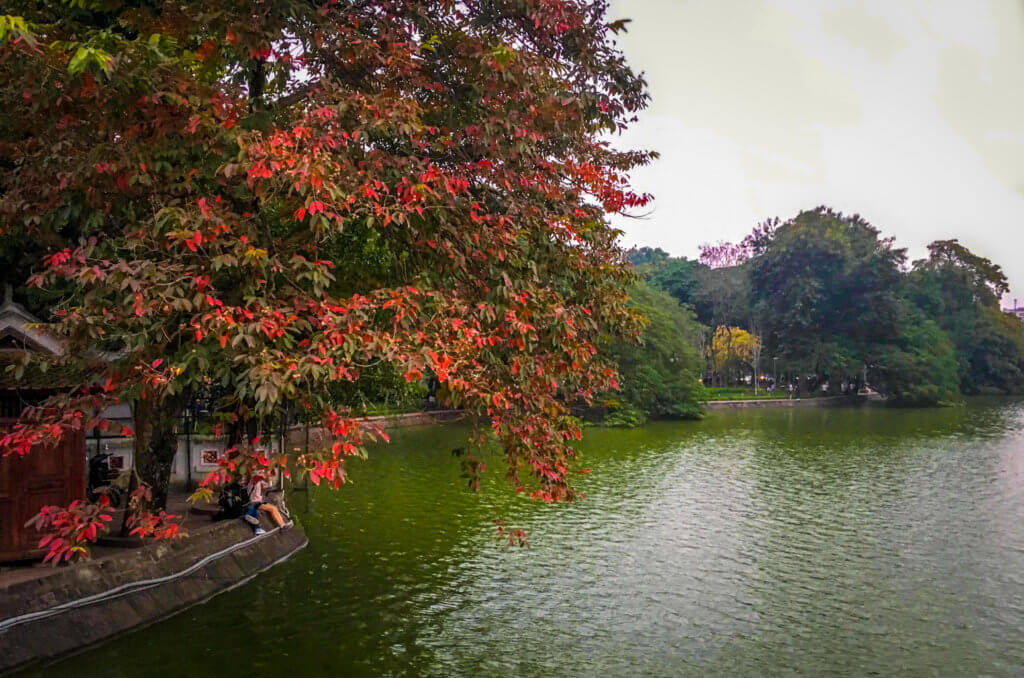 2. Wander Aimlessly in The Old Quarter
Start exploring from North of The Hoan Kiem Lake and make your way through the Old Quarter- a collection of 36 streets that specialize in selling something particular- shirts, shoes, toys, sunglasses etc.  These lanes are noisy and chaotic with a ton of traffic flanked on both sides with crumbling old buildings that have shops and eateries on the ground floor. The wares and seating of these encroach the footpath. Skip the fancy restaurants, this is where you should sample all the Vietnamese food we'll talk about below.
We would recommend spending your evenings hanging out here, visiting shops and gorging on whatever you can find – Baos, Shrimp Cakes (Banh Tom), meat on a stick, exotic fruits, and more. The variety of food is endless.
Strolling in the Old Quarter is easily the best thing to do in Hanoi. If you have only one day in Hanoi or one evening, this is where you should spend most of your time.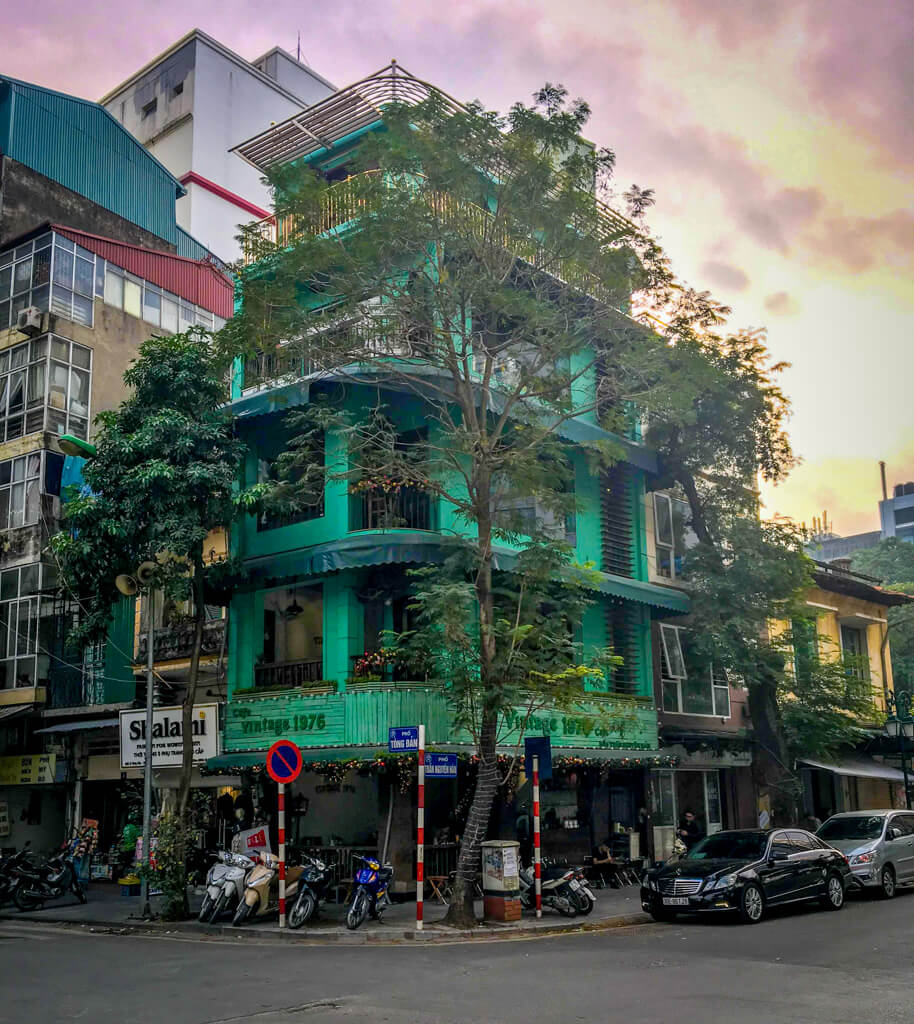 3. Watch a Train Pass Narrow City Lanes
Thanks to Instagram, the train street where trains pass by a narrow residential lane twice a day, has become ever so popular and crowded. It is strange to see locals going getting on with their daily routine in such a place. Cafes have sprung up on either side of the track and people flock here to watch and photograph this unique street and train.
Note: For safety reasons, this street is closed for tourists. However, according to some reviews on TripAdvisor, you have a chance of visiting the place if you are escorted by one of the shop owners or local residents.
Duration of Visit: 30 mins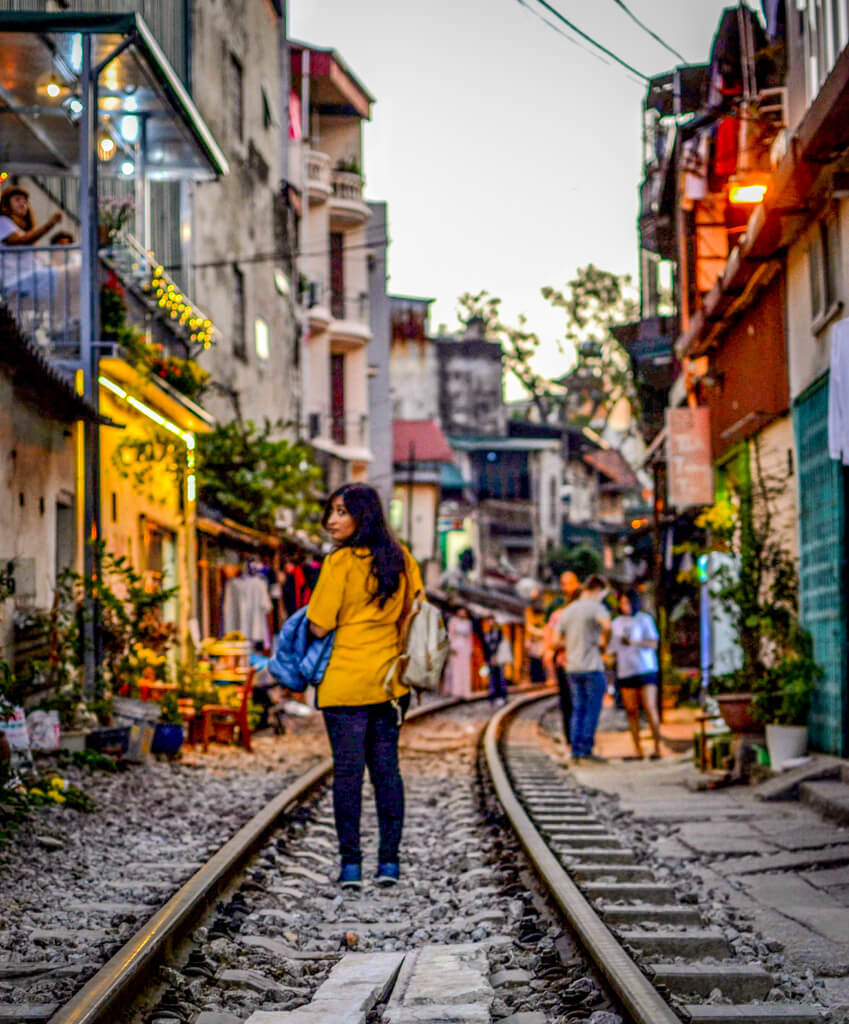 4. See Life-Sized Paintings at Phung Hung Mural Street
This street, located parallel to the Train Street, has a wall covered with murals showcasing Vietnamese life. These life-sized murals are fascinating and worth a visit.
Duration of Visit: 30 mins
5. Chug Beet at Bia Hoi Junction
Bia Hoi Junction, located at the corner of Ta Hien Street, is the quintessential nightlife spot in Hanoi. Open throughout the day and late into the night, the ever-bustling street has plastic stools and tables lined up as far as the eyes can see. Which is not far, since the lane is so packed always. Enjoy a Bia Hoi here, a Vietnamese draft beer that has about 4% alcohol. There will also be hawkers selling all kinds of street food here too!
Duration of Visit: 1-2 hours
In all honesty, I enjoyed Bia Saigon more than Bia Hoi! You could try that too.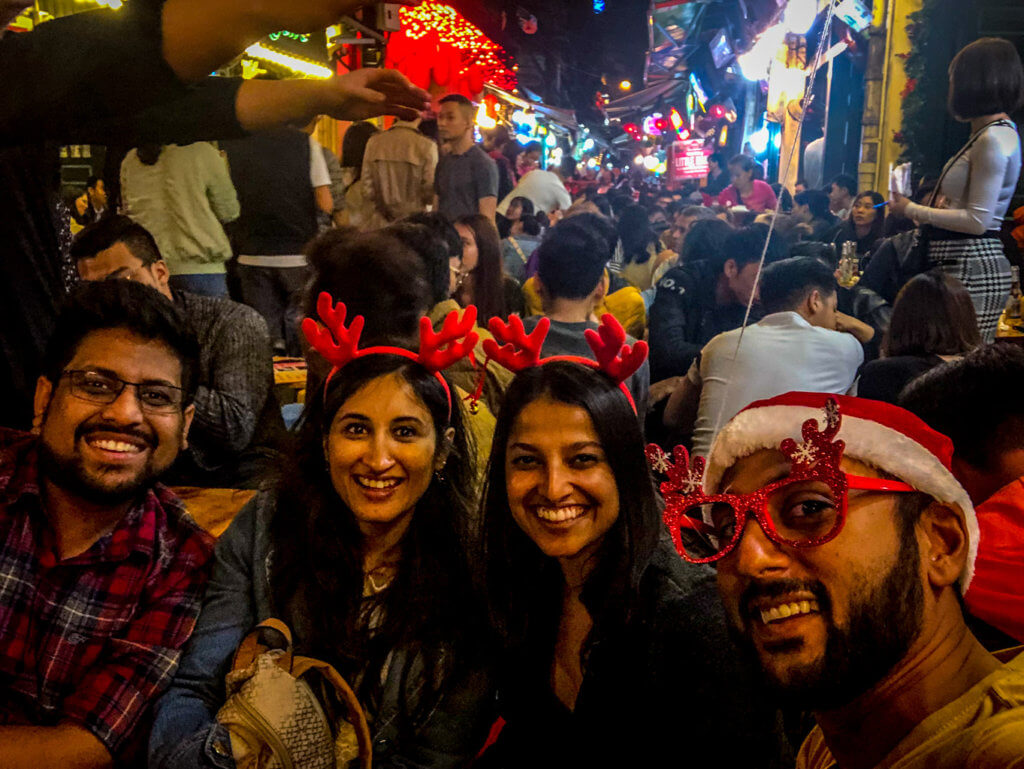 If you have more time on this day, add in a water puppet show at Thang Long Water Puppet Theatre at Hoan Kiem Lake. In the show, the puppets are skillfully manoeuvred over water to showcase folk tales that are accompanied by a Vietnamese traditional orchestra. This didn't interest us, so we continued to wander through Hanoi's lanes, but you could give it a watch since it's an art form dating back to the 11th century.
Day 2: Ba Dinh District - Sight-Seeing Historical and Cultural Attractions
Day 2 in Hanoi is about exploring cultural and historical sites in the Ba Dinh District close to the Old Quarter. I have added three of the many attractions that Hanoi has. Feel free to switch them up if you don't like the ones below.
1. Pay Respect to Uncle Ho at The Ho Chi Minh Mausoleum
About 3km from Old Quarter is the imposing Ho Chi Minh Mausoleum, one of the most visited complexes in Hanoi. The area around the mausoleum is known to be one of the quietest areas in the city since it consists of many government buildings and attractions – Ho Cho Minh Mausoleum, Ba Dinh Square, The Presidential Palace, Ho Chi Minh Stilt House and Ho Chi Minh Museum. The main things to see here are:
Ho Chi Minh Mausoleum- The embalmed body of President Ho Chi Minh, Vietnam's most respected leader, inside the mausoleum
Hi Chi Minh Stilt House- The traditional stilt house of Northern Vietnamese people used by Ho Chi Minh
One Pillar pagoda- The unique architecture of the pagoda that resembles a lotus rising from the water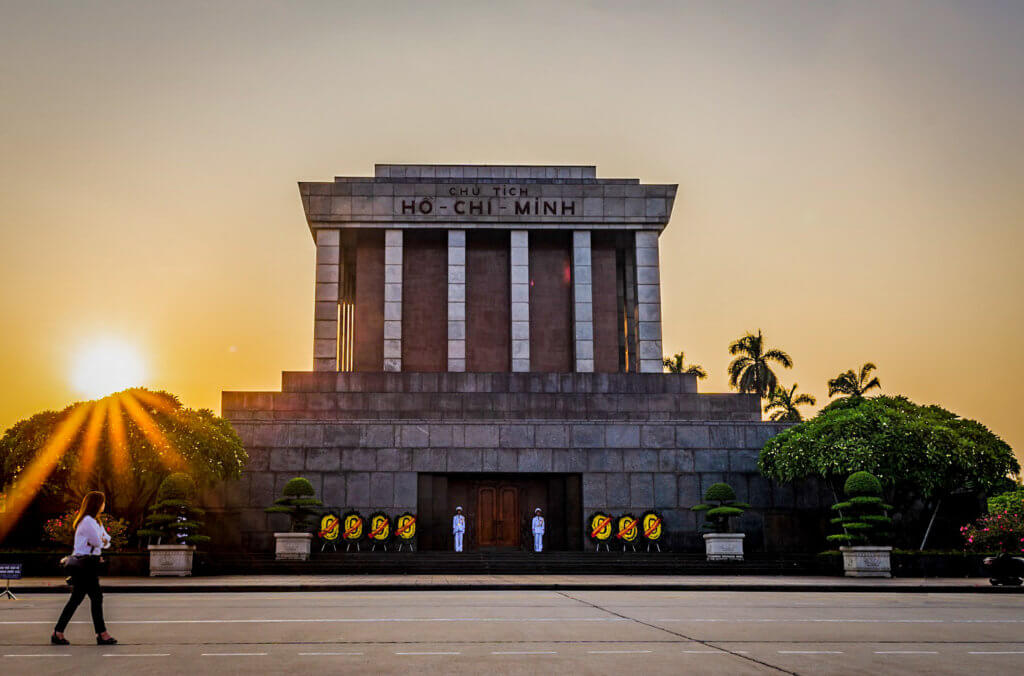 Timings: Monday: 8:00 am – 11:00 am and Tuesday to Sunday: 08:00 am – 04:30 pm.  The Mausoleum is closed in October and November.
Entrance Fees: Walking in the outer area (Ba Dinh Square) is free.  The price for entry into the Ho Chi Minh Museum and Ho Chi Minh Stilt House is 40000 VND per Person per destination.
Duration of Visit: A tour around the complex can take 1 to 1.5 hours if you don't enter the mausoleum. If you want to enter the mausoleum, you have to queue for at least 30 minutes and more. So the tour can take about 2.5 to 3 hours.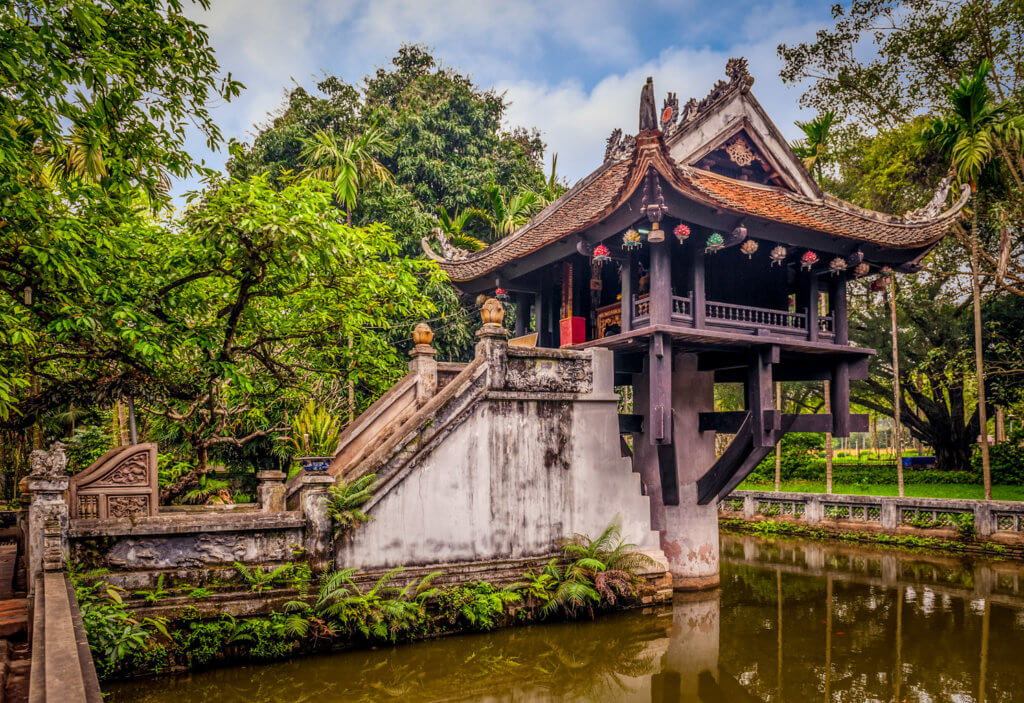 Founded in 1070 to honour Confucius, this ancient temple complex is not only an admirable example of traditional Vietnamese architecture but also its first national university. The site has a Lake of Literature, Well of Heavenly Clarity and various courtyards and beautiful gardens where you can escape from the hustle-bustle of Hanoi.
Timings: Tuesday: Sunday 8:30 – 11:30 & 13:30 – 16:30
Entrance Fee: 20,000 VND
Duration of Visit: Approx. 2 hours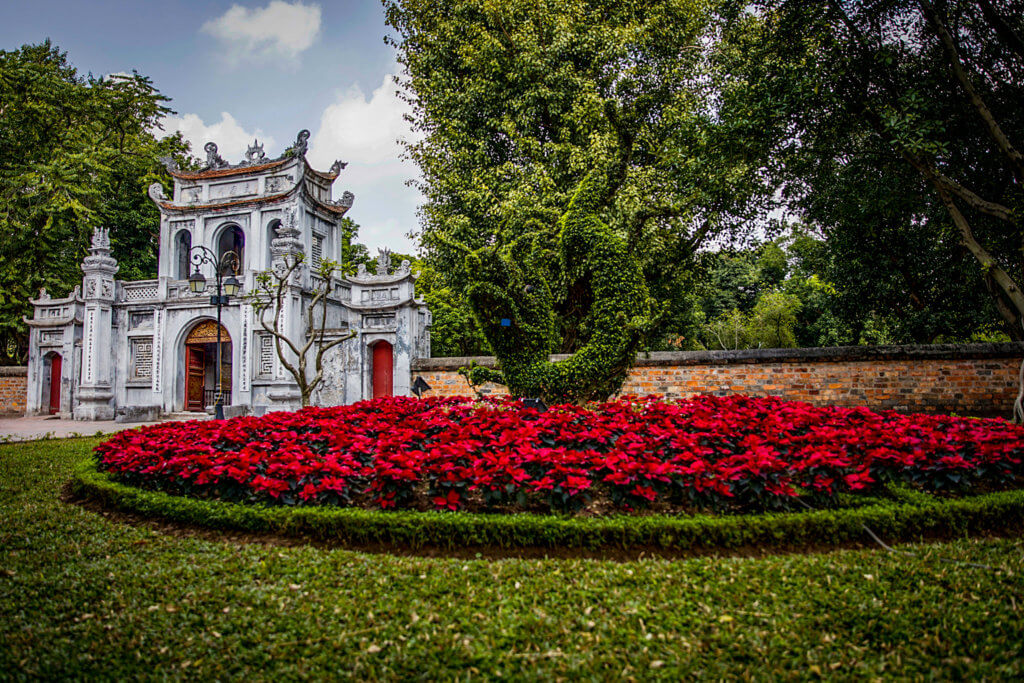 3. Imperial Citadel of Thang Long
This UNESCO World Heritage Site was the political centre of the country for thirteen centuries. It is home to a number of recently excavated artefacts like coins, ceramic, pottery etc. that are of cultural and historical importance to the Vietnamese. The place also has war rooms and bunkers that were used during the Vietnam War.
Timings: 8:00 – 17:00 daily. Closed on Monday.
Entrance Fee: VND 30,000 for locals and tourists
Duration of Visit: 1-2 hours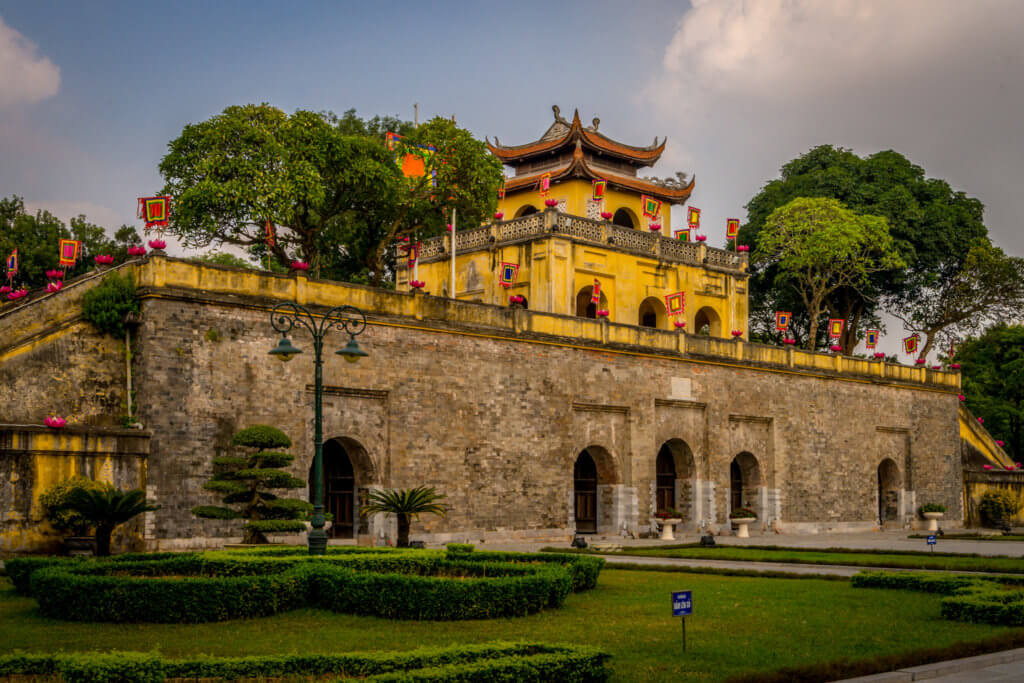 If you've had enough sight-seeing for 2 days in Hanoi then watch the sunset at Long Bien Bridge before heading back to the Old Quarter to spend your evening eating some delicious food and chugging Bia Hoi.
Other Things to Do in Hanoi
Honestly, there are too many things to do in Hanoi to cover in two days. Below is a list of other places you can visit that have not been covered in this blog post on Hanoi in 2 days but might interest you.
Tran Quoc Pagoda – The oldest pagoda in the city.
Hanoi Opera House- Located in the French Quarter and remodelled after the Paris Opera House, it is one of the most elegant buildings in Hanoi.
Vietnam Military History Museum- perfect for those interested in wartime artillery
Hoa Lo Prison- A prison where the French jailed the Vietnamese and subsequently the Vietnamese jailed the Americans.
Vietnam Fine Arts Museum: Has Vietnamese art from the prehistoric age to contemporary ones.
Museum of Ethnology: This museum showcases the 54 different ethnic groups in Vietnam.
Hanoi Women's Museum:  A museum that sheds light on the important role that women have played in Vietnam's history
Dong Xuan Market: A 4 storey building where you can find all sorts of inexpensive apparel, electronic items, food etc.
We aren't a big fan of tours that arent' walking tours or food tours. However, to make the best use of your day of sightseeing in Hanoi, you could opt for the following tours.
What to Eat during your 2 days in Hanoi
Vietnamese cuisine is one that is a balance of sour, hot, sweet and salty flavours. Herbs are used in plenty and dishes aren't spicy as chilis are served separately. While wandering in the Old Quarter, I would suggest trying these dishes just about anywhere and deciding which eatery is your favourite. However, I will give eatery/restaurant recommendations so you find the best food in Hanoi Old Quarter.
Pho is a delicious soup that is made from chicken/beef broth, rice noodles, meat, and herbs. It is served with a side of chillies, chilli sauce and nuoc cham (fermented fish sauce). This National Dish of Vietnam was born in Hanoi so it is a must-eat here. Try it at Pho Gia Truyen on Bat Dan Street. Remember Chicken Pho is called Pho Ga and Beef Pho is Pho Bo.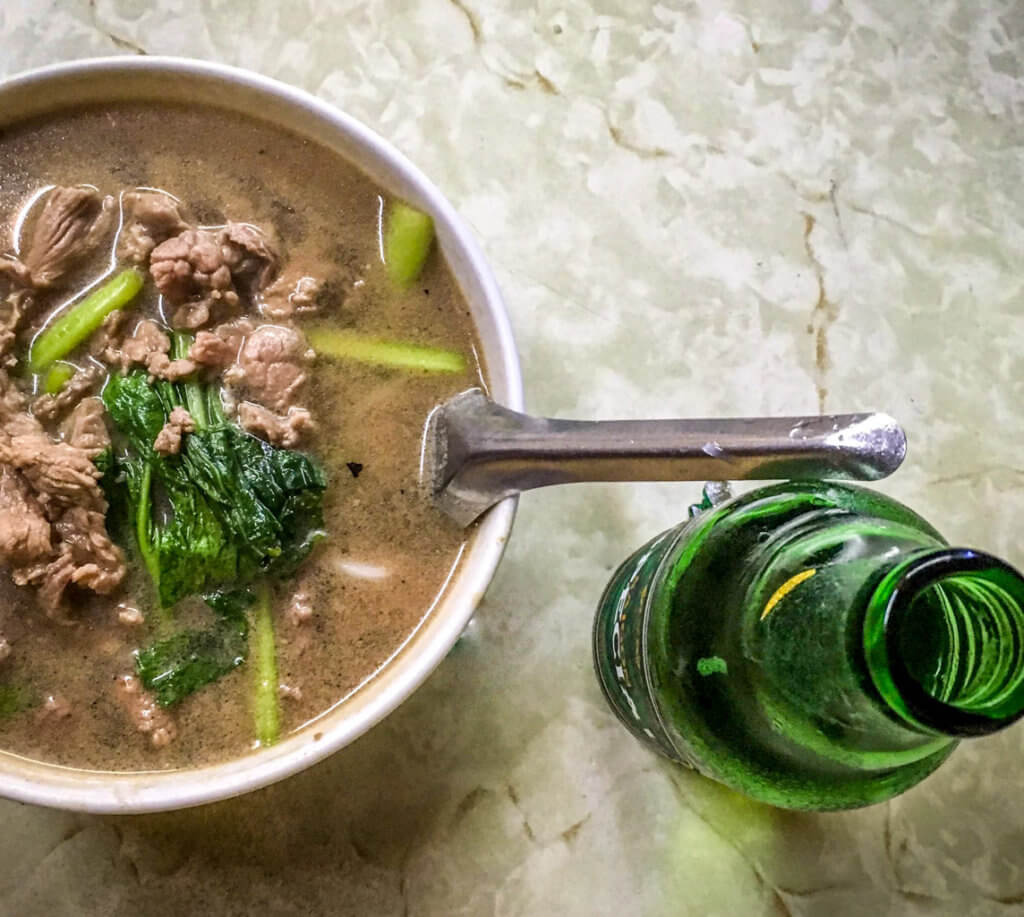 Banh Mi is a Vietnamese Sandwich. Influenced by the French, the dish is a baguette stuffed with Vietnamese filling like pork (in several forms though Pate ones are best), cucumber, pickled carrots, shredded radish and others depending on the store. Banh Mi 25 is the most famous outlet but the queue to get a Banh Mi here is insane and the sandwiches get sold out fast. I also think it wasn't worth the wait since I enjoyed a Banh Mi from a random local store way more.
If you're vegetarian a Banh Mi without meat could be your go-to in Vietnam. You could get it filled with egg instead as well.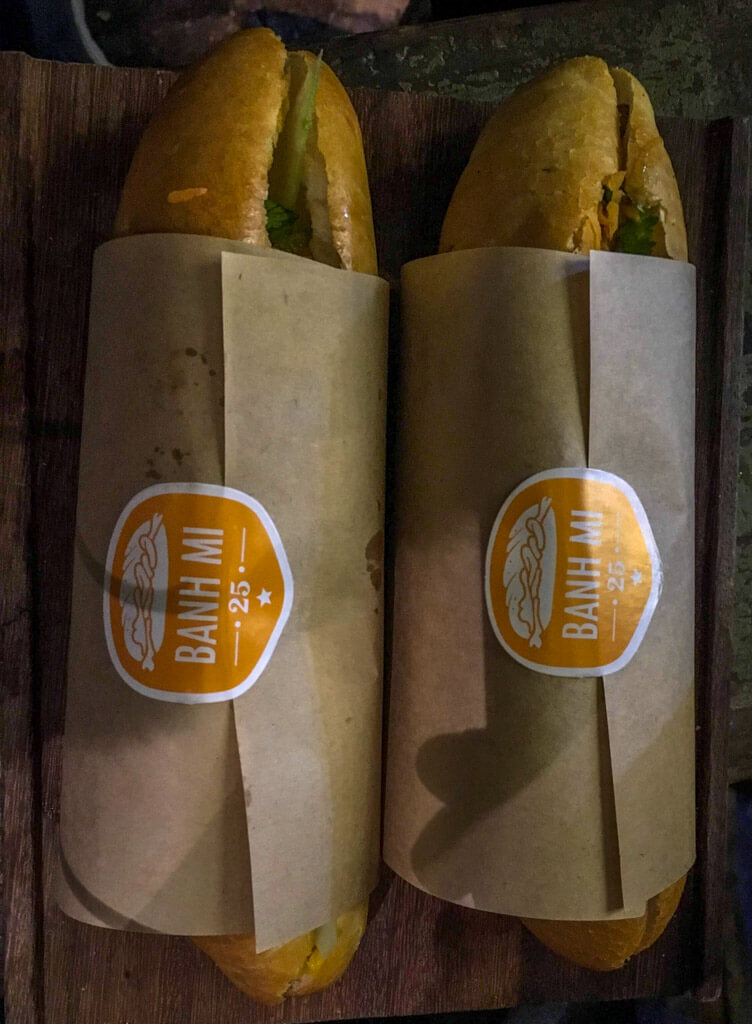 This Hanoi speciality can be found in every nook and corner. The dish consists of barbecued pork served with cold rice noodles, assorted greens and a broth. Bún chả Hương Liên is very famous because it is where Obama and Anthony Bourdain enjoyed a meal. But if you're vegetarian, try Bun Cha Ta. Modi (my husband) found a delicious veg alternative there.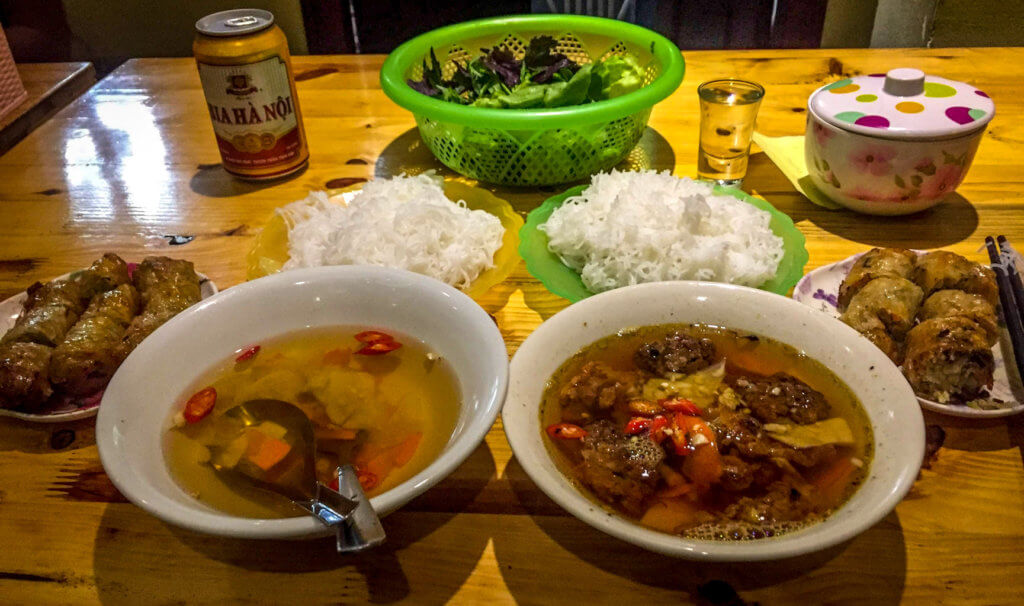 It may be weird to imagine egg in coffee but trust me, it isn't. You'll be blown away. Egg Coffee or Ca Phe Trung is a dark intense coffee topped with an airy froth of whipped egg and condensed milk. Café Giang is not famous for nothing, it really does serve an epic egg coffee.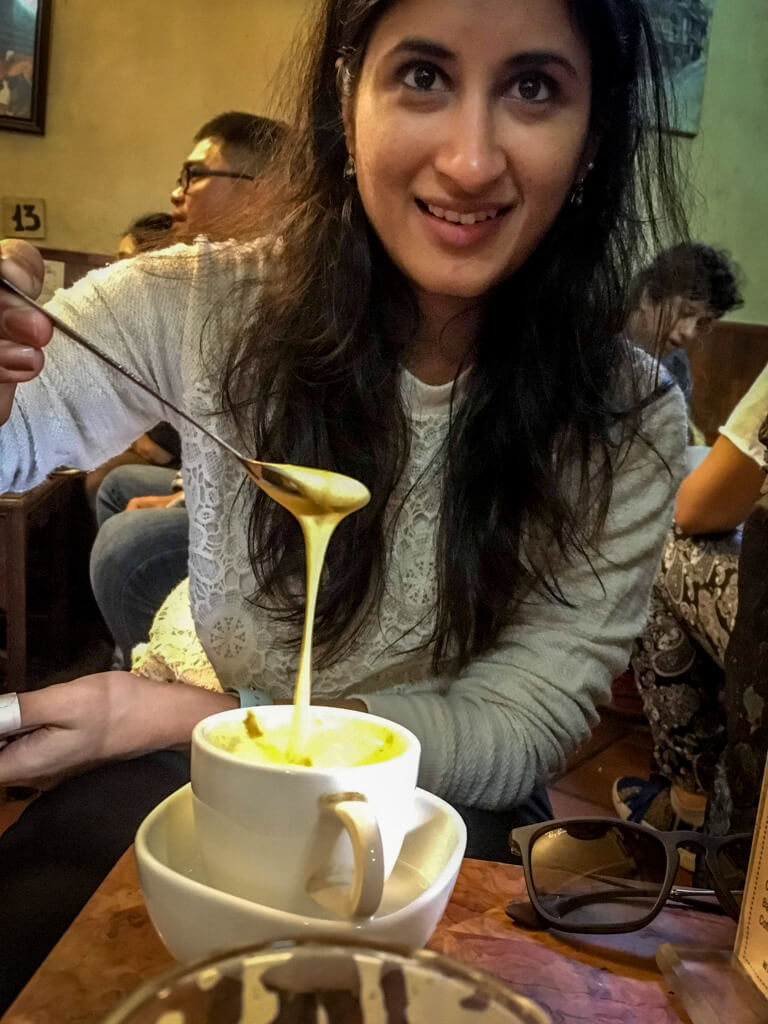 5. Vietnamese Cold Brew & More
It's not just egg coffee that is amazing in Vietnam, but all coffee. One sip and I've been so obsessed Vietnamese Cold Brew is all I have even back home in India. Head to Café Dinh for all kinds of coffee, including coconut coffee and yoghurt coffee. I haven't tried the last two, but I've heard good things. You could also head over to Note Coffee at Hoan Kiem Lake. The coffee we had was okay, but the place was so cute.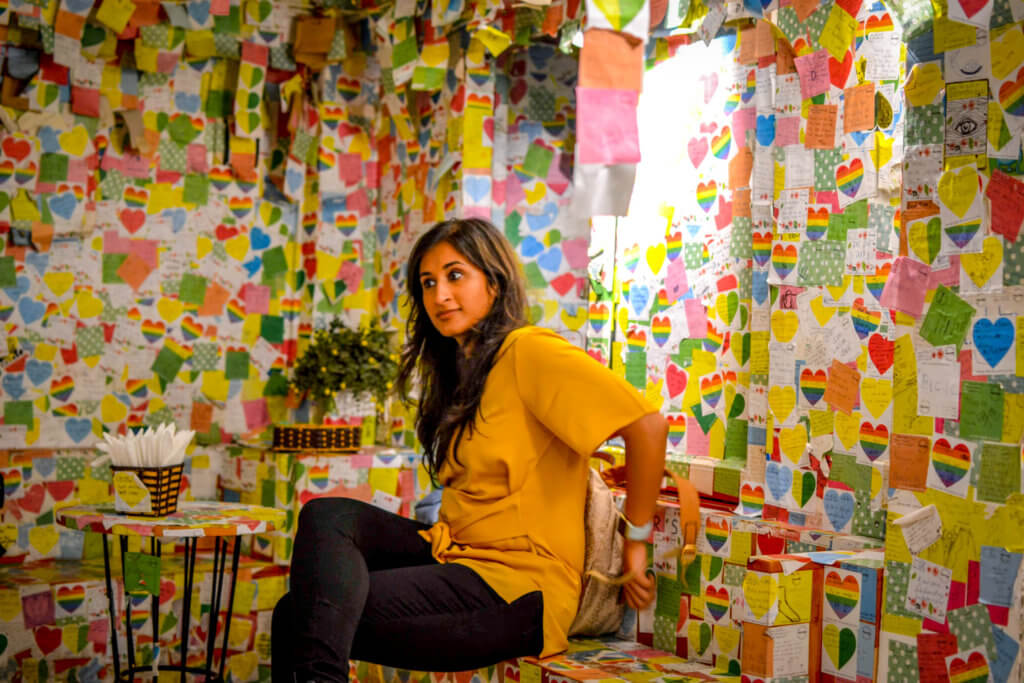 6. Fruit Salad with Accompaniments
I'm not talking about an ordinary fruit salad. This Vietnamese one has fruits topped with coconut milk, condensed milk and crushed ice.
I had something similar at Chinatown in Bangkok, so I think this could be a Chinese influenced dish.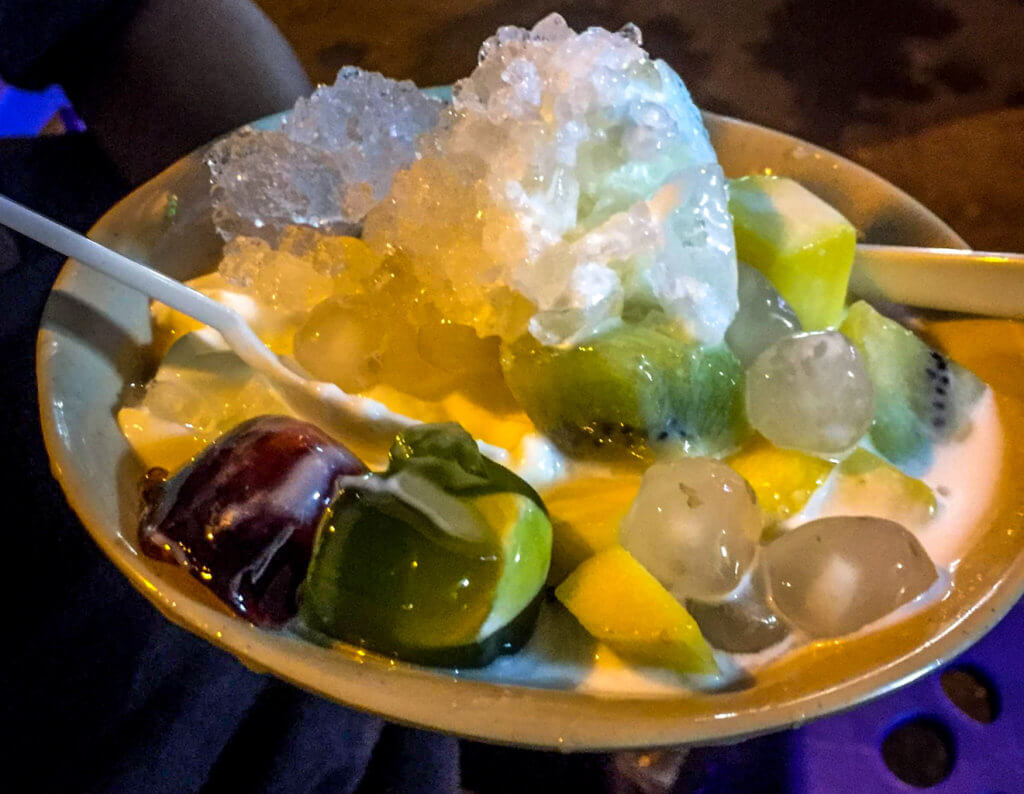 Other things to eat in Hanoi include: Cha Ca (Grilled Fish with Dill and Turmeric), Bun Ca (Fish Noodle Soup), Banh Xeo (Savory pancakes), Nem Cua Be (Crab Spring Rolls), Lau (Hot Pot), Che (Sweet Soup), Banh Cuon (Steamed Rice Rolls) and many more.
If you want to make more sense of Vietnamese food, take a food tour because most locals don't know English and won't be able to answer your questions. On the tour, you'll also discover hidden local gems that can't be found on Google. Below are suggestions for Hanoi Food Tours by day and night so you can choose depending on your preference.
Tips for Your Stay in Hanoi
Do not ever get into a local cab even if they have metres to calculate the fare. In all probability, you WILL be ripped off. Use the Grab App instead, which operates just like Uber. Download the app and book your cab but remember you will need a local number to do this. Alternately, you can book a private transfer online.
So, get a sim at the airport itself. We got Vinaphone and were quite happy with the service.
Have the address of your accommodation saved in the Vietnamese language so you can show it to people around in order to find the property.
The city is truly best explored on foot. You will find the most amazing places when you walk everywhere.
No one follows traffic rules here, and there aren't any street lanes. Just be confident and cross the road. The drivers will usually go around you.
Remember, you're not safe from bikes when on the sidewalk. I have had a bike run over my toes near the train street. People in Hanoi are super casual about such stuff.
Most people in Hanoi do not speak English. We used Google translate to help us along the way.
Hanoi is very cheap, especially if you eat on the street. Even our Airbnb cost us next to nothing for a decently sized house. We were amazed at how little we spent here. That said, all transactions happen in cash, so carry more cash than you think you would need. You don't want to be stuck without it at any moment in a country where you don't understand the language.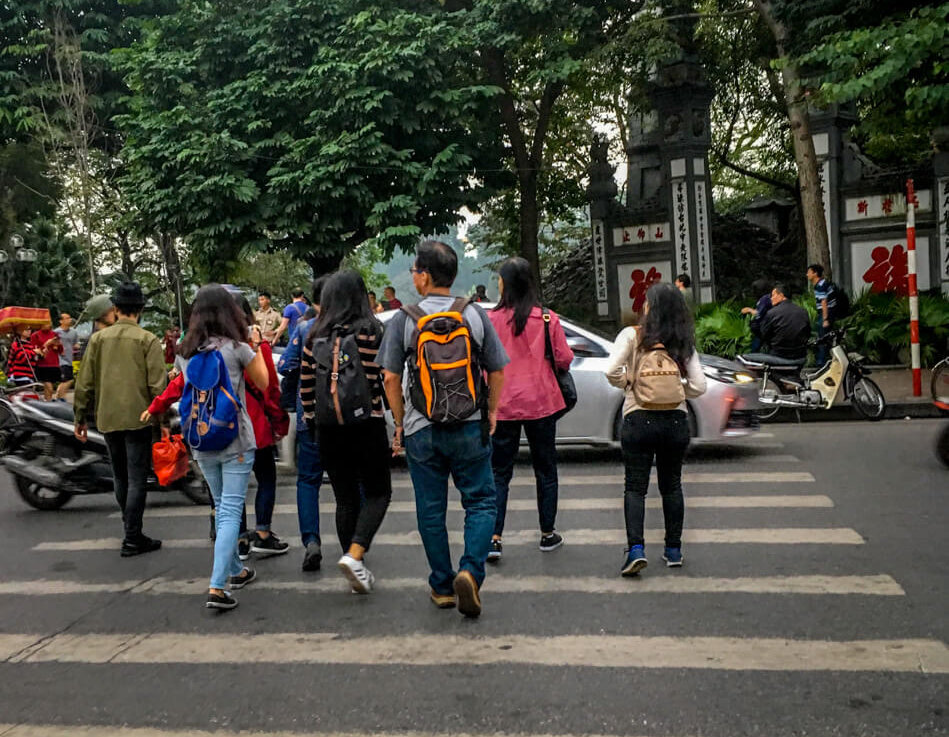 Your 2 days in Hanoi will pass in the blink of an eye when you're out exploring. To cover all things to do in Hanoi, you should ideally stay here for at least three days. But then do you really? We think exploring the highlights of the city is more than enough and you should move ahead and explore so many other beautiful places in Vietnam.
This blog post on the '2 Days in Hanoi Itinerary: The Best Things To Do' has affiliate links that enable us to earn a small commission when you make a purchase, with no extra cost to you. We only recommend products and activities we like and those that might interest you. If you like any suggested product, do buy from the given links.